Lucas Oil Buell racer Hector Arana Jr. capped off a Hollywood week by beating his father in the final of the AAA Insurance NHRA Midwest Nationals on Sunday at Gateway Motorsports Park.
The memorable week started Monday night when Arana proposed to longtime girlfriend Nicole Nobile at their home in New York, and it continued at Gateway when he was reunited with younger brother Adam, who raced here after getting a weekend pass from his service in the United States Coast Guard.
And finally, Arana's victory rocketed him to second in the Pro Stock Motorcycle points standings after two of six Countdown to the Championship races.
"It was a great, great week," Arana said. "I don't know if I could ask for anything more. I just look forward to having many more weeks like this.
"Monday, I pulled the trigger and I asked my beautiful girlfriend to marry me. Then I got the win, and it's like the icing on the cake."
The Gateway race was crucial for the Lucas Oil team because the first race of the Countdown was a struggle. Both Arana and his father lost in the first round in Charlotte, leaving Arana scratching his head.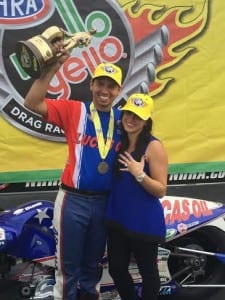 "After last week, I got nervous and thought we lost a shot to win the championship," Arana said. "I knew we had to perform at this race, and we were able to do that. I had the perfect opportunity when I had to race the points leader, Andrew Hines, in the second round. I knew that if I wanted to win the championship I had to beat him. We were able to dig deep and get that round-win."
Arana has closed to within 34 points — less than two rounds — of Hines in the standings with his second victory of the season and 11th of his career.
Gateway marked the second time the Aranas have met in the final round, with Arana getting the best of his dad in Chicago last year. This time, Hector Sr. got the jump on his son with a .060-second reaction time, but Hector Jr. went around dad with a pass of 6.860 seconds at 196.50 mph to get the win light.
"That's a bittersweet win," Hector Jr. said. "I saw him win in the semifinals, and then I said, 'I've got to win now so we can win this race.' I got the win light (in the semi's), and that's when we won this race. After that, it was to see who could win the Wally. It was definitely bittersweet because I want to see him win."
Hector Jr. qualified No. 7 but continued to make improvements to his bike. He beat Jim Underdahl in the first round with a pass of 6.870 seconds at 196.42 mph to set up the crucial race with Hines.
Their reaction times were nearly identical, but Hector Jr. won it on the track with a 6.872-second pass at 195.73 mph, edging Hines' run of 6.882 seconds at 194.91 mph.
In the semifinal, Hector Jr. dumped No. 2 qualifier Steve Johnson with a pass of 6.881 seconds at 196.30 mph to set up the final round with his dad.
"It was good to get the win because it was something we needed to move forward in the championship," Hector Jr. said. "We dug deep, we tuned both bikes, and I was able to get the win. Those Harleys, they've got it figured out and the Suzukis are running strong. It was definitely a big move to get everything figured out on Sunday."