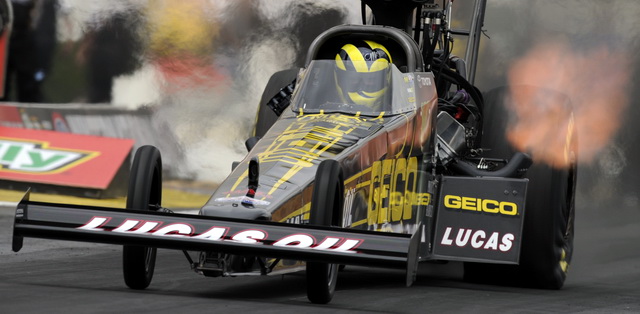 This weekend's NHRA Finals is going to carry a little more weight for Morgan Lucas than any other season finale before.
Lucas announced recently that he will step out of the GEICO/Lucas Oil Top Fuel dragster cockpit starting next year in order to learn the family business, so this race will be his last as a full-time racer for the foreseeable future.
"It does have kind of a somber feeling going in because I know it's going to be the last time I chase points," Lucas said. "It doesn't mean that I'm not going to give it my all to go out with a bang. I know the guys on the team feel the same way. We all want to win and have a chance to finish really high in the points."
Lucas goes into this weekend's race fifth in the standings, but a lot of drivers are jammed together at the top with 65 points separating second through sixth place. Every round of qualifying and eliminations has the potential to see positions in the standings change hands.
"The Pomona track is phenomenal, one of the best surfaces on the circuit," Lucas said. "The weather report looks like it's going to be really good, so it's going to be an extremely fast weekend.
"There's still some room to jump up in the points. At the very least we'd like to maintain our top five position, but if we could finish second or third it would be huge for the whole team."
Despite the bittersweet feelings surrounding this race, Lucas said it's hard not to enjoy racing in his old stomping grounds.
"I'm very excited for this weekend in a lot of ways," Lucas said. "Coming back to Southern California is always like a homecoming for me. It's amazing that we're back here already because this season has gone by really fast.
"I wish my wife Katie were here with me this weekend, but she's 35 weeks pregnant and will be at home taking care of our little bun in the oven. Hopefully we'll bring home a trophy and end my professional driving career on a high note."
The event will feature single qualifying sessions on Thursday and Friday, each starting at 1:45 p.m. PST. Saturday's two sessions of qualifying get under way at 11:45 a.m., and Sunday's eliminations begin at 11 a.m. ESPN2 will air the qualifying show at 2:30 a.m. EST on Sunday and the eliminations show at 7 p.m.
(Photos courtesy NHRA/National Dragster; Click to enlarge)