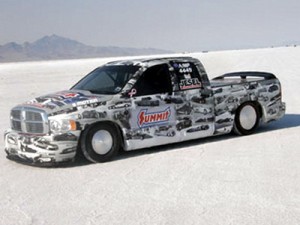 Jason Line and the Jesel Land Speed/Summit Racing Team had two specific goals heading into the 2012 Speed Week at the legendary Bonneville Salt Flats.  The first was to break the current A/Modified Production record of 191 mph, while the second was to get Line into the prestigious 200-mph Club.
With an average speed of 235 mph recorded on his second official attempt on the five-mile course on Monday morning, the reigning NHRA Pro Stock champion was able to accomplish both objectives, with his two-run average of 225.246 mph shattering the previous mark while also allowing him to join the very select group of racers who have eclipsed the double-century mark on the famed salt.
"It's not very often that you make a plan in racing and actually have it go accordingly, but we did this past weekend in Bonneville," said Line. "It's nice that it did, and made for a very cool experience.
"It was like nothing I had ever done before.  I was able to meet a lot of neat people, and enjoyed the heck out of my time there.  The truck drove like a Cadillac, perfectly smooth through the entire distance, never putting a foot wrong, making it a pleasure to run down the salt, which helped us accomplish our goals.
"Of course, there are a lot of people I have to thank for making this all possible, starting with Wayne Jesel and his Jesel Land Speed Team, as well as everyone from Summit Racing Equipment.  I owe them all a debt of gratitude for letting me do this."
After completing his first licensing pass on Saturday, Line returned to the salt on Sunday for his second run, recording an average speed of 214 mph after being instructed by the Southern California Timing Association (SCTA) officials not to exceed 215 on this final licensing attempt.  As this eclipsed the previous class mark, under the rules of the event the truck was then impounded, setting the stage for Monday's monster run.  Although everything went mostly according to plan throughout the entire weekend, Line did experience a slight hiccup during his maiden pass.
"On my first licensing run I wasn't supposed to go over 175 mph," explained Line.  "Unfortunately, the combination of our calculations being a bit off and my being a couple hundred rpms over what I was supposed to run resulted in my being 20 mph too fast, for which I justifiably got my hand slapped by the SCTA.  After all, they just want everyone to be safe, which I certainly appreciate.  My intent was certainly not to violate any rules, especially being my first time there, and I consider it a lesson learned.
"Looking back at the experience, my goals going into the weekend were to not do anything stupid, to have fun, to get in the 200-mph Club and help Wayne set a record with his truck, and we were able to accomplish all of them without any damage to the equipment and without any incidents other than my speeding ticket.  On top of that, some of my KB Racing teammates came out to watch me run, so it just turned out to be a good time.
"I am pretty sure this will not be my last stint on the salt.  Obviously with our schedule on the NHRA Full Throttle Drag Racing Series, it's pretty tough, so it may be a few years down the road, but I promise you I will be back.  After all, it's hot rodding at its purest form and I have nothing but good things to say about it."
(Photos courtesy NHRA/National Dragster; Click to enlarge)