Last weekend was Donald "Duck" Long's "Lights Out" race at SGMP and I had to keep coming back to watch the live stream all weekend long. Mark Walters does the live stream and he is always the best at the job, but that is a difficult thing to pull off. Live streaming is very challenging, but so worth the effort. Thanks to Mark I was able to watch some of the fastest and best door cars racing at an event that seemed well-run. Aside from a few crashes here and there, the racing was hardcore and exciting to watch. I was amazed by the speeds and ETs at the track but also at how clean many of the cars are.
To me, the race is an indicator of how healthy door car racing is right now. I know the big shows lean on the Nitro cars to be the top dogs, but a guy like me is always more interested in the Pro Mods and the Pro Stock cars. When the ADRL came out, I was impressed to see door car racing take the top class in the show. Even today, with many associations promoting the different fast door car racing, I am happy to see that the racing is faster and more exciting than ever.
Face it, most of us got involved with drag racing because of some kind of car. My first taste of drag racing was behind the wheel of my street-driven 1970 Pontiac Trans Am. I built a fast 400 motor for it, and proceeded to go out every weekend and race on the street. As I grew up, I stopped street racing and became a drag strip kinda guy, but always it was the cars that interested me. Sure, the dragsters are kinda cool, but a nice car, that is what does it for me. Pick your favorite brand or model, but always appreciate all the different cool cars that are racing.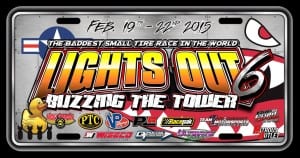 Nowadays, I race a 1966 Nova SS that I bought at the swap meet for $1500.00. It took me a few years to turn it into something to race, and then another decade to become nice. I built most of it myself, with some help from Scott Monks Fabrication and paint by Moe Wilson. A 900 horsepower 540 Big Block Chevy sits between the tube chassi and it runs low 9's in the quarter. Not as fast as most of the cars I saw at the "Lights Out" race, but I love it. So check out the Lights Out race, or any 10.5, drag radial door car race and get back to where it all started – door car against door car.
Watch my car race at a track near you, or check it out on Speed Scene Live TV at www.SpeedSceneLive.com.