It's past 11 p.m. on Wednesday and Stevie "Fast" Jackson's night isn't even close to being done.
After a subpar 4.595 at 110.65 mph during the lone qualifying session for Lights Out 10 at South Georgia Motorsports Park, Jackson is ready to take his supercharged Camaro apart and start over.
It means another night past 2 a.m., which isn't ideal for a week as arduous as Lights Out. But the reigning Radial Versus the World winner isn't about to accept mediocrity at a race this big.
"I want it to be a bare chassis and we're going to start over," Jackson said. "Our car in no way, shape or form is ready to race, so it's definitely a challenge. We're working on it at a high rate of speed, but I will not go into (eliminations) and not be ready to run."
As Jackson has proven a multitude of times, he thrives when adversity hits and this week simply marks the latest episode in the travails of one of the most successful and popular drag radial/Pro Mod racers in the world.
Counting last night's run – which was one of many in the 60-car field to struggle down the track at far less than full power – Jackson has just seven passes on radials since last Donald Long's Sweet 16 race last March.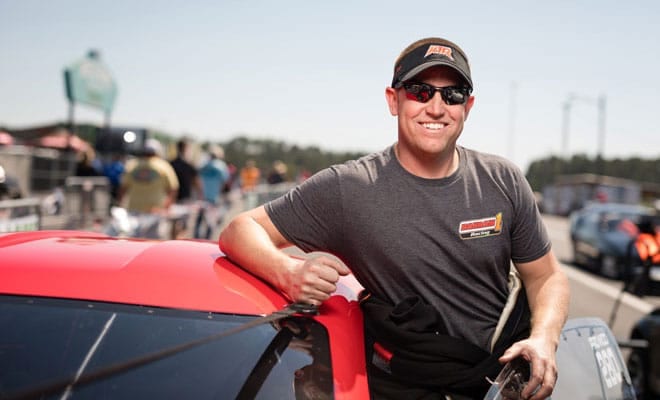 He's experienced significant success in the Pro Mod world in that time, including winning the U.S. Nationals, but racing on radials in an epic, ultra-competitive event like Lights Out is an entirely different animal.
That means a complete overhaul in the next couple days and a tremendous lack of sleep, which isn't optimal this early in the week. But Jackson's best-case scenario on Thursday includes a pair of strong qualifying efforts and an early bedtime for what awaits the rest of the weekend. He believes runs in the 3.60s are possible if the track comes in and Jackson is hopeful he can get there.
"I want to see us qualified well," Jackson said. "There's a bunch of great cars here, so the first thing is making it down the track where the engine is running and parts aren't falling off. We're pretty much starting from scratch and it's definitely going to be challenging. But we're really excited to be small-tire racing this weekend."
Jackson called his current situation the "beginning stages of dominance" for what he hopes is another memorable weekend in Valdosta. He ousted Keith Haney in a thrilling RvW final round a year ago and the two colorful drivers will face off in qualifying on Thursday with a generous side bet on the line.
But Jackson's ultimate focus for the weekend is performing at a high level when eliminations come. As long as the car comes together the way he wants it, Jackson won't have a problem performing at a high level with a lack of sleep.
The massive crowds, huge lines at his trailer and plenty of support from younger fans is the only adrenaline shot he'll need this weekend.
"A kid comes up to the trailer and you see all these fans, I don't need anything else to get energized," Jackson said. "I do everything I can to give them a reason to get on their feet. When you get to those big-money rounds, you have to be ready and we're not there yet. When you have to hit a home run, you need to be ready."
Jackson, though, is confident he'll get there. He's a tedious note taker and has the belief in himself and his team that the group will be ready when the spotlight is the brightest this weekend.
It's that drive to succeed that pushes Jackson, who notes he hates losing more than he likes winning. With an absolute surplus of ultra-talented RvW cars this weekend, there will be plenty of opportunities to get tripped up at SGMP.
But Jackson knows the pathway to a Lights Out victory and the $50,000 check that comes with it, and he is ready to try and traverse it again this weekend.
"We have to make good runs and good decisions," Jackson said. "I feel confident I can drive the car as good as typically anyone, and I'll bait us out if we get close, but we need to put together 3-4 decent runs if we're going to have a chance to win."