Leah Pritchett will compete in the next NHRA Mello Yello Drag Racing Series event in 10 days near Atlanta as the fourth woman to drive for Don Schumacher Racing when she pilots the FireAde Top Fuel Dragster.
It's been a whirlwind year for the winner of the NHRA Top Fuel event title at this year's second race when she joins the biggest team in professional drag racing and drives a fourth Top Fuel dragster that will be the eighth nitro team for DSR, which has won 14 NHRA world championships and 269 Mello Yello titles.
This development brings her nitro career full circle. The 27-year-old native of Redlands, Calif., who lives in Avon, Ind., earned her nitro Funny Car license with DSR eight years ago.
"I am thrilled to finally have Leah in the seat of a DSR racecar," DSR owner and drag racing pioneer Don Schumacher said of the California State University of San Bernardino graduate.
"She showed me a lot when she tested with us and earned her NHRA license. But she is much more than a very good driver; she is an excellent marketer and outstanding representative of our sport."
Pritchett, who is ranked eighth in Mello Yello points, also will drive DSR's FireAde dragster in the prestigious U.S. Nationals over Labor Day Weekend near Indianapolis. She is working with Schumacher to secure additional marketing partners to allow her to run a full 2016 schedule.
FireAde provides the world's most advanced, innovative and environmental friendly firefighting, tank cleaning and dust control products. FireAde, a product of Fire Service Plus Inc., is based in Fayetteville, Ga., near Atlanta and was founded by chief executive officer Ron Thames.
"A huge thanks goes to Ron and FireAde for the belief they have in us and making this happen so we can keep racing," Pritchett said.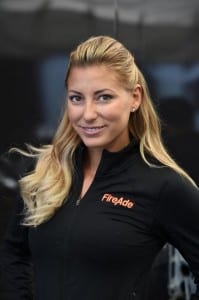 After competing part-time in Top Fuel the past three years, she has ridden a 329-mph rollercoaster through this season's first six Mello Yello races. She joined Bob Vandergriff Racing at the start of the season with a promise she would run the first full season of her career. But the unexpected death of Josh Comstock, 46, who was one of Vandergriff's major sponsors led him to retire to spend more time with his family that led to the shutdown of BVR.
That decision was made after the race at Las Vegas but the perseverant Pritchett competed with a different team at the next Mello Yello event near Charlotte and was able to get BVR to one more event last weekend near Houston where the team led by crew chiefs Mike Guger and Joe Barlam advanced to the semifinals and she recorded the fastest run of her career at 329.18 mph.
Veteran tuners Guger and Barlam will join Pritchett at Atlanta along with some members of her BVR team combined with veteran nitro technicians who are longtime DSR technicians.
"If you would have asked a couple of weeks ago if I'd being running Atlanta I wouldn't have bet too much on that happening," Pritchett said. "When the door shut on all of us it was not a fend-for-yourself moment. Our goal was to continue to race together and because of that we were able to go to Atlanta.
"These last couple weeks with the support from so many people who have rallied around my team to keep my dream going has just been phenomenal."
Schumacher decided it was time to bring out a fourth Top Fueler, initially as a part-time program, and make Pritchett his fourth female driver since opening DSR in 1998. Two of the previous woman to drive for DSR went on to win multiple NHRA world championships: Erica Enders in Pro Stock and Angelle Sampey in Pro Stock Motorcycle. Melanie Troxel won two Top Fuel titles for DSR.
"What we accomplished in Houston gives us an extra boost of confidence," Pritchett said of her semifinals finish.
"It's ironic that it comes full circle for me that I will be driving for Don Schumacher in a Mello Yello race. He was the first one to see my potential when I was a teenager and helped me get my first fuel license.
"To be able to run under his umbrella is a very proud moment for me."