Alex Laughlin has partnered with Tige Boats for the NHRA 4-Wide Nationals at zMAX Dragway this weekend in his Chevy Pro Stock Camaro. Laughlin says: "I couldn't be more proud to partner with such an iconic brand in the marine world. I actually own a 2017 Tige Z1 and it's by far the nicest and most technologically advanced boat I've ever been in."
The partnership will debut as a one-race primary sponsorship this weekend and continue as a personal endorsement throughout the remainder of the season. Laughlin toured the Texas-based factory and said it was an awesome experience and their operation was extremely impressive.
Tige Boats launched in 1991 placing innovation and passion at the heart of our boats. Since our beginning, we have remained a family owned business placing relationships with our owners, dealer network and vendors as a priority.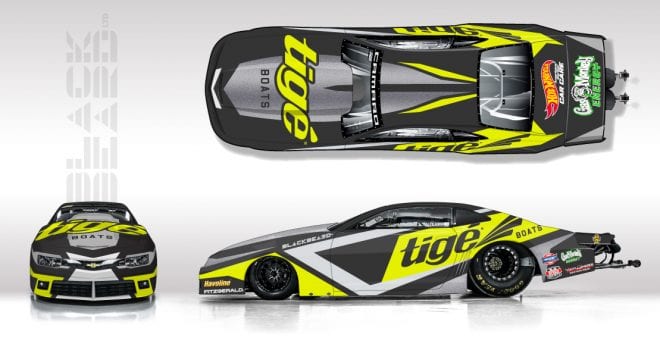 Today, Tige keeps these values alive with one common goal in mind—to make your ride better than anything else on the water. Through a refined sense of aesthetics, precision manufacturing, and a love for watersports, we have set new standards in boat design and engineering. By personally engaging with and using our own products, we have introduced many innovative technologies and industry firsts, each one created to make your time behind the wheel or on your board as perfect as possible.
From the new RZX Series to the highly-acclaimed Z3 and throughout the entire 2018 lineup, Tige produces the most technologically advanced product line specializing in massive wakeboarding wakes and ocean-worthy wakesurf waves. The all-new TAPS 3 Surf System with Surf Link remote, Tige CLEAR interface, and patented Convex V hull are just some of the features that make Tige unlike anything else on the water.