It didn't take long for Alex Laughlin to know he had a car capable of winning Radial vs. the World at Lights Out 10.
When it mattered, Laughlin proved the driver was up to the task as well. The jack-of-all-trades driver delivered massively in crunch time, beating Daniel Pharris on a holeshot on Sunday in the final round with a .004 reaction time, taking the $50,000 Radial vs. the World title and earning arguably the biggest win of his career in the process.
Pharris and Laughlin treated the huge crowd to a thrilling side-by-side duel, with Laughlin's 3.694 at 205.60 mph in his screw blown Corvette holding off Pharris, who had a strong .015 reaction time and a run of 3.690 at 211.13 in his twin-turbo Mustang.
"I left a Pro Stock race and came to Pro Stock race. It came down to that .004 to a .015 on the tree," Laughlin said. "It's just been an unbelievable weekend and the car was just running great the whole time. I have to give so much props to (crew chief) Frankie Taylor and Jeremy Parsley for this. They kept the car running good. These are the baddest dudes, period."
We're not even two months into 2019 and it's already been a frenetic ride for Laughlin, but he'll gladly take hectic if it means results like Sunday at South Georgia Motorsports Park.
He's already tested a Pro Mod for the first time – another bold undertaking he'll take on this year – and then advanced to the Pro Stock semifinals at the NHRA's season-opening Winternationals.
Of course, that finished Monday in Pomona, Calif., and Laughlin had to be in Valdosta, Ga. by Wednesday. That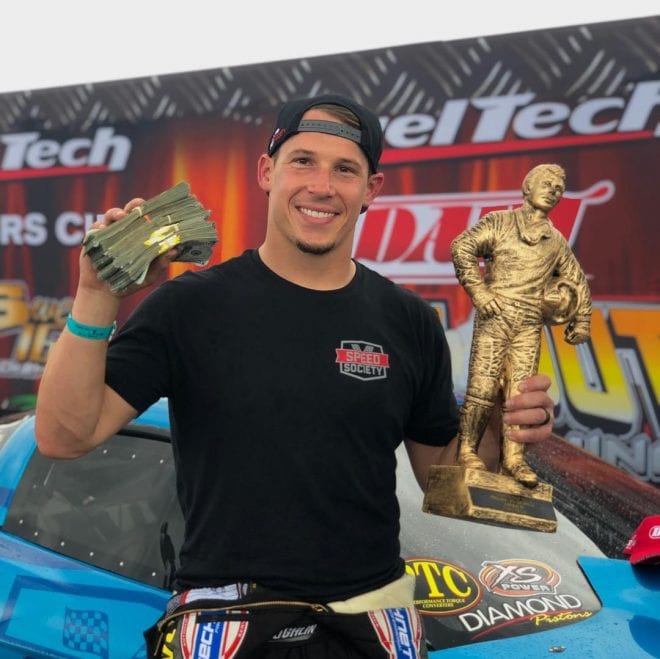 nearly didn't happen as Laughlin missed his flight, but he arrived just in time for the first qualifying session, going 3.698 at 195.42 right off the trailer.
Laughlin credited Taylor's expertise for the immediate success, which set an undeniable tone for the weekend, but he also admitted that moving from car to car is no easy task.
"It's so hard, honestly," Laughlin said. "The only things that are similar is I sit in the same position and it's a car with doors on it. Every time I get out of one to the next there's pretty much a throwaway run. I try to get in the car a little early, go through the motions and get ready."
That proved helpful, as Laughlin got better as the week progressed, while the Corvette stayed impressively consistent.
He qualified fourth with a strong 3.652 at 207.11 and then went to work, cruising to a first-round win against Tim Kincaid with a 3.692 at 200.77. Laughlin followed with a 3.723 at 200.80 to knock off Mike Decker III and then went nearly-robotic on the tree over the final three rounds. He was .020 with a 3.669 at 199.64 to beat Mark Woodruff's 3.683, topping it with a .019 to beat a red-lighting Kevin Rivenbark, who was the No. 1 qualifier and RvW world-record holder after his 3.613 blast earlier in the week.
His 3.662 went for naught, sending Laughlin to the final round where he again delivered on the starting line for the massive victory.
"Here's the deal," Lights Out promoter Donald "Duck" Long said. "This man did his job on the tree. Between Frankie and Alex, you better be on top of your game if you want to run with them. Alex is just a phenomenal driver. All I wanted to see was door-to-door out the back, and that was the most exciting thing for me. That's what we like about Radial versus the World."
Laughlin knew he had to be spectacular when it counted, but the .004 topped what he thought would be necessary.
"(Pharris) had been running gone all weekend and I knew I had to be .19 or .20 or better," Laughlin said.
As it turned out, that wouldn't have been good enough, but what he put together did the trick. Laughlin figured he had a combination that could win after the first round, even as he dealt with the quickest 32-car qualifying field in RvW history. Now he's aiming for a run in the 3.50s at next month's $101,000-to-win Sweet 16 race at SGMP next month, but now is the time to celebrate. He's enjoyed every minute of his trip into radial racing that started a year ago, whether it's conversing with Long, working with Taylor or taking in the overflow crowds, and now he can stand proud after winning the prestigious Lights Out event.
"I just love this race," Laughlin said. "The stands are packed. At 8 a.m., the stands were packed (on Saturday). It's been an absolute trip (working with Taylor) and all of it has just been great."