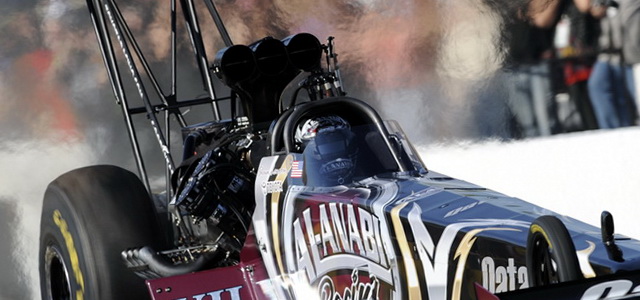 In the history of the Full Throttle Countdown to the Championship, NHRA's playoffs, several teams have washed away the stains from a less-than-spectacular regular season by winning the NHRA world championship title. In recent seasons, Matt Hagan, Cruz Pedregon and Robert Hight have all got hot in the playoffs from back of the pack starting positions and went on to celebrate a world championship title in November.
Shawn Langdon is looking to add his name to that list in 2012.
The driver of the Al-Anabi Racing dragster opened the post-season by winning the O'Reilly Auto Parts NHRA Nationals at zMAX Dragway and then took the No. 1 qualifying position at the second playoff race, at the Texas Motorplex near Dallas. In the process he has moved to fourth in the standings with only four races remaining in the Countdown to the Championship.
Langdon will try to keep his momentum going at the AAA Insurance NHRA Midwest Nationals, Sept. 28-30 at Gateway Motorsports Park near St. Louis when the NHRA circuit returns to the popular dragstrip for the first time since the 2010 season.
After struggling in the 17-race regular season, Langdon started the Countdown playoffs in seventh position and didn't have much momentum on his side. All that has changed since the playoffs started as the Al-Anabi Racing driver looks to give team owner Sheikh Khalid Al Thani and team manager Alan Johnson a third consecutive world championship title this season, continuing the streak started by Larry Dixon (2010) and Del Worsham (2011).
"The Al-Anabi car is running better than it has all year, and as a driver, I have more confidence in my race car than I ever have; that's a good feeling to have," Langdon said.
In his last three Countdown playoff appearances Langdon finished ninth, fifth and ninth respectively, while driving a second car for Morgan Lucas Racing from 2009-2011.
"This is the best I've ever felt in any of my previous Countdown appearances," Langdon said. "With four races to go, I feel I have the best opportunity I've ever had to challenge for a championship, and we have a shot.  I want to make sure that I am prepared for every run because I know the car will be, and as a driver, I have to be sure I do my part by being mentally and physically prepared for these last four races."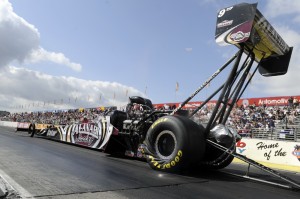 Langdon has had some success at Gateway in the past, as he raced to a semi-final finish there in 2009.
"I'm looking forward to racing at St. Louis and I am happy we are racing there in the fall instead of the summer because it will be cooler, and that's good news for the race cars and the fans," Langdon said. "We could have some very fast conditions if the weather cooperates, and that would be great for everyone.
"It's also cool to race so close to downtown St. Louis because you can see the Arch from the track, and it's kind of a neat atmosphere downtown where a lot of the teams will stay."
Standing in Langdon's way is five-time season winner Antron Brown and Spencer Massey, a four-time winner this season. Those two drivers are tied for the points lead and just behind them is seven-time world champ Tony Schumacher. In close pursuit of Langdon is three-time regular season winner Morgan Lucas, Brandon Bernstein, Doug Kalitta and Steve Torrence, a three-time winner this year.
(Photos courtesy NHRA/National Dragster; Click to enlarge)