Shawn Langdon (above) blasted to the qualifying lead in Top Fuel at the NHRA Four-Wide Nationals on Friday.
Ron Capps (Funny Car), Chris McGaha (Pro Stock) and Michael Ray (Pro Stock Motorcycle) also were the leaders in their respective categories at the fifth NHRA Mello Yello Drag Racing Series event of the season.
Langdon, who has one career win in Charlotte but has never prevailed in the NHRA Four-Wide Nationals, powered his Al-Anabi Racing dragster to a performance of 3.753 seconds at 321.81 mph at zMAX Dragway.
"The first run we started out in lane number two and made a good run," said Langdon, who is the defending world champ in Top Fuel. "We changed a couple things from the last race in Las Vegas. We're just trying to work on a few areas of the car we've been struggling with and missing on Sunday."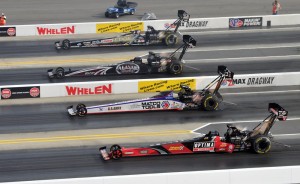 Langdon, still searching for his first final in 2014, made the leading pass in the second qualifying session. The Brownsburg, Ind. resident was the No. 1 qualifier at this event last year and mentioned his love of the track in North Carolina.
"I don't know what it is, but I like it. I wish we could race all 24 here," added Langdon, about his success at zMAX Dragway, which includes not only the No. 1 start at this event last year but his first Top Fuel win at the fall event in 2012. "There are some tracks that you go to that it just seems to work your way, and there are some tracks that you go to that you just can't seem to do anything right. zMAX, fortunately, has been one of those tracks where I was able to get my first victory, and the Al-Anabi car has just run good every time we've come here.
"The Four-Wide last year we had a great-running car and smoked the tires in the final. We just like the track. We're able to make good runs, and we're able to really put the power down to the track here. It's a great racing surface."
New Kalitta Motorsports driver J.R. Todd set a career E.T. with his 3.781 run at 325.06. The run was good enough to propel the pilot of the Optima Batteries dragster to the top of the qualifying board after the first session. The run was good enough to keep Todd second heading to the second day of qualifying.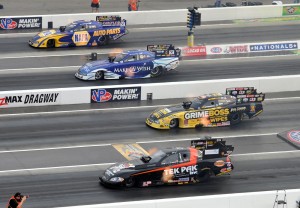 Capps is looking for his first victory in the four lane configuration and got off to a good start with his 4.059 pass at 320.58 in his NAPA Auto Parts Dodge Charger. With his biggest highlight of the season being his explosion in Pomona, Capps is looking for a big win to change the tide of the season.
"I didn't know it until I got back to the pit area that that's the lane [Rahn Tobler] likes to run normally on a Sunday when we get here for Four-Wide," said Capps after his pass in the right lane bettered his first run in the far left lane. "Traditionally, those lanes are a little less rubber because you don't normally run those lanes, so most of the crew chiefs know it's going to be a little thinner as far as the rubber, and it's not going to be as much traction."
Capps has tasted success in Charlotte before, winning the two lane race in the fall of 2012. If his run holds, it will be looking his first No. 1 qualifier of the season.
Capps' run bumped Robert Hight to second after the first day. Hight's Auto Club Mustang went 4.074 at 311.99 during the second session. Tommy Johnson Jr., Bob Tasca III, Tim Wilkerson, Courtney Force, Matt Hagan and Del Worsham all completed 4.0 passes on day one.
In Pro Stock, McGaha paced the field with a performance of 6.523 at 213.10 in his Harlow-Sammons of Odessa Chevy Camaro. The Odessa, Texas native is competing in his first NHRA Four-Wide Nationals and was awed at the experience.
"That was an experience," McGaha said of competing in his first NHRA Four-Wide Nationals. "I guess I got fortunate as I got to go out on lanes one and four so the end lanes helped a lot. I noticed when I got up there it takes some guys longer to stage. We will see how I do when I run lanes two and three."
McGaha secured his first No. 1 qualifying position of his career in Phoenix and will secure his second if his run holds tomorrow.
Michael Ray has already secured a No. 1 qualifier to start the season in Gainesville and is on track for a second with a run of 6.816 at 197.02 on his Star Racing Buell. It's been a great qualifying start for Ray, who is looking for his victory in Charlotte.
"When you come out to the Four-Wide Nationals, the conditions are really different," Ray said. "Being the first pro category, you can get a greener track than you would like."
Defending Pro Stock Motorcycle world champ Matt Smith set the zMAX Dragway track record at 198.32 mph during his second session qualifying run.
The second day of qualifying will take place tomorrow with runs at 1:15 p.m. and 4:15 p.m.
 (Photos courtesy NHRA/National Dragster; Click to enlarge)
CONCORD, N.C. — Results Friday after the first two of four rounds of qualifying for the Fifth annual NHRA Four-Wide Nationals at zMax Dragway, fifth of 24 events in the NHRA Mello Yello Drag Racing Series.  Qualifying will continue Saturday for Sunday's final eliminations.
Top Fuel
1. Shawn Langdon, 3.753 seconds, 323.35 mph; 2. J.R. Todd, 3.781, 325.06; 3. Khalid alBalooshi, 3.793, 324.98; 4. Brittany Force, 3.800, 325.61; 5. Tony Schumacher, 3.815, 321.73; 6. Doug Kalitta, 3.816, 322.42; 7. Steve Torrence, 3.818, 322.81; 8. Antron Brown, 3.823, 319.45; 9. Spencer Massey, 3.827, 321.42; 10. Pat Dakin, 3.841, 313.15; 11. Leah Pritchett, 3.856, 318.77; 12. Clay Millican, 3.904, 270.54; 13. Richie Crampton, 4.941, 97.52; 14. Bob Vandergriff, 4.949, 145.08; 15. Terry McMillen, 6.484, 106.58; 16. Sidnei Frigo, 6.543, 104.17.
Funny Car
1. Ron Capps, Dodge Charger, 4.059, 314.24; 2. Robert Hight, Ford Mustang, 4.074, 311.99; 3. Tommy Johnson Jr., Charger, 4.079, 308.57; 4. Bob Tasca III, Mustang, 4.080, 311.70; 5. Tim Wilkerson, Mustang, 4.084, 312.06; 6. Courtney Force, Mustang, 4.086, 314.75; 7. Matt Hagan, Charger, 4.088, 310.91; 8. Del Worsham, Toyota Camry, 4.097, 284.56; 9. Alexis DeJoria, Camry, 4.113, 308.43; 10. Jack Beckman, Charger, 4.119, 303.84; 11. Jeff Arend, Charger, 4.145, 306.05; 12. Cruz Pedregon, Camry, 4.167, 261.42; 13. Tony Pedregon, Camry, 4.206, 286.80; 14. Blake Alexander, Charger, 4.317, 220.80; 15. John Force, Mustang, 4.441, 204.08; 16. Dale Creasy Jr., Chevy Monte Carlo, 4.690, 195.28. Not Qualified: 17. Chad Head, 4.968, 157.95.
Pro Stock
1. Chris McGaha, Chevy Camaro, 6.523, 213.10; 2. Erica Enders-Stevens, Camaro, 6.524, 213.13; 3. Dave Connolly, Camaro, 6.531, 212.59; 4. Shane Gray, Camaro, 6.534, 212.79; 5. Jeg Coughlin, Dodge Dart, 6.538, 212.69; 6. Jason Line, Camaro, 6.542, 212.73; 7. Allen Johnson, Dart, 6.546, 212.49; 8. Jimmy Alund, Camaro, 6.550, 212.39; 9. V. Gaines, Dodge Avenger, 6.560, 212.63; 10. Jonathan Gray, Camaro, 6.564, 211.93; 11. Vincent Nobile, Camaro, 6.577, 211.46; 12. Rodger Brogdon, Camaro, 6.577, 210.80; 13. Robert Patrick, Ford Mustang, 6.616, 209.43; 14. Justin Humphreys, Pontiac GXP, 6.690, 208.36; 15. John Gaydosh Jr, GXP, 7.327, 145.45; 16. Larry Morgan, Mustang, 15.375, 66.92.
Pro Stock Motorcycle
1. Michael Ray, Buell, 6.816, 197.02; 2. Hector Arana Jr, Buell, 6.825, 196.24; 3. Scotty Pollacheck, Buell, 6.843, 197.91; 4. John Hall, Buell, 6.846, 196.07; 5. Matt Smith, Buell, 6.871, 198.32; 6. Eddie Krawiec, Harley-Davidson, 6.873, 195.19; 7. Mike Berry, Buell, 6.873, 193.29; 8. Chaz Kennedy, Buell, 6.874, 195.31; 9. Angie Smith, Buell, 6.875, 194.02; 10. Shawn Gann, Buell, 6.892, 195.59; 11. Adam Arana, Buell, 6.900, 194.10; 12. Jerry Savoie, Suzuki, 6.926, 192.69; 13. Andrew Hines, Harley-Davidson, 6.933, 197.48; 14. Hector Arana, Buell, 6.954, 193.99; 15. Jim Underdahl, Suzuki, 6.956, 194.46; 16. Steve Johnson, Suzuki, 6.998, 191.08. Not Qualified: 17. Freddie Camarena, 7.030, 193.88; 18. Elvira Karlsson, 7.060, 188.33; 19. Joe DeSantis, 7.164, 186.54; 20. Justin Finley, 7.273, 186.69; 21. Junior Pippin, 7.331, 164.03; 22. Katie Sullivan, 7.765, 125.29.