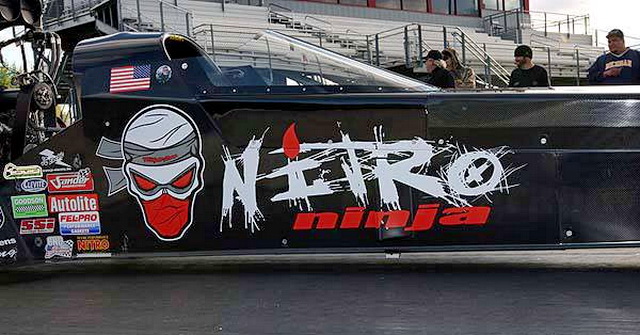 For Top Fuel driver Dom Lagana and the entire Lagana Racing team, this weekend's NHRA Toyota Summernationals at Old Bridge Township Raceway Park in Englishtown, N.J., will be their first stop on NHRA's 2013 Mello Yello Drag Racing Series tour.
"We've had a long off-season and have been chomping at the bit to get out there and race," said an excited Dom, the youngest son in a family of drag racers. "We have worked hard over the winter and spring to make sure that we are well prepared for the few NHRA races that are on our schedule this season."
Although they have not taken their family dragster out to any races since October of last season, Dom and his older brother Bobby have been keeping plenty busy lending a hand on a few other part time Top Fuel teams.
"Even though we haven't had our car out, there's something to be said for just being out there working and showing face at the races," said Dom. "It actually keeps you current on the latest and greatest things happening out there and helps us not feel so behind the eight ball when we actually do bring our car out to race."
For the youngest son of Bobby Lagana Sr., who has a huge fan following at Old Bridge Township Raceway Park, there are always a lot of great memories when the team has the opportunity to race on the same track their father match raced and competed at for many years.
"Going to Englishtown is always surreal for me," admitted Dom. "I spent a lot of my childhood growing up there and watching my dad match race on Wednesday nights and weekends against big racers such as Chuck Etchells, John Force, Shirley Muldowney, and DA Santucci, to name a few. It's an honor and privilege to be able to race in front of all the great fans there, not to mention the hundreds of family members and friends that will come out to watch us!"
The Lagana family will be sporting a new "Nitro Ninja" look on their Top Fuel dragster this weekend. Oldest brother Bobby Jr. brainstormed the idea of the new logo: a nitro skull with ninja eyes and the eye-catching Nitro Ninja design, and with help from Rod Burke of BurkeDesigns, the Nitro Ninja came to life.
"We had a match race a few weekends ago at US 131 Motorsports Park in Martin, Mich., and although the event got rained out, we got a huge positive response from the fans to the t-shirts and hats, as well as the logo on the car," said Bobby Jr. "We are excited to roll out of the water box on Friday with the new logo on the side of the car.
"With the support of friends at home and longtime sponsors such as Lucas Oil, Tom Stephens Racing, Stevarita's, and Joe Unger, we are going to give it our best shot to make the tough 16-car field on Sunday. The Top Fuel class this year is more competitive than ever before, so we will have to make very few mistakes and try and take our best shot at a great setup to get our dragster in the show."
"We will come out Friday and try to get back on track and get a good baseline for the two runs on Saturday," said Dom. "It will be very tough to crack into the top 12 on Friday night as well because everyone has been running well lately, but with a little luck and a lot of hard work from all the guys, we will give it our best shot.
"As always, the main goal of the weekend is to make four very representable runs to try and get qualified and learn as much as we can. Most importantly, we want everyone on the team to enjoy themselves. We have waited a long time to race this season so we will be soaking up every minute of the weekend no matter what the outcome may be."