After fielding championship-winning entries for both the Pro Mod and Radial vs. the World (RvW) classes in last year's Frankenstein Engine Dynamics Mid-West Pro Mod Series (MWPMS), Keith Haney Racing went into the organization's 2018 season opener this past weekend as the team to beat. With team principal and MWPMS organizer and promoter Keith Haney driving his nitrous-fed 2016 Camaro for the Bruce Lowrie Chevrolet North vs. South Frankenstein Pro Mod Shootout, it was left to Street Outlaws star "Daddy Dave" Comstock to wheel Haney's nearly identical-appearing RvW entry at the Texas Motorplex, just south of Dallas.
"Since we won the championship last fall we didn't even test my Pro Mod car, 'Notorious,' but we did test in 'Enigma,' the radial car at Dallas, because Daddy Dave needed to make those passes in order to get his NHRA license," Haney explained. "So I just kind of helped him, walked him through things until he was pretty comfortable in the seat and he ended up doing an amazing job all weekend."
After qualifying second with a 3.85-seconds pass behind Jeff Naiser's 3.79 in Radial vs. the World, Comstock wound up racing the top qualifier in the final round, where Naiser took the win home to Houston after making another 3.79 run over the Motorplex eighth mile.
"You know, I finished runner-up with that same car just a couple of weeks earlier in Georgia," said Haney, referencing Lights Out 9, the first big radial race of the year. "It's obviously a great car and Dave got everything he could out of it. He did a great job and my hat's off to him."
Meanwhile, after 27 Pro Mod entries made attempts over four rounds of qualifying, Haney sat fourth in the 16-car field for eliminations. Jim Sackuvich and his nitrous-boosted '69 Camaro took the number-one spot with a solid 3.74-seconds pass, with Todd Martin, who co-owns Osage Casino Tulsa Raceway Park with Haney, placing second with a 3.75 in his supercharged '68 Mustang. Aaron Wells and Haney ran identical 3.77 elapsed times, but Wells and his blown '68 Mustang got the nod for third based on going about 1.5 miles per hour faster than Haney.
Despite seeing smoke billowing from his engine's headers after completing his burnout for round one of racing against Clint Hairston in the Elite Motorsports twin-turboed Camaro, Haney insisted on making the pass and posted a 3.80 at just over 200 mph to advance.
"There was so much smoke coming out the right side of the car that I think I killed all the mosquitoes in the place," Haney said. "Then I'm sitting there and my guys ask, 'Well, what do you want to do?' So I'm on the mic and I said, 'Send it! I ain't giving a free win to nobody!' So I staged the car, let go of the button, and that sucker comes up and the smoke goes away and we end up winning the round."
Back in the KHR pits, crew chief Brandon Pesz immediately consulted via phone and online with tuner Brandon Switzer in North Carolina to diagnose the cause of the smoke and determined it probably was just a sticking oil ring, far from ideal, but not necessarily disastrous. So with Ron Muenks driving Dave Pierce's '68 Camaro in the opposite lane, Haney knew he was in for another starting-line challenge.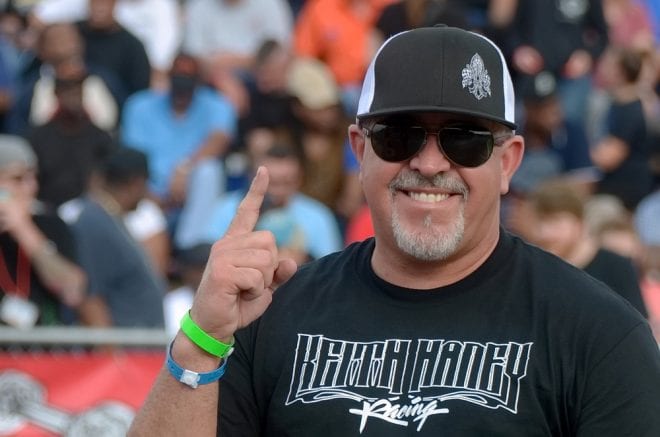 "I think everybody thought we were going to blow up. I mean, it's doing the exact same thing, got that smoke going after the burnout, but I'm like, what the heck, we know what we doing," Haney recalled. "So I get up there and I know Muenks is gonna' be ready, which he was, he goes .017 on the tree—and I go -.018 red and then run my fastest 60 foot, my fastest 330, my fastest ET and my fastest speed ever in the car. I go .958 at 60 foot, 2.517 to the split, and then we go 3.73 with a 5 at almost 202 miles an hour! I didn't know I had gone red at first, not until the nose came down and I could see the win light already on his scoreboard, but of course I stayed in it. I mean, it felt so good I didn't care if I red lit; I was there to race!"
With his own car on the sidelines, Haney threw his support behind business partner Martin, who beat Craig Sullivan, Costa Jones and Aaron Wells before defeating Sackuvich with a 3.77-seconds pass in the final round.
"Of course I wish we could've won, but overall the weekend was absolutely outstanding. We ended up second with Daddy Dave and Enigma in Radial vs. the World, made it to the quarters and ran our best pass ever in Notorious, my good friend and partner Todd Martin won his first time out with his car in over two years, and we met a lot of great people. So some mixed results, but still very encouraging in the long run," Haney concluded.
"And we couldn't really lean on it and step on it a whole lot this weekend just due to the fact we've got to have both motors ready for the $101,000 Sweet 16 Radial vs. the World race back in Georgia in three weeks. So unfortunately the truck and trailer had to stay in Texas with Brandon (Pesz) because he had to take the block over to Reher-Morrison to put a sleeve in it. So we're already getting to work on it and we'll have it all back together in time to be ready for Sweet 16. You can bet on that."
After the Sweet 16 event (Mar. 22-24) at South Georgia Motorsports Park, Keith Haney Racing will field "Enigma" at a radials-only event the following weekend at Tulsa Raceway Park, and will have both KHR cars back in action Apr. 20-21, in the MWPMS event at historic Beech Bend Raceway Park in Bowling Green, KY.