Look out, drag radial world, there's a new player in town.
After keeping it under wraps for six months, Keith Haney has unveiled a new Radial vs. The World race car that he'll debut in the Lights Out 7 race on Feb. 18-21 at South Georgia Motorsports Park in Cecil, Georgia.
Haney, a regular in Pro Nitrous in the Professional Drag Racers Association, will race the new car at least three times in 2016 – including the Radial Revenge Tour race on April 1-2 at Osage Casino Tulsa Raceway Park.
Haney got to know the competitors in the drag radial world over the last several years, and he became a fan of the cars and the racing.
"All of them think I talk the game but don't want to walk the game," Haney said. "Well, I'm not coming out as a pretender in this class. I'm coming out as a contender. My combination is going to work in a radial car.
"I've been jacking with people for six months that I was going to put radials on my Pro Nitrous car. Well, I didn't do that. But I did the next best thing."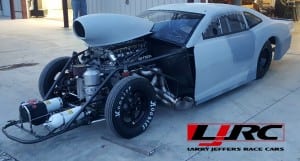 Haney's new car, a Chevrolet Camaro, was built in secret by Larry Jeffers Race Cars. It is virtually identical to Haney's Pro Nitrous car.
"My main focus is PDRA Pro Nitrous," Haney said. "I want to go for a world championship in my nitrous car. We ended 2015 on an outstanding note, and we're ready to start 2016 on another outstanding note. We went from the bottom part of the field to being in the top three or four. I'm looking forward to chasing the championship in PDRA Pro Nitrous.
"I built a radial car to go have some fun. I want to hurt some feelings in the radial class, just for fun."
Last July, Haney decided to get a drag radial car, but he also wanted to keep it secret – from everyone. "But I didn't want anybody to know – nobody," Haney said. "So for the last six months, I've been building a radial car with Larry Jeffers. It's been interesting and fun."
Not even members of his Keith Haney Racing team knew what was going on, and Haney had to come up with several schemes to keep the drag radial car under wraps.
"What's interesting is what it took for me to keep it quiet," Haney said. "My crew usually doesn't miss anything, and I had to figure out how to do it without them knowing."
Haney ordered a new engine from Reher Morrison Racing Engines, and his team thought it was for the Pro Nitrous car. Haney told them fuel injectors were on back order and had the engine shipped to the shop of Brandon Switzer, his engine tuner. All the shipping crate said was "RVW," Radial vs. the World.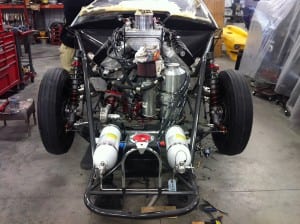 Haney had M&M Transmission send a transmission box as if he would send it back to them, but instead it sent that on to Jeffers.
When Haney ordered other components for the new car, they were shipped to Jeffers' shop, too, all with "RVW" on the boxes. Mechanics in Jeffers' shop didn't know who the car was for either.
"Larry Jeffers did just as good a job keeping it quiet as I did," Haney said.
Jeffers also had some fun with people in the drag radial world, as he took a photo of the new car where all you can see is primer and the radial tire: "Purposely built radial car for Lights Out 7." Many people called Jeffers wanting to know about the car, but he simply told them he was putting radials on his special "Bad Bus" he uses in exhibitions.
"This has been six months of keeping quiet, and I absolutely cannot believe I've made it this long," Haney said.
After Jeffers was finishing building it, the car was shipped to Brandon Switzer's Swizter Dynamics for tuning, wiring and plumbing. Finally, on January 9, he told his race team – including chassis tuner Brandon Pesz – about it.
"They all about killed me," Haney said. "We're going to unveil it at Donald Long's Lights Out 7 race. He doesn't even know that I'm coming.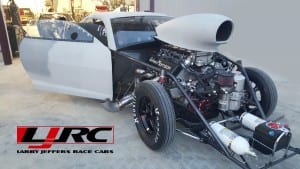 "There are a lot of cocky guys in this class, and I think I fit right in. I thought, 'What the hell? I'll jump in there and play with those boys.'"
Haney's foray into drag radial wouldn't be possible without the support of partners Lucas Oil, RacingJunk.com, Switzer Dynamics, Pesz Performance & Tuning, Reher Morrison, M&M Transmission and Haney's family of car dealerships: Suburban Chevrolet in Claremore, Okla., Classic Chevrolet in Owasso, Okla., Miami Auto Supercenter in Miami, Okla., Regional Hyiundai in Broken Arrow, Okla., Nissan of Muskogee, Okla., and Bartlesville (Okla.) Chrysler Dodge Jeep Ram.