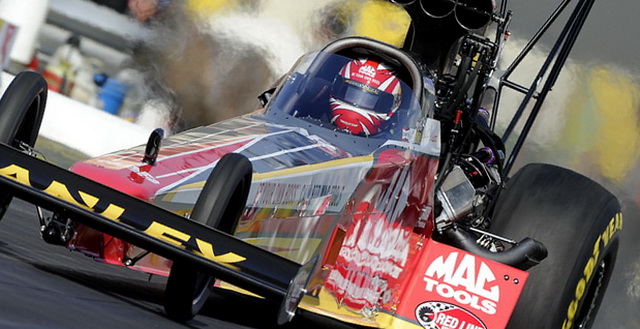 Doug Kalitta (above) raced to the No. 1 qualifying position in Top Fuel Feb. 8, at the Circle K NHRA Winternationals at Auto Club Raceway at Pomona. The veteran driver powered his Mac Tools dragster to a track-record performance of 3.713 seconds at 327.98 mph to earn the 37th number-one start of his career and fourth at this event.
John Force (Funny Car) and Vincent Nobile (Pro Stock) also will lead their categories into Sunday's (Feb. 9) 11 a.m. eliminations at the season-opening NHRA Mello Yello Drag Racing Series event.
Kalitta held off defending world champ Shawn Langdon, who qualified second with a 3.715 in his Al-Anabi Racing dragster and 2012 world champ Antron Brown, who was No. 1 Friday but dropped to third with his 3.731 in his Matco Tools dragster.
"Conditions are perfect," said Kalitta, who will face Sidnei Frigo in the first round. "It's fun to race here. What can I say about (crew chief) Jim O. (Oberhofer), (assistant crew chief) Troy (Fasching), and this whole team? They came out of the box strong. It's great to have four strong runs in qualifying at the start of the year. We're really looking forward to seeing what we can do with it tomorrow."
In Funny Car, Force earned a record 147th No. 1 and 10th at the Winternationals, taking the top spot with his national-record time of 3.966 and track record speed of 324.12 from Friday. The defending and 16-time world champ will open eliminations against Paul Lee.
Force failed to improve on either qualifying attempt today at the controls of his Castrol GTX Ford Mustang.
"We thought we could run .01 or .02, even a high 3.9," Force said. "We tried it the first session, thought we could the second. We pushed it hard. Jimmy (Prock, crew chief) said there was more than the .96 and that it would run .94, .95, and he just wanted to know. There was nothing to lose unless Capps could pull it off in the other lane, but we're also looking at conditions for tomorrow.
"It's supposed to be overcast tomorrow, so we'll have these same conditions. Otherwise, if it was going to be hot, you wouldn't want to be doing that. You'd be trying to make it work. We got the record. It's points, and that's all we can say."
Alexis DeJoria had the quickest Funny Car run on Saturday and she improved to third in the lineup with a 3.997 at 318.32 in her Patron XO Café Toyota Camry. With the effort, she became the first female to post a Funny Car run in the 3.9-second range.
Three-time Winternationals winner Robert Hight was second in his Auto Club Mustang with a 3.996 at 317.94 and two-time world champ Cruz Pedregon was fourth with a 4.001 at 311.49 in his Snap-on Tools Camry.
Ron Capps, who emerged uninjured after his 8,000-horsepower NAPA Auto Parts Dodge Charger suffered a spectacular engine explosion during a run Friday evening, qualified fifth overall based on his Friday run of 4.014 at 304.67.
Two-time Funny Car world champ and two-time Winternationals winner Tony Pedregon failed to qualify for eliminations in his American Racing Toyota.
In Pro Stock, defending event winner Nobile claimed his third No. 1 qualifying position of his career with a performance of 6.510 at 212.73 in his Mountain View Tire Chevy Camaro. He will face Australian rookie Shane Tucker in the opening round of eliminations.
"It's definitely a great start to the season, we put four great runs together," said Nobile, who is aligned with the KB Racing team this season. "Tomorrow's a new day though and we need to put together another four good runs and hopefully come home with a trophy.
"Number one qualifier doesn't really mean anything to me until the end of the year, when those bonus points start adding up. Anybody can win this race, one through 16. So, the only thing that really matters is who holds up that trophy on Sunday."
Allen Johnson qualified second with a 6.512 at 212.96 in his Team Mopar Dodge Avenger and Jason Line was third in his Summit Racing Chevy Camaro with a 6.514 at 212.63. Defending world champ Jeg Coughlin will start eighth in his JEGS.com/Mopar Avenger.
POMONA, Calif. — Sunday's first-round pairings for eliminations for the 54th annual Circle K NHRA Winternationals at Auto Club Raceway at Pomona, the first of 24 events in the NHRA Mello Yello Drag Racing Series.  Pairings based on results in qualifying, which ended Saturday. DNQs listed below pairings.
Top Fuel
1. Doug Kalitta, 3.713 seconds, 328.86 mph  vs. 16. Sidnei Frigo, 3.872, 313.58; 2. Shawn Langdon, 3.715, 328.70  vs. 15. Troy Buff, 3.850, 309.34; 3. Antron Brown, 3.731, 326.00  vs. 14. Clay Millican, 3.843, 307.86; 4. Bob Vandergriff, 3.743, 328.14  vs. 13. David Grubnic, 3.830, 321.96; 5. Spencer Massey, 3.768, 324.51  vs. 12. Leah Pritchett, 3.817, 320.05; 6. Steve Torrence, 3.773, 329.02  vs. 11. Terry McMillen, 3.806, 323.66; 7. Khalid alBalooshi, 3.774, 324.59  vs. 10. Tony Schumacher, 3.793, 322.73; 8. Brittany Force, 3.778, 326.24  vs. 9. Richie Crampton, 3.786, 320.28. Did Not Qualify: 17. Steven Chrisman, 4.093, 286.44; 18. Steve Faria, 4.154, 225.41; 19. Scott Palmer, 9.507, 94.55.
Funny Car
1. John Force, Ford Mustang, 3.966, 324.12  vs. 16. Paul Lee, Dodge Charger, 4.162, 271.41; 2. Robert Hight, Mustang, 3.996, 319.67  vs. 15. Tim Wilkerson, Mustang, 4.150, 316.23; 3. Alexis DeJoria, Toyota Camry, 3.997, 318.32  vs. 14. Gary Densham, Charger, 4.147, 301.67; 4. Cruz Pedregon, Camry, 4.001, 311.49  vs. 13. Bob Tasca III, Mustang, 4.132, 311.20; 5. Ron Capps, Charger, 4.014, 304.67  vs. 12. Jeff Arend, Charger, 4.097, 309.06; 6. Del Worsham, Camry, 4.040, 317.27  vs. 11. Chad Head, Camry, 4.079, 303.23; 7. Courtney Force, Mustang, 4.046, 320.13  vs. 10. Matt Hagan, Charger, 4.077, 316.01; 8. Jack Beckman, Charger, 4.049, 312.86  vs. 9. Tommy Johnson Jr., Charger, 4.069, 316.82. Did Not Qualify: 17. Terry Haddock, 4.213, 253.04; 18. Bob Bode, 4.241, 264.29; 19. Tony Pedregon, 4.258, 245.58; 20. Phil Burkart, 5.523, 139.76; 21. Jeff Diehl, 6.064, 182.85.
Pro Stock
1. Vincent Nobile, Chevy Camaro, 6.510, 212.73  vs. 16. Shane Tucker, Chevy Cobalt, 6.594, 210.50; 2. Allen Johnson, Dodge Avenger, 6.512, 212.96  vs. 15. Larry Morgan, Ford Mustang, 6.589, 210.73; 3. Jason Line, Camaro, 6.514, 212.63  vs. 14. Matt Hartford, Avenger, 6.574, 210.14; 4. V. Gaines, Avenger, 6.515, 212.83  vs. 13. Greg Stanfield, Camaro, 6.567, 210.97; 5. Erica Enders-Stevens, Camaro, 6.516, 212.53  vs. 12. Deric Kramer, Avenger, 6.566, 211.20; 6. Dave Connolly, Camaro, 6.519, 211.86  vs. 11. Chris McGaha, Camaro, 6.552, 211.69; 7. Shane Gray, Camaro, 6.528, 211.89  vs. 10. Jimmy Alund, Camaro, 6.546, 211.86; 8. Jeg Coughlin, Avenger, 6.531, 212.39  vs. 9. Rodger Brogdon, Camaro, 6.541, 211.79. Did Not Qualify: 17. Paul Pittman, 6.676, 208.10.