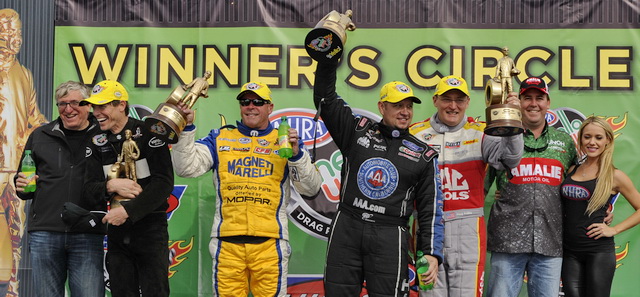 Top Fuel points leader Doug Kalitta (above, 3rd from right) raced to his first victory of the season Sunday at the Amalie Motor Oil NHRA Gatornationals at historic Auto-Plus Raceway at Gainesville.
Robert Hight (Funny Car), Allen Johnson (Pro Stock) and Steve Johnson (Pro Stock Motorcycle) also were winners at the NHRA Mello Yello Drag Racing Series event.
Kalitta gained revenge from Phoenix, defeating Antron Brown in the final with a performance of 3.830 seconds at 323.74 mph in his Mac Tools dragster. Brown's Matco Tools dragster lost traction early in the run and finished in 5.106 at 147.50.
Kalitta was happy to finally break into the winner's circle. He posted a runner-up finish at the season-opener in Pomona and fell to Brown in the semifinals in the season's second race two weeks ago in Arizona.
"We've been trying to get a win all year, and we've been right on the cusp," said Kalitta of his 34th career victory and third at Gainesville. "We have great support amongst all four of our teams. It's great that they can all get in there and celebrate on the starting line."
Kalitta, who was the No. 1 qualifier at the first two events, started as the No. 4 seed here and outran Brittany Force, Kalitta Motorsports teammate David Grubnic and Steve Torrence before racing past Brown in the final. The Ypsilanti, Mich. native was pleased to get his longtime sponsor a victory over the rival company that sponsors Brown's machine.
"The 'tool car' rounds are important," said Kalitta, who increased his series points lead with the victory. "We knew there are a lot of distributors out there who are watching and paying attention. I feel very fortunate to get by those guys any time that we can. It seems like it goes back and forth. We'd like to get it a little more on the Mac Tools side than the Matco side, so we'll see how it goes this year."
Top Fuel No. 1 qualifier and defending world champ Shawn Langdon was upset in the first round by No. 16 qualifier J.R. Todd, while his Al-Anabi Racing teammate and Winternationals winner Khalid alBalooshi also exited in the opening round.
In Funny Car, Hight defeated father-in-law and 16-time world champ John Force with a winning performance of 4.074 at 314.46 in his Auto Club Ford Mustang. Force's Castrol GTX High Mileage Mustang lost traction early in the run as Hight pulled away.
It was the second career win at Gainesville for Hight and the 30th Funny Car win of his career.  Hight was quick to give crew chief Mike Neff credit for keeping his Mustang competitive.
"Mike is a smart racer," said Hight, who defeated Tony Pedregon, Bob Tasca III and Ron Capps to advance to the final round. "In the first round, we lifted the body up after the burnout, and – he never does this – Mike got into the box and changed a clutch flow. It's something he must have thought of during the burnout, and he wanted to play it safe. He's a savvy racer. I have a lot of confidence driving for Mike Neff. He always comes up and says, 'No pressure. Let's have some fun.' I can't wait to run a full season with him and this team. I think we're going to hurt some feelings."
Hight's win capped a good day for John Force Racing in Funny Car. John Force struggled in qualifying en route to the No. 16 seed, but made his first solid run of the weekend in his win over No. 1 seed Cruz Pedregon. Courtney Force began to turn her season around as well, piloting the Traxxas Ford Mustang to a semifinal loss to her father.
"If you'd have told me this morning that John and I would be in the final, I don't know if I'd have taken that bet," said Hight. "Our teams have worked really hard and work well together, but we were struggling. Fortunately for me, the Auto Club team did a good job. I wasn't on my game in the first round or the semis. Luckily, I had a great race car."
In Pro Stock, Allen Johnson claimed his second Gatornationals title in a row and his second consecutive win this season by using a quicker reaction time and racing to a final round performance of 6.566 at 211.73 mph in his new Mopar/Magnetti Marelli Dodge Dart. Runner-up Erica Enders-Stevens posted a quicker, but losing, 6.551 at 211.96 in her Elite Motorsports Chevy Camaro.
"This shows what a great job the Mopar engineers and SRT did when they developed the new Dart," said Johnson. "It's also a testament to our crew. For the last two weeks they've worked non-stop, without a day off to make sure this transition was a success."
Johnson, the No. 4 seed, was a thorn in the side of the Gray Motorsports team and took out all three teammates in succession en route to his 22nd career victory. The round wins over Jonathan Gray, Shane Gray and No. 1 qualifier Dave Connolly gave Johnson the confidence he needed to defeat the quick machine of Enders-Stevens in the final and give the Dodge Dart its first win in Pro Stock.
Enders-Stevens set the national speed record in Pro Stock on Friday with a 214.69 mph effort. She followed that with a solid showing during eliminations, defeating Robert Patrick, V Gaines and Vincent Nobile before falling to new category points leader Johnson.
In Pro Stock Motorcycle, Steve Johnson catapulted from the No. 7 qualifying position and ran through the field to secure his second career Gatornationals victory and first since 2005.
Johnson powered his Steve Johnson Racing Suzuki to a 6.912 at 191.32, defeating Scotty Pollacheck, who covered the distance in 7.093 at 191.32 on his Quality Tire Buell in his first Gatornationals final.
Before outrunning Pollacheck in the final, Johnson took out a tough trio in earlier rounds including Katie Sullivan, defending world champ Matt Smith and defending Gatornationals winner Hector Arana Jr.
"The fact that this is the first Suzuki win since 2011 shows that we've had a Buell epidemic, actually a V-Twin epidemic," said Johnson of his sixth career victory. "Last year, I got to the final here and lost to Hector Arana Jr., and I felt like I should have won it. We've been close a few times, but we finally broke through. This time, Scotty was next to me, and then I saw him disappear."
The NHRA Mello Yello Drag Racing Series continues with the SummitRacing.com NHRA Nationals, March 28-30 at The Strip at Las Vegas Motor Speedway.
(Photos courtesy NHRA/National Dragster; JFR/Nastase; Click to enlarge)
GAINESVILLE, Fla. — Final round-by-round results from the 45th annual Amalie Oil NHRA Gatornationals at Auto-Plus Raceway at Gainesville, the third of 24 events in the NHRA Mello Yello Drag Racing Series:
TOP FUEL
ROUND ONE — Tony Schumacher, 3.820, 320.36 def. Leah Pritchett, 3.855, 318.24; Doug Kalitta, 3.795, 324.67 def. Brittany Force, 3.825, 321.58; Morgan Lucas, 3.846, 321.50 def. Richie Crampton, foul; J.R. Todd, 3.801, 325.30 def. Shawn Langdon, 4.296, 306.67; Antron Brown, 3.830, 319.14 def. Sidnei Frigo, 8.088, 88.66; David Grubnic, 3.935, 273.50 def. Clay Millican, 9.530, 78.21; Spencer Massey, 3.876, 317.64 def. Bob Vandergriff, 4.561, 169.17; Steve Torrence, 3.790, 325.69 def. Khalid alBalooshi, 3.833, 320.66; QUARTERFINALS — Lucas, 3.841, 316.82 def. Massey, 3.933, 314.31; Brown, 3.810, 321.42 def. Schumacher, 5.798, 124.20; Kalitta, 3.829, 321.12 def. Grubnic, 3.800, 316.30; Torrence, 3.856, 312.93 def. Todd, 9.377, 83.54; SEMIFINALS — Kalitta, 3.856, 319.52 def. Torrence, 7.663, 88.07; Brown, 3.847, 315.71 def. Lucas, 5.410, 132.18; FINAL — Kalitta, 3.830, 323.74 def. Brown, 5.106, 147.50.
FUNNY CAR
ROUND ONE — John Force, Ford Mustang, 4.075, 317.12 def. Cruz Pedregon, Toyota Camry, 4.102, 305.63; Jack Beckman, Dodge Charger, 4.080, 307.51 def. Alexis DeJoria, Camry, foul; Bob Tasca III, Mustang, 4.140, 308.14 def. Blake Alexander, Charger, 4.251, 296.24; Tim Wilkerson, Mustang, 4.135, 307.37 def. Chad Head, Camry, 4.893, 163.16; Courtney Force, Mustang, 4.102, 315.56 def. Matt Hagan, Charger, 4.307, 226.92; Ron Capps, Charger, 4.132, 308.14 def. Jeff Arend, Charger, 4.561, 194.07; Robert Hight, Mustang, 4.061, 314.02 def. Tony Pedregon, Camry, 4.199, 271.95; Del Worsham, Camry, 4.117, 308.92 def. Tommy Johnson Jr., Charger, 4.157, 303.78; QUARTERFINALS — C. Force, 4.140, 310.27 def. Wilkerson, 5.622, 137.67; Capps, 4.136, 307.16 def. Beckman, 5.844, 121.34; Hight, 4.140, 306.05 def. Tasca III, 6.262, 111.01; J. Force, 4.134, 303.84 def. Worsham, 4.599, 232.35; SEMIFINALS — Hight, 4.168, 301.20 def. Capps, 7.663, 89.63; J. Force, 4.240, 266.42 def. C. Force, 6.090, 112.74; FINAL — Hight, 4.074, 314.46 def. J. Force, 6.435, 118.29.
PRO STOCK
ROUND ONE — Jason Line, Chevy Camaro, 6.567, 211.30 def. Jimmy Alund, Camaro, foul; V. Gaines, Dodge Avenger, 6.571, 211.56 def. Larry Morgan, Ford Mustang, foul; Vincent Nobile, Camaro, 6.571, 210.08 def. Chris McGaha, Camaro, 6.566, 211.53; Shane Gray, Camaro, 6.582, 210.11 def. Steve Kent, Camaro, 6.609, 210.47; Allen Johnson, Dodge Dart, 6.559, 211.83 def. Jonathan Gray, Camaro, 6.593, 209.98; Dave Connolly, Camaro, 6.552, 211.03 def. Matt Hartford, Avenger, 6.649, 208.84; Erica Enders-Stevens, Camaro, 6.541, 211.93 def. Robert Patrick, Mustang, 6.667, 207.27; Jeg Coughlin, Dart, 6.550, 211.89 def. Rodger Brogdon, Camaro, 6.599, 210.93; QUARTERFINALS — Johnson, 7.414, 149.88 def. S. Gray, 13.901, 60.96; Connolly, 6.584, 210.87 def. Line, 6.568, 211.39; Nobile, 6.580, 210.60 def. Coughlin, 6.591, 211.69; Enders-Stevens, 6.535, 212.59 def. Gaines, 6.571, 211.79; SEMIFINALS — Johnson, 6.569, 211.79 def. Connolly, 6.583, 211.20; Enders-Stevens, 6.569, 212.29 def. Nobile, 6.582, 211.16; FINAL — Johnson, 6.566, 211.73 def. Enders-Stevens, 6.551, 211.96.
PRO STOCK MOTORCYCLE
ROUND ONE — Scotty Pollacheck, Buell, 6.923, 191.02 def. Hector Arana, Buell, 9.750, 86.95; Steve Johnson, Suzuki, 6.931, 192.44 def. Katie Sullivan, Suzuki, foul; Michael Ray, Buell, 6.907, 191.54 def. Fredrik Fredlund, Suzuki, 7.274, 184.19; Eddie Krawiec, Harley-Davidson, 6.905, 193.24 def. Shawn Gann, Buell, 6.934, 192.47; John Hall, Buell, 6.878, 192.11 def. Adam Arana, Buell, 6.945, 186.38; Andrew Hines, Harley-Davidson, 6.899, 193.96 def. Chaz Kennedy, Buell, 6.943, 190.65; Hector Arana Jr, Buell, 6.901, 195.31 def. Jim Underdahl, Suzuki, foul; Matt Smith, Buell, 6.880, 195.08 def. Jerry Savoie, Suzuki, foul; QUARTERFINALS — Pollacheck, 6.911, 193.02 def. Ray, 6.916, 192.41; Arana Jr, 6.915, 194.60 def. Krawiec, 6.935, 192.44; Hall, 6.900, 193.02 def. Hines, 6.944, 192.52; Johnson, 6.937, 193.60 def. Smith, foul; SEMIFINALS — Johnson, 6.874, 195.48 def. Arana Jr, 6.906, 195.70; Pollacheck, 6.865, 195.00 def. Hall, 6.847, 195.42; FINAL — Johnson, 6.912, 191.32 def. Pollacheck, 7.093, 190.81.
GAINESVILLE, Fla. — Sunday's final Sportsman results from the 45th annual Amalie Oil NHRA Gatornationals at Auto-Plus Raceway at Gainesville. The race is the third of 24 in the NHRA Mello Yello Drag Racing Series:
Top Alcohol Dragster — Duane Shields, 5.335, 266.74  def. Rich McPhillips, 5.473, 261.32.
Top Alcohol Funny Car — Dan Pomponio, Chevy Monte Carlo, 5.662, 258.52  def. Dale Brand, Monte Carlo, foul.
Competition Eliminator — Steve Ambrose, '23-T Ford, 7.718, 166.85  def. Pat Ross, Pontiac Grand Am, 7.720, 175.96.
Super Stock — Brad Zaskowski, Chevy Camaro, 10.135, 124.19  def. Joe Tysinger, Pontiac Firebird, 10.559, 123.71.
Stock Eliminator — Gene Jordan, Chevy Camaro, 10.198, 129.43  def. Mickey Whaley, Camaro, 10.691, 120.84.
Super Comp — Gary Williams, Dragster, 8.898, 154.76  def. Ray Miller, Dragster, 8.880, 161.56.
Super Gas — John Taylor, Dodge Dakota, 9.910, 161.19  def. John Labbous Jr, Chevy Corvette, 9.922, 156.50.
Top Dragster — Steve Cohen, Dragster, 6.723, 192.08  def. Larry Strickland, Dragster, 6.973, 191.29.