Last month Justin Ashley Racing announced it acquired a complete A/Fuel operation to compete in the NHRA Top Alcohol Dragster class. The team got off to a fast start and in just one month, opened its shop in Indianapolis, secured several important sponsors and prepared the car for competition.
A successful day of testing on Wednesday showed real potential for the newly formed team. In total the team made four runs, two planned half-track and two to the stripe. The car ran its quickest ET of the day on its first full pull right out of the trailer at 5.39 and its top speed of 269.68 mph on the last run of the day. The majority of the day was spent testing different clutch and tune-up combinations and a lot was learned.
"This test day showed the incredible synergy among this group." explains Justin Ashley, new team owner. "This was the first day that our team worked together at the track and it went beyond expectation. We learned a lot from this test session and we are anxious to learn a lot more. This is a highly competitive class and I'm well aware that sustainable success cannot come overnight. But we are committed to going all the way with this program. Lance Larsen, Anthony Dicero, Tom Abbett, Mark Adkins, Kevin Anderson and Krista Baldwin are all unique, talented and genuinely special teammates. I'm very, very fortunate."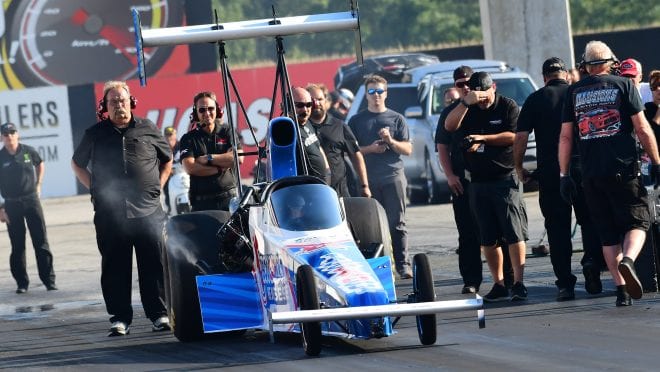 The team will hit the track for its first official race at the US Nationals, the most prestigious event on the NHRA tour.
Along with the team's debut, Ashley will be introducing its new primary sponsor, 1800CASHOUT, INC. The company buys distressed residential properties nationwide and is backed by Investor Licensees.
"I'm excited to introduce the 1800CASHOUT brand to the NHRA," says Ashley, a New York native. "I guess the best way to explain it is: you've heard of 1800FLOWERS for flowers and 1800LAWYERS for lawyers – 1800CASHOUT is for real estate."
Homeowners who want to sell a property fast anywhere in the United States can simply call 1-800-CASH-OUT and get an offer in 10 minutes and cash in 10 days. The company focuses on distressed properties like pre-foreclosure, or foreclosure sales, estate sales, divorce sales and short sales. Condition doesn't matter either. Properties can be in poor condition, burned down, flooded, hurricane ravaged, occupied by non-paying tenants even just vacant land. Being a real estate investor, Ashley has tested the concept successfully in New York and now the company is expanding nationally its expansion spearheaded by this sponsorship.
Also, for the US Nationals the team has partnered with Dr. Price Pritchett—best-selling author, expert on self-directed change, and advisor to top executives on fast-growth strategies.
"Like my father, former NHRA competitor Mike Ashley, I believe that an important key to our overall success as a team on and off the track is in the mental game," Ashley said. "My dad used the you2 book to instill a winning culture and mindset 15 years ago and now I am going to do the same. It doesn't matter if you're racing, building a career or raising a family. The information in you2 when studied and implemented is life altering."
In addition to its primary and associate sponsors the team enjoys, marketing partnerships with the following winning companies; Lucas Oil, Manley Performance, Clevite & Mahle, and Noonan Race Engines.