Justin Ashley expected success in drag racing, but his freshman season as a Top Alcohol Dragster has left him feeling amazed.
In just four national events behind the wheel of Randy Meyer's A/Fuel Dragster, the EPIC Motorsports Marketing/Reality Warehouse-sponsored driver has notched two wins and a runner-up.
Not a bad run of success for a driver who only earned his Top Alcohol credentials last fall.
"We won a few National events, and it's a tremendous blessing but I know, and I understand that it's not just me," Ashley said. "It's a complete team effort. It's Randy Meyer, Megan Meyer, Mary Meyer and it's the entire team that's responsible for this success, not just me. That's something that I realize, and I realized early on that I'm just the one driving the car and it's a total team effort."
All one would have to see is Ashley's penchant for soaking up knowledge like a sponge, to realize success was inevitable. Before the 2017 season, the second-generation drag racer made a trip to Frank Hawley's Drag Racing School where he made 17 laps in the school's blown alcohol dragster in an attempt to learn better the language which flows freely between a driver and his race car.
"I can't explain how much he taught me," Ashley said. "He sat down and worked with me. I went down that track. We went back and looked at the video. He was patient; he was understanding. I asked so many questions. He was critical for me. He was tremendous for me in making this transition.
"I know the success we've been able to have and that I've been able to have driving is directly correlated to having all those laps down the track with Frank. He obviously found it important and that in itself helped. But then going back and actually talking to him about things, reviewing things and going through the details really helped and really made a difference."
Borrowing a page from Hall of Fame NFL coach Tony Dungy, the 22-year-old Business Management major learned firsthand, "Champions don't do extraordinary things, they just do the simple things better than everyone else."
"I think that the most important thing that I learned from Frank was probably to just be mechanical," Ashley said. "Do the same thing every time. Don't get caught up in the emotion. Don't get caught up in the ups and downs of racing because that's what's going to happen, you're going to win some, you're going to lose some just like any other sport. Sometimes you're going to do well, sometimes you're not. Just be mechanical. Just do the burnout, backup, see the light, hit the throttle and go.
"Don't overcomplicate things, just drive the car and just be mechanical and methodical and just do the same thing every single time down the race track."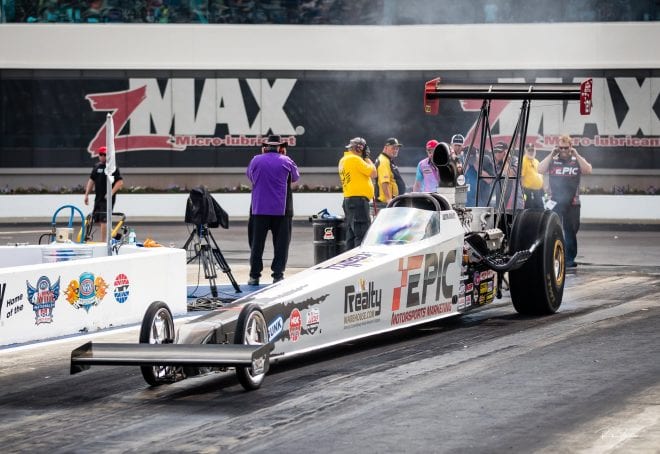 Ashley has been a quick study from the time he climbed behind the wheel of Barry Brown's supercharged Top Dragster in March 2016, to a one-day licensing session in Meyer's ride on the Monday after the 2016 NHRA Carolina Nationals at zMax Dragway.
Even more impressive on the resume, Ashley secured his Top Fuel license back in June, running a 3.78 at 314 mph in his first full run behind the wheel of the Matco Tools-sponsored dragster driven by Antron Brown.
Even though he's got the credentials to move to the Top Fuel division, Ashley is content gaining more experience in the A/Fuel Dragster.
"What I have here is an excellent opportunity to learn from one of the best out there in Randy Meyer," Ashley explained. "My day in Top Fuel will come, but before it does, I want to learn every bit I can from my time here."
Ashley would be remiss if he didn't mention he's been racing inspired in his inaugural A/Fuel Dragster season. Affixed to the side of his dragster is a special decal honoring his grandfather Kenneth Ashley, who passed away in January.
"His inspiration has fueled me," Ashley admitted. "My grandfather, we were very close. He was what I called my "pal."
"We used to spend a lot of time together, and it's not even that he was a racing fan, but he was a Justin fan. He cared about me, and he meant the world to me, and I know I meant the world to him. What I've taken from that and all I can do is carry forward his legacy. He was tremendously strong, tremendously resilient and mentally tough.
"That in and of itself has inspired me so much to take some of those traits and instill them in myself. That inspired me to go ahead and stay motivated to do some of the things I'm doing."