Justin Ashley was about as green as a driver could be.
Ashley, a rookie in the Top Alcohol Dragster ranks last season, showed just how much of a novice he was by going out and qualifying No. 1 in his first-ever race. The next week he went all the way to the winner's circle at the NHRA Gatornationals.
So much for the learning curve.
There's always the sophomore season, but for Ashley, he cannot wait for the opportunity to showcase what he's learned as a second-year driver for Top Alcohol Dragster icon Randy Meyer.
"I think compared to a year ago I'm a lot different," Ashley explained. "My whole perspective is different. Starting out last year I didn't know what to expect. I didn't really know very many people, and I wasn't too familiar with the class.
"Now a year later having made as many laps as I've made, having been involved in the class I feel much different. I feel like I've matured and I feel like I'm even ready to take one more step forward compared to last year."
The second-generation Ashley might have taken to Top Alcohol Dragster like a duck to water, but underneath the surface, it was a torrential storm of nerves he managed to camouflage.
"My nerve level was probably closer to 10 then, especially going into that race. But at the same time when it was time to go and sit in the car and actually drive my nerves definitely calmed down a lot, and I was able to just focus on what I had to do. There was a lot of anticipation.
"A lot going on inside and outside the car at that time. Relative to now, where things are a little bit different. I'm looking at things a little bit different having those passes under my belt. You still get those normal butterflies but certainly different than last year."
Ashley has replaced the nervousness with anxiousness.
"I think it's not so much a nerve level as it is excitement," Ashley explained. "I'm excited. I'm excited to get started. Last season was great, and I met a lot of really neat people. The people in the class are fantastic. I enjoy racing against them, and I really enjoy the competition. I enjoy racing with Randy Meyer Racing. I'm just looking forward to 2018 and leave 2017 behind me, as a learning experience. And, I know I still have a lot to learn."
Last year was meant to prepare him for this season when Ashley and his Epic Motorsports Marketing team intend to run for the 2018 NHRA Lucas Oil Drag Racing Series. He's up for the monumental challenge.
"I guess when you look at it as a whole it can be a little overwhelming, but I don't really look at it as a whole," Ashley said. "I look at it differently. I take each run, run by run and I take each round, round by round and each race, race by race.
"In the overall grand scheme of things I'm competing for a championship, but at the same time, from my perspective, nothing really changes. I go into each race with the goal of being successful and to win. I know it's a difficult thing to do. I know there's great competition but running for a championship is definitely more exciting for me."
Racing patiently in the moment can be easier said than done.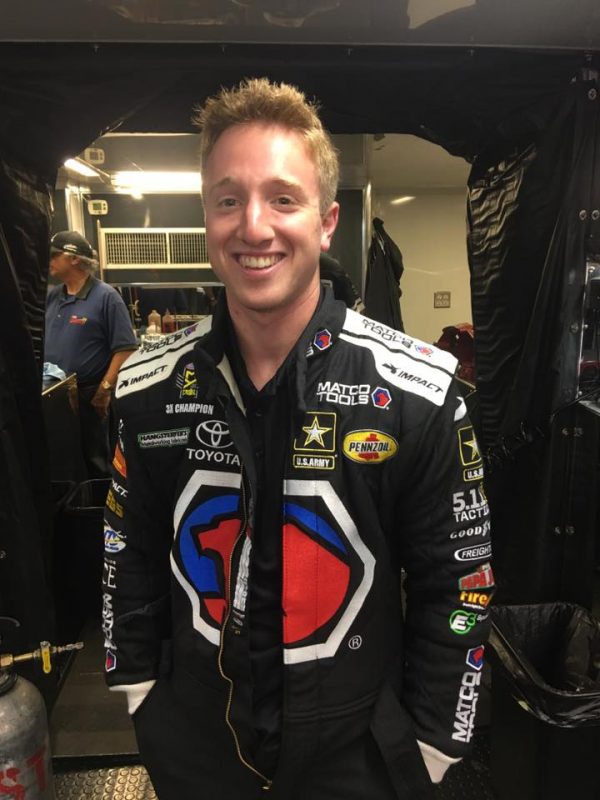 "It's so easy to get caught up in the thought of competing for a championship and the pressure of trying to win and trying to be successful," Ashley explained. "So I think it's definitely something that's easier said than done and something that needs to be kind of practiced and becomes kind of a memory that when you're focused and in the moment and not worried about anything else going on around you, it certainly helps."
Ashley tries to keep his mind out of the past as well, and not let the fact he's a licensed Top Fuel driver swell his head. He's tempered his enthusiasm for Top Fuel by simply realizing this is another story for another day.
"I honestly would say it's not that difficult to temper my enthusiasm for Top Fuel," Ashley said. "I'm excited, very excited for what the future holds but just like I take everything race by race, I take everything day by day. I'm very blessed to be racing with Randy Meyer Racing and to have the support from Realty Warehouse and Epic Motorsports Marketing. I'm focused on what I'm doing now. I have put those thoughts to the side, and I'll worry about it at a later date."
Besides, Ashley understands now is the time to capitalize on those lessons he learned in 2017.
"I learned a lot of lessons in my first full year," Ashley admitted. "I'd say probably the most important lesson that I've learned is, and everyone has their own approach to driving, but for me personally what works best for me is keeping the emotions out of it. Being mechanical.
"That's something I learned from my father [two-time NHRA Pro Mod champion Mike Ashley] and from Frank Hawley. Go in the car and do the same thing every time. Doesn't matter if it's the first round of qualifying. Even if it's the fourth round of eliminations on Sunday, you just put all your emotions to the side, don't get too high, don't get too low. Just get in the car, do your job. There's plenty of time at the finish line to show your emotions."
Story by Bobby Bennett, CompetitionPlus.com