After what he's accomplished in his career, Jose Gonzalez's driving ability shouldn't come as a surprise to anyone.
But what he continues to show in adverse and unconventional situations continues to be remarkably impressive.
The latest example came at last week's World Outlaw Nationals in Orlando when he flew in on Friday, tested and then blasted to second in the first round of qualifying with a 5.739 at 253.85 mph in his turbocharged Q80 Camaro.
But business had Gonzalez flying back out on Saturday – missing the remaining qualifying sessions – before he flew back on Sunday for eliminations. It was like he didn't skip a beat, as he rolled through eliminations and knocked off Stevie "Fast" Jackson in the final round with a 5.70 in his ProLine-powered Camaro.
"It's so impressive how he's not there and traveling internationally, and then he can show up and race so well," ProLine Co-Owner Eric Dillard said. "I don't think he varied on the tree. It's truly impressive how he can mange himself at the track. He's the most talented driver when it comes to raw talent that I've seen and had the opportunity to work with."
Leaving a race and returning is something Gonzalez has become well-versed in, doing it a year ago in Charlotte before winning his first NHRA Pro Mod race.
He repeated the feat in Orlando and now takes plenty of momentum in the 2019 NHRA Pro Mod opener this weekend in Gainesville.
Gonzalez finished 10th in points a year ago despite missing four races, qualifying No. 1 in Houston, winning in Charlotte and advancing to the final round at the U.S. Nationals before falling to Jackson.
He was lethally consistent in Orlando a week ago, falling between the mid-.030s to low-.040s in reaction time on every eliminations pass.
Gonzalez opened with a 5.801 in a first-round win against Marc Caruso, following that with a 5.754 victory against ProLine teammate Michael Biehle. Then came a thrilling semifinal round where Gonzalez and ProLine teammate Sidnei Frigo both posted identical 5.766 at 256.70 mph runs. Gonzalez's .037 on the starting line gave him the win before he knocked off Jackson in the final round.
"The way he drives, the consistency on the starting line, he's just so one with the car," Dillard said. "You know if he's in the car you're going to have a chance. Anytime he's in the car, as a team you don't want to make a mistake because you know he's not going to. It's impressive."
It could be the start of a big year for Gonzalez, who will likely race the same number of NHRA Pro Mod races as he did a year ago. But he also had a new Jerry Bickel Race Cars '69 Camaro built for a number of outlaw events, including PDRA and some big quarter-mile test sessions that has Dillard excited.
It gives Gonzalez a full plate, but the rest of the ProLine contingent has big expectations as well. Biehle ran a career-best 5.73 at 254 during testing at Orlando, while Frigo continued to perform well. Plus, three-time NHRA Pro Mod world champ Rickie Smith made his turbo debut in Orlando, showing signs that he's ready to compete for another world title. In all, it was an impressive start to the 2019 season and gave Dillard an extremely positive reaction to the new Alan Johnson Performance Engineering Raised Cam Hemi engine.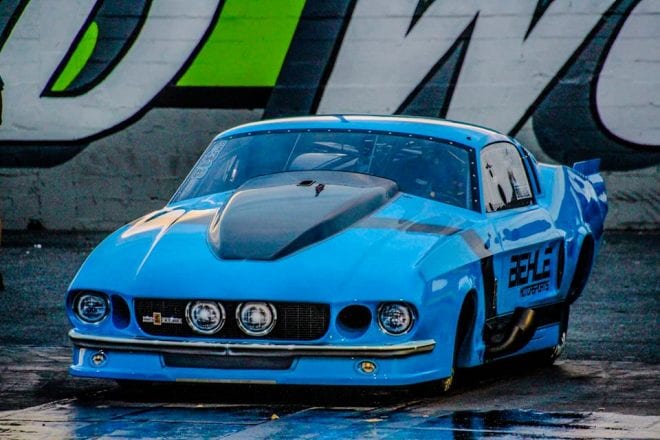 "It's a new design, it has a more stable valve train and it's a lot more serviceable piece," Dillard said. "The motor runs well at higher RPMs and it's way easier to service.
"We've worked hard and tested hard, and we've tried a lot of new things. All of our guys work together on a daily basis and that's help speed everything up."
It has Dillard hopeful for a strong 2019 NHRA Pro Mod season, but he knows the success in Orlando is only a building block. There will be a slew of 30-plus standouts in Gainesville, where he hopes the talented competition brings out the best in the ProLine group.
"Orlando was missing 4-5 or more of the big players and Stevie is just getting his few wet with his new car, so when we get to Gainesville it's going to be a battle," Dillard said "There's so much good competition, but we've got a great group of people and everybody sticks together so that gives us confidence."