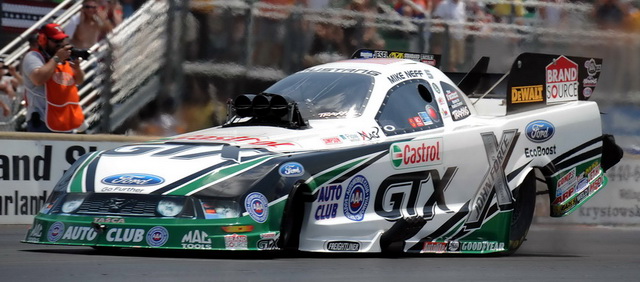 After two grueling days under the hot Ohio sun the four John Force Racing (JFR) Ford Mustang Funny Car drivers are ready for a break in the heat. With track temperatures creeping up close to 140 plus degrees on Friday and Saturday, a welcome sight was the weather forecast for cooler temps at Summit Racing Equipment Raceway Park in Norwalk, Ohio.
Mike Neff was the most consistent JFR driver and crew chief getting his Castrol GTX Ford Mustang down the track all four qualifying session and picking up four qualifying bonus points for his efforts. He will go into Sunday as the No. 2 qualifier, 4.112 seconds, and will face veteran Bob Bode in the first round.
"It doesn't look like the weather is going to be this hot tomorrow so these runs today may not even apply. Still you may face these conditions some time. You never know. You go up there and try to make the best run you can. I was hoping to run a little better today. We were second quick in the first session today and we made four respectable runs this weekend. I'll take it. I feel good about it," Neff said.
When he was asked about the hot conditions and how they might affect his driving and tuning abilities Neff was quick to dismiss any complications.
"I am trying to stay out of the heat as much as I can. I am trying to stay hydrated."
As the reigning Summit Racing Equipment NHRA Nationals winner Neff wants to keep his streak of success alive at America's Racetrack.
"It always helps some when you have done well at a track. It seems like you go to tracks where you just do well. You have some races where you never seem to do well. Definitely going back to a race you have done well at before is a little comforting," said Neff.
While Neff was consistently going down the track Robert Hight and the Auto Club Ford Mustang team were battling the elements and clawing their way into the program. Heading into the final qualifying session Hight was the No. 16 qualifier and then he was bumped out by Bob Bode. He had to race into the No. 16 spot and then wait to see if former JFR teammate Tony Pedregon bumped him to the sidelines.
"If you don't do well on Friday it just puts you behind. We put ourselves in this position. The first run on Friday was really close to making it and would have been low of the session. (Crew chief) Jimmy (Prock) thought it was close and last night we got screwed up," said Hight.
"We have never, never ever backed this car down that much. We were hoping that it would put a cylinder out. It put two of them out and they were on the same side so it was trying to drag me over to the wall.  You saw that with Tony Pedregon or otherwise he probably would have bumped me out. (Ron) Capps  – the No. 2 driver in the points – can't gain on me tomorrow if I am still in the race. Not qualifying would not have been good. To be honest I think Capps has the toughest race out here going up against (Jack) Beckman. Beckman has a great car and that thing is fast; he is going to have his hands full. So will Johnny Gray."
At the top end of the race track moments after he had clinched his spot Hight was excited to be racing on Sunday.
"With Capps running as well as he is you do not want to lay an egg at this part of the season. We left half of the clutch parts on the bench in the pits. It was crazy all the moved Jimmy Prock made to get this Auto Club Mustang down the track. Good job to him. It will be a whole new ballgame tomorrow. We will have a tough competitor with Johnny Gray but we will be right there with him."
Hight will go into Sunday as the No. 16 qualifier for the first time in his career. He does have six wins out of his 27 victories from the bottom half of the field. In 2010 his boss and mentor John Force raced to the final from the No. 16 spot at this event before falling to Tim Wilkerson in the final. It was Force's only final round appearance at Norwalk which is the only facility Force has not notched a victory.
Force finished his qualifying efforts strong posting the third quickest ET in the final session under the toughest conditions. Force's time of 4.342 seconds was behind only Ron Capps' 4.276 and Tim Wilkerson's 4.335. The 15-time Funny Car champ will race Wilkerson in a battle of the dads. It will be the 40th time the drivers have squared off with Force holding a 29-10 edge.
Rookie of the Year contender Courtney Force along with crew chiefs Ron Douglas and Dan Hood managed to keep the Traxxas Ford Mustang team in the No. 6 qualifying spot today after two sessions on race track that topped temperatures in the mid 140's.
"We had a rough start to qualifying on Friday, but we recovered Friday night. We had to change bodies for our Friday night session and we were able to make a good pass and run a 4.140 while getting to race my dad which was a lot of fun," said the 24-year-old Rookie driver.
Force made a good pass in the first qualifying attempt today, the third of the weekend, when her Traxxas Ford Mustang Funny Car posted a 4.373 ET at 239.61 mph. The car drifted out of the groove at the end of the track and Force backed off the throttle slightly before the finish line, but still made the fourth quickest pass of the session. In her fourth and final attempt Force drove her Traxxas Ford to about 700 and feet, but the chutes were deployed early and she ran a 4.940 and did not improve.
"Today we had some good passes. We got it down there, but it was tough trying to get these cars to run quick in the heat. It's one of the hottest tracks that we've raced on so far this season so it definitely makes it more challenging for my crew chiefs and my team, but the most important thing is we got qualified. We ended up in the no. 6 spot and got that 4.140 under our belt," said Force.
After all was said and done for the day, Force's 4.140 ET from Friday night's session kept her solidly in the No. 6 spot.
"We had a decent pass in the third qualifying session in the heat which is good for tomorrow. We'll be racing Todd Lesenko first round and I just hope we can keep our car going down the race track without smoking the tires. If we can just get a decent run in hopefully we can get that win, but Lesenko is a tough competitor so we're going to have to do the best we can and see how fast we can make my Traxxas Ford Mustang go in the heat," said Force.
The Cal State-Fullerton graduate is currently 1-0 against Lesenko from their previous match-up in Phoenix earlier this season when she dismissed him from eliminations after taking out her father, 15-time World Champion John Force in the opening round. There, she qualified in the No. 12 spot and went to her first semi-final against teammate and brother-in-law Robert Hight. Phoenix was only her second professional race. She has since then followed up that event with two additional semi-final finishes and one final round last weekend in Chicago.
 (Photos by Ron Lewis, courtesy JFR; Click to enlarge)