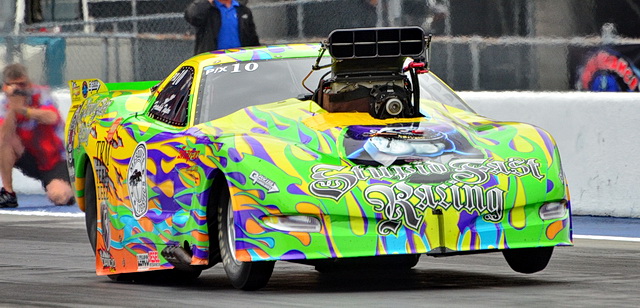 Officials from the American Drag Racing League announced Sep. 18, that chassis builder Larry Jeffers Race Cars will offer 2013 ADRL world champions in Pro Extreme, Pro Nitrous, Extreme Pro Stock, Pro Mod and Top Sportsman $20,000 towards the purchase of a complete race car.
"Larry Jeffers has once again stepped up to support our race teams in a huge way," ADRL President Kenny Nowling said. "His support of our racers this season has been second to none and I personally cannot thank him enough."
"This has been without a doubt the most exciting year in ADRL history," said Larry Jeffers, president of  Larry Jeffers Race Cars. "We want to do anything we can to continue to show our support for the ADRL and their race teams."
For additional information about Larry Jeffers Race Cars visit their official website, www.larryjeffersracecars.com.
(Photo by Ian Tocher)