Everything had been going along smoothly for Jay Cox and his Bryant Industrial backed Pro Nitrous '69 Camaro. In four races he'd gone to three finals, winning twice. The former Minor League Baseball player has found a new groove among the world's best professional eighth-mile drag racers. But things took a quick turn south at the PDRA North-South Shootout at Maryland International Raceway. First, in what's becoming an ongoing battle between a pair of orange '69 Camaros, he was beaten by Stevie Jackson in the opening round of the Nitrous Wars Shootout. He ousted John Camp first round of the regularly scheduled race and for the fifth time this year would face "Stevie Fast" in PDRA competition. Just before half-track, Cox got loose and the car darted right, nose first into the right guardwall. The car turned back downtrack, riding the guardwall before settling violently back down.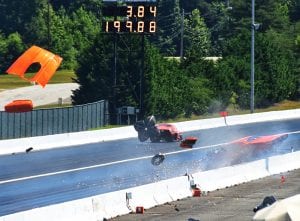 "The only reason Stevie Jackson won those races against me in Maryland was it was his birthday weekend. His wife and his little girl begged me to give him a nice birthday present. I couldn't afford to buy him anything so I gave him a couple rounds of racing," Cox banters. He had beaten Jackson every other time they met in PDRA competition this year. As two quick-talking mouths of the South, Cox and Jackson have traded words all season long, even taking to social media to continue their season-long war of words through videos, photos and posts. Though the smack talk has been good-natured, there's also much at stake. Despite Cox's wild ride, he hung onto the points lead after that event, and is still planning on having the final say at season's end.
How quickly did the car come back together?
Actually, I was on the race track still when Rick [Jones] called me and asked me how bad it was, trying to get parts ordered while I was still on the race track. He had JJ, the main guy at the shop, meet me the very next day. Six o'clock in the morning we rolled the car out and by dinner time we had it on the jig, had it cut apart. Within five days they had it fixed. That speaks volumes for them. Shoot, I couldn't even come close to doing it without them.
That's great! So, What happened on that run?
Maryland had redone the race track. They cut it out at about 270 foot all the way to the finish line and they redid the asphalt. There was a transition out there and I was struggling a little bit with it, as everybody else was. I tried to speed the car up a little bit before the transition. When I went across the transition the lockup hit and kinda took the tire off and it just went loose in the middle of the race track.
What was going through your mind?
What was going through my mind was, 'Oh shit! How fast can we get this thing put back together?' As soon as it come to a stop I jumped out of it and was looking at everything, just trying to assess the damage. What could we do to fix it? Would we have to get another car? I really want to win the championship and do all I can to win it, and I know all the guys on my team do and Bryant and my dad. We only got three weeks [before the next event]. Three weeks sounds like a long time, but when you're working on one of these things three weeks ain't nothing, ya know? I wasn't worried about me or nothing. All I was worried about was the car and how bad was it, how fast we could get it fixed. Rick and the boys at his shop really done a killer job.
After Maryland, you were still sitting on top of Pro Nitrous points. How confident did you feel about the rest of the season?
I feel good, ya know? I feel like Lizzy's got a little bit of advantage on everybody, from a driver's standpoint. Tommy's a big threat. Stevie Jackson's a big threat and Travis is a big threat. It's going to be a dog fight from here on out, these next four races on who can persevere and just keep their nose down, keep working hard. I feel good about it. I surround myself with probably the best people in drag racing. I got Dennis and Doug and Bryant and my dad. They're all in it to win it. They're not scared to work. They're not scared of late nights and long hours and I think that's what it's going to take from here on out. Those four that I mentioned are really close on E.T. and it's all going to be who don't mind working the hardest to find that little bit of an edge. I got Charlie Buck. Every week he's working on something, trying to find power. When I got that many good people around me, it makes me feel confident about the rest of the year.
Are you comfortable with a lead and trying to stay ahead of the competition?
Me growing up playing baseball like I have, I always liked to be the underdog. There's something about being the underdog and coming out on top. I don't really look at the points. I still look at it as I'm the underdog. Tommy Franklin, Stevie Jackson, Travis Harvey, they run on probably three times the amount of money I race on in a year. I probably have the smallest budget in Pro Nitrous. Every time I show up at the race track, I feel like the underdog. So I don't look at it as first place or last place. I look at it as those guys have an edge on me every time I get there and I just have to work a little harder than they do. That being said, it's always nice to have a points lead, but I don't want to let it make anybody not want to work as hard or push these cars or these motors to the limit.
It's fairly well known that you played professional baseball prior to getting into drag racing. Do you ever wish you had pursued a career in baseball a little longer?
From a money standpoint, yeah! It'd been nice to play the big leagues ten or fifteen years and make a lot of money. It would have made it a lot easier doing what I do in racing at this level. But, nah, ya know, when baseball was over for me, it was over. I was happy I'd played ever since I was five years old. I got to do a lot of things, meet a lot of people, and baseball took me everywhere I wanted it to in life. It's kinda cool that drag racing has took me to a whole different level. I've got to meet a lot of new people and do a lot of things I never thought I'd be able to do. I don't regret nothing.