At first, Jason Miller resisted.
But as he sifts through a 22-page checklist – single-spaced, size-8 Arial font to boot – it's clear he has carried on one of the biggest lessons his father, Maryland International Raceway owner Royce Miller, taught him at an early age.
The checklist is Miller's Bible to a successful race, this one being for his flagship event, the 21st annual Halltech World Cup Finals, and includes every minute detail to ensure the weekend, which is annually one of the largest independent outlaw races in the sport, goes off without a hitch.
Miller joked he put off making his own checklist book as long as he could but these days he wouldn't want to imagine a world, especially when it comes to drag racing, without one.
"One of the things my father instilled in me early was making sure there was an attention to detail," Miller said. "That's probably one of our biggest attributes, making sure if we say we're going to do something we do it, and not handling something or leaving something undone. That kind of attention to detail and good promotion is the way we've grown these events every year. When you have the same hiccups over and over again it turns people off."
Miller will take down what he estimates is a "couple hundred notes" by the time the race is completed on November 6, ensuring his document will add at least a couple more pages by the time 2017 rolls around.
But it's all part of a process Miller has learned over the years when it comes to being a successful race promoter. He has been hands-on since his family bought the track in 1990, watching the ebbs and flows of the industry, and just how drastically different successful promotion is in this social media and digital age.
He's now the promoter and event director for Miller Brothers Productions (MBP) – a company he started with his brother, Chris, this year – focusing on what has worked in the past to help predict what will be necessary to promote drag races successfully in the future.
Miller has watched the art of promotion continue to evolve over the years, from simple radio ads to web forum-based promotion to now social media.
But it was Miller's introduction to the web forums in the early 2000s that first let him know that there was a different way of doing things.
"They've fallen off since then but in the early 2000s, you could go to any forum that targeted your genre that you were interested in," Miller said. "That's where everybody was and that's where you made those relationships with the racers. When you said you were going to do something and you did it, you earned that respect from everybody pretty quickly.
"A lot of people were not up to speed to being active on those forums. The ones that were active there, the racers really could connect with you. When you put on the events, you had a really good following that way. It was really important to be active and social on those, just like social media is now."
Miller estimates he was a member of nearly 350 different web forums, a fact he jokingly didn't know if he should be ashamed or proud of.
But as the art of promoting has shifted to social media, Miller's approach hasn't changed much. The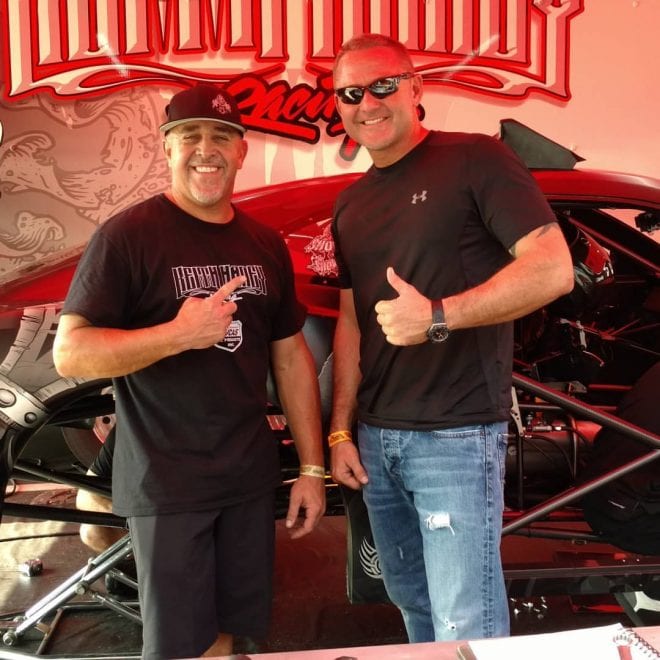 importance of interaction and reliability still reigns supreme, but being able to understand the ever-changing world of social media is something that has become vitally important.
"You have to engage with people and not just be blasting when you're event is and so on," Miller said. "Anytime that you can interject humor, getting people engaged with rivalries or kind of stirring the pot and that kind of thing, you get people engaged who are happy to interact with what you're doing.
"That just creates more energy. The algorithms from Facebook tell you they want it to be an interactive (place). It's not just a site to post information on if nobody's interacting with it. You're never going to be seen."
Miller commends the job guys like Donald Long have done when it comes to creating remarkable buzz on social media and he is always looking for different ideas to apply to his own promotion.
Staying true to his roots – which is where the checklist comes into play – remains a key facet to Miller's approach, but there's not a day that goes by or an event he attends, whether it be a concert, sporting event or even the zoo, where he isn't trying to learn something new when it comes to effective promoting.
"This world is ever-evolving and people's attention spans are shorter than they've ever been," Miller said.
"Everybody in the last 4-5 years has shifted from forum-based stuff to social media, and now there's all these different sub-groups on social media for their genre. It's an ever-evolving game and it's going to evolve again in the next five years. You just try to stay a step ahead of everything so you can stay relevant and understand the best tool to get to them."
Years of hands-on experience have also paved the way on Miller's path to becoming a successful promoter. He's done everything at MIR except flip burgers, ran the successful MIRock Superbike Series and started the World Cup Finals when he was 20 years old.
With Miller Brothers Productions, he has carved out a full slate, working with tracks like Galot Motorsports and Atco Raceway. He believes the sport is in a good place and admires the efforts of a number of different sanctioning bodies as he continues to see impressive growth from his own flagship event.
Miller had more than 415 pre-entered cars spanning eight different countries and 31 states, and hopes to see another push in attendance from 30,000 to possibly 35,000 this season.
It's cemented Miller's principles and approach as a promoter, something that won't change even as the art of it continues to change and evolve.
"We put (the World Cup Finals) together and it turned into the biggest event on our schedule in less than a decade," Miller said. "We're real proud of that.
"I love the cars, I love the motorcycles, but people are my favorite part of this business and it always has been. We've got some of the best people in the business in here and that what brings you the racetracks. The promoter game is no different."
This story originally appeared in Drag Illustrated Issue No. 114, the Technology Issue, in October of 2016.