PDRA Pro Nitrous Champion Jason Harris didn't expect to create a stir when he switched engine builders after teaming up with Travis Harvey for the 2015 season. Harris cut his teeth in bracket racing and often switched engine builders. To him, this latest move in his program was simply a savvy business decision that would benefit his program and new teammates, who already utilized Sonny Leonard power.
What Harris didn't take into consideration, however, was his new prominence as the most dominating force in one of drag racing's most formidable classes, and that his choice in horsepower suppliers would speak volumes to fans and competitors alike.
It was Pat Musi power that carried Harris through his unbelievable Championship-clinching year that included going to eight finals in as many races in the PDRA's inaugural season. Harris says that although he has a strong history with Musi, moving forward with Sonny's Racing Engines was the best decision for him and his new teammate.
"It was a business decision simply because we did team up with Travis," explained Harris. "They were already running Sonny power and with us teaming up, financially it was just the smart thing for us to do. I'm looking forward to running Sonny's stuff. He's always had good power. I'm looking forward to a lot of R&D and moving forward. Financially, it was just the smartest thing I could have done. Now Travis and I have got the same parts. We're a low budget team. We've never had the opportunity to do as much R&D as we would have liked. I've never had a spare engine. I've never had a spare tranny. To be able to have spare stuff now really helps me out.
"As bracket racers, we switched engine builders all the time. I've been all over from Fulton to Billy Albert and all over the place. I didn't think it was going to be a big deal, but evidently it was."
Although Sonny's Racing Engines is most well known for its slew of Pro Stock Championships and records, the legendary engine builder is no stranger to Pro Mod competition, being utilized by Billy Glidden and Mike Castellana, among others. Sonny's is also making waves in 4WD truck pull competition where their engines have won four of the last five Grand National Championships in NTPA 4WD.
Sonny Leonard echoed Harris on the move being purely a business decision. He stated that he did not approach Harris to get him to switch. Leonard believes that more and more racers are seeing the benefits of Sonny's Racing Engines which has the facility to manufacture different cylinder heads, as well as two five axis CNC machining centers. Other advantages available to his engine customers include 3D design model capabilities with modern software, digitizers and an in-house engineer and programmer.
Todd Hoerner, a key person at Sonny's, recognizes that having the reigning Pro Nitrous Champ make the switch to Sonny power will help solidify the company's presence in the category.
"We're excited to have Jason, along with Travis and our other Pro Nitrous teams," he stated. "It's nice to have the Pro Nitrous Champion running our stuff. We're glad to work with Robert Hayes. He's one of the top guys out there and it's always a plus to work with the best tuners in the business. We look forward to seeing what Jason and Travis will accomplish as teammates along with our other customers."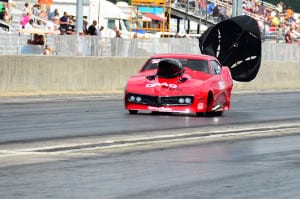 Harris knows that his 2014 'dream season' isn't likely to be repeated anytime soon, but has full faith in his headline-making decision and in his tuner, Robert Hayes, who will tune the Sonny Engines in both Harris' and Harvey's Camaros.
"I'm looking forward to working with Sonny. He's got years of knowledge and experience and we can bring some useful information from our experience of running nitrous with EFI. We'll see what Rockingham brings. I'm really, really honored to have someone like Sonny behind me right now and then to be teamed up with Boone and Travis and those guys. It was time for a fresh start. You can't have a better year than I had last year, and I don't want to get stale. I want to keep moving and trying new things. That's just the way I am. Sonny is giving me that opportunity."