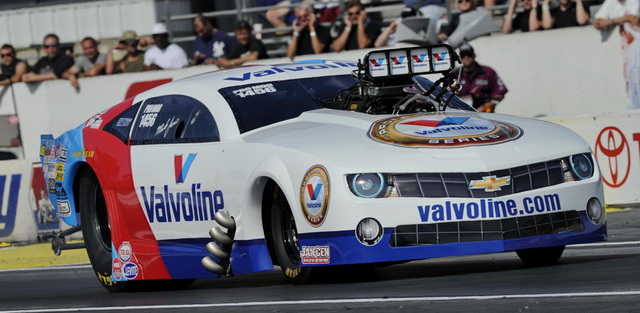 In racing, if you are not moving forward you are moving backwards. After a recent national event win at Englishtown, NJ, Mike Janis Racing (MJR) is moving forward. The team is sixth overall in a tight point's battle and a mere five rounds out of first place.
As the second half of the racing season begins, team Janis continues to build momentum with sights set on contending for the NHRA Pro Mod championship in 2013 and beyond. With success on and off the track, comes growth. The team is also experiencing increased demand for their business development services and announced July 15, that their organization is adding a second team for 2014.
"I am really excited about what is on the horizon. We are putting the final touches on the deal as we speak and know a second car is going to make us a force to be reckoned in the NHRA Pro Mod series," Mike Janis Jr., general manager at MJR, commented.
"Our new teammate is no stranger to winning races and championships. He is the caliber of driver that aligns perfectly with our vision and is the type of business and performance minded person who is really going to catapult us to the next level. In the next few weeks we will be announcing our driver and partner line up and will be spending the next couple of months getting our chassis and engine program where it needs to be to accommodate our second team for the start of the 2014 season."
Brian Fleischman, team president and director of business development at MJR, agreed that the timing was right for the organization to take this step.
"We have worked really hard to develop a unique product and assemble the right people within the organization to make this a reality," he said.
"Surrounding yourself with the right people is our foundation for continued growth and success. Our current partners are taking full advantage of our business solutions first approach and they are seeing measurable value and results against their bottom line.
"At the same time, we continue to generate a high level of interest from companies new to the sport. That validates that we are on the right track. They are intrigued by our unique approach and are interested in leveraging our resources in people and process to grow their businesses. We are excited about what the future holds."
Mike Janis Racing will be back on track at the NHRA U.S. Nationals which will take place Aug. 28-Sep. 2, at Indianapolis, IN.