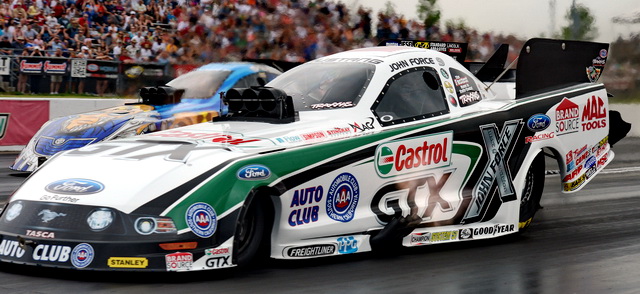 John Force ended a 19-race No. 1 qualifying slump by racing to a track record performance in Funny Car Saturday at the 25th annual NHRA Kansas Nationals.
Shawn Langdon (Top Fuel) and Mike Edwards (Pro Stock) also will lead their categories into Sunday's 11 a.m. eliminations at the NHRA Mello Yello Drag Racing Series event.
Force, a 15-time NHRA world champion, claimed the 141st No. 1 qualifying position of his career and his 11th at Heartland Park Topeka by clocking a track record time of 4.043 seconds at 313.22 mph in his Castrol GTX Ford Mustang. He will meet former teammate Tony Pedregon in the opening round of racing.
"I'd like to take credit, but credit goes to the people," said Force, who has won nine of his NHRA-record 134 victories at Heartland Park Topeka. "It starts with [crew chief] Mike Neff. We've been struggling without a doubt. My dad always taught me that when you're struggling, don't change midstream and forget which way you're going; that's going backwards. The guys believe in me, and I believe in them. They've turned my car around."
Force's daughter Courtney was second in her Traxxas Mustang with a 4.050 at 315.56 and will race Dale Creasy Jr. in the opening round. Friday top qualifier Robert Hight dropped to third, but improved on his time from yesterday, posting a 4.050 at 315.12 in his Auto Club Mustang. His first round opponent is Canadian Jeff Arend.
"We're one, two and three and this means a lot that John Force still knows what he's doing, because I do," said Force, who earned his last No. 1 qualifying position in Chicago last June. "I surround myself with good people."
One intriguing first round match includes the current Funny Car points leader, Cruz Pedregon in the Snap-on Tools Toyota, facing the defending world champion and last year's event winner here, Jack Beckman, who drives the MTS/Valvoline Dodge Charger.
In Top Fuel, Langdon earned his third No. 1 of the season and ninth of his career with a performance of 3.767 at 322.50 in his Al-Anabi Racing dragster. He said team manager and tuning wizard Alan Johnson predicted the car would be very quick in the third session.
"We might have got that No. 1 qualifying position last night, but it kicked the rods out right before the lights," Langdon said. "We feel like we can get a little more out of it by working on our cylinder-dropping issue on the top end. The weather held out with the cloud cover today, and we felt that the third session was the session to really go for it."
Langdon will seek his first Topeka victory and his second win of the season with an opening round match against veteran driver Pat Dakin.
"[Crew chief] Brian Husen does a great job making the right calls at the right time, and Alan Johnson just works magic out there," Langdon said. "I saw Alan with his hands on his hips with his sunglasses on before the last run, so I could tell he was in his thinking mode with the track getting hotter. He made some last-minute changes to the clutch that worked out."
Friday's qualifying leader Tony Schumacher was second with a 3.769 at 326.08 in the U.S. Army dragster and will meet Houston winner Bob Vandergriff in the first round.  Doug Kalitta qualified third in the Mac Tools dragster with a 3.770 at 324.98 and will face Morgan Lucas in the opener.
Edwards cruised to his seventh top qualifying position of the season in Pro Stock, and will race Steve Kent in the opening round. Edwards took his 48th career No. 1 and fourth at HPT with his Friday run of 6.618 at 208.55 in his Interstate Batteries/I Am Second Chevy Camaro.
"The air wasn't as good for us today with a higher water count, and that really affects the Pro Stock engines," Edwards said. "They just don't burn water very well. But even though it slowed us down and we had a problem with the transmission dead-heading the gears in the final session, we still ran very well against the rest of the field, and we're looking forward to tomorrow."
Edwards jointly holds the record for most No. 1 qualifying positions in a season (16) with Greg Anderson. After taking seven top spots in the first eight races, the Oklahoma native is on a similar roll to his magical 2009 season.
"Some people say that qualifying No. 1 is not that big of a deal, but to us it's really awesome," said Edwards, a two-time winner at HPT. "We've been able to do it from sea level to altitudes as high as 4,100 feet, and that's a great feeling to be able to do it."
Erica Enders-Stevens qualified second with a 6.625 at 208.30 in her Black iGuana Chevy Camaro and will race fellow Houston native Rodger Brogdon in the first round, while defending event winner and world champ Allen Johnson will start third in his Team Mopar Dodge Avenger and will meet Deric Kramer in the opening round.
TOPEKA, Kan. — Sunday's first-round pairings for eliminations for the 25th annual NHRA Kansas Nationals at Heartland Park Topeka, the eighth of 24 events in the NHRA Mello Yello Drag Racing Series.  Pairings based on results in qualifying, which ended Saturday. DNQs listed below pairings.
Top Fuel
1. Shawn Langdon, 3.767 seconds, 322.50 mph  vs. 16. Pat Dakin, 3.918, 312.71; 2. Tony Schumacher, 3.769, 326.08  vs. 15. Bob Vandergriff, 3.872, 317.64; 3. Doug Kalitta, 3.770, 324.98  vs. 14. Morgan Lucas, 3.854, 315.86; 4. Khalid alBalooshi, 3.794, 324.44  vs. 13. Brittany Force, 3.846, 320.89; 5. Spencer Massey, 3.794, 323.19  vs. 12. Terry McMillen, 3.842, 321.96; 6. Antron Brown, 3.803, 316.15  vs. 11. Leah Pruett, 3.833, 313.00; 7. Clay Millican, 3.811, 321.12 vs. 10. Brandon Bernstein, 3.819, 324.90; 8. David Grubnic, 3.813, 319.75  vs. 9. Steve Torrence, 3.817, 319.60. Did Not Qualify: 17. Scott Palmer, 3.995, 286.32; 18. Tim Cullinan, 4.062, 291.70; 19. Luigi Novelli, 4.067, 264.60.
Funny Car
1. John Force, Ford Mustang, 4.043, 313.22  vs. 16. Tony Pedregon, Toyota Camry, 4.628, 270.81; 2. Courtney Force, Mustang, 4.050, 315.56  vs. 15. Dale Creasy Jr., Chevy Monte Carlo, 4.297, 284.45; 3. Robert Hight, Mustang, 4.050, 315.12  vs. 14. Jeff Arend, Dodge Charger, 4.132, 306.60; 4. Johnny Gray, Charger, 4.053, 313.37  vs. 13. Alexis DeJoria, Camry, 4.119, 303.30; 5. Del Worsham, Camry, 4.065, 313.15  vs. 12. Chad Head, Camry, 4.105, 310.13; 6. Matt Hagan, Charger, 4.069, 312.57  vs. 11. Bob Tasca III, Mustang, 4.094, 314.02; 7. Tim Wilkerson, Mustang, 4.071, 310.55  vs. 10. Ron Capps, Charger, 4.087, 309.77; 8. Cruz Pedregon, Camry, 4.079, 302.55  vs. 9. Jack Beckman, Charger, 4.081, 312.42. Did Not Qualify: 17. Todd Simpson, 5.293, 206.35.
Pro Stock
1. Mike Edwards, Chevy Camaro, 6.618, 208.55  vs. 16. Steve Kent, Camaro, 6.742, 206.01; 2. Erica Enders-Stevens, Camaro, 6.625, 208.30  vs. 15. Rodger Brogdon, Camaro, 6.723, 206.35; 3. Allen Johnson, Dodge Avenger, 6.633, 208.62  vs. 14. Deric Kramer, Avenger, 6.709, 205.07; 4. Jeg Coughlin, Avenger, 6.633, 208.46  vs. 13. Greg Stanfield, Camaro, 6.699, 206.54; 5. Shane Gray, Camaro, 6.640, 208.04  vs. 12. Rickie Jones, Camaro, 6.669, 207.88; 6. Greg Anderson, Camaro, 6.655, 207.88  vs. 11. Larry Morgan, Ford Mustang, 6.668, 206.99; 7. Jason Line, Camaro, 6.657, 208.20  vs. 10. Matt Hartford, Avenger, 6.667, 207.53; 8. V. Gaines, Avenger, 6.658, 208.52  vs. 9. Vincent Nobile, Avenger, 6.666, 207.78. Did Not Qualify: 17. Chris McGaha, 6.754, 206.07.