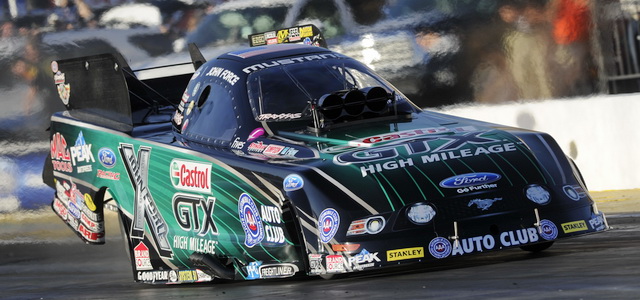 John Force (above) set national and track records at the NHRA season-opener in Pomona two weeks ago and continued his impressive early-season hot streak Feb. 21, by racing to the qualifying lead in Funny Car at the CARQUEST Auto Parts NHRA Nationals at Wild Horse Pass Motorsports Park, near Phoenix, AZ.
Doug Kalitta (Top Fuel) and Chris McGaha (Pro Stock) also were the leaders in their respective categories at the season's second of 24 NHRA Mello Yello Drag Racing Series events.
Force powered his Castrol GTX High Mileage Ford Mustang to track record runs for both elapsed time and speed. Force posted a performance of 3.990 seconds at 317.79 mph on his second qualifying attempt, knocking teammate Robert Hight from the No. 1 spot. The run made Force the first Funny Car driver to record a time quicker than four seconds at the multi-purpose motorsports facility near Phoenix.
"We watched Robert Hight and Mike Neff run that (4).03," Force said. "We knew it was there, but we also wanted to make sure we got it in tonight. I think Jimmy (Prock, crew chief) had it back in shape, ran 3.99 smooth as can be."
Hight piloted his Auto Club Ford Mustang to a run of 4.030, giving John Force Racing the top two qualifying positions after day one. Alexis DeJoria, who became the first female and only the ninth driver in Funny Car history to complete a three second pass, made another strong run at 4.048 and sits third in her Patron XO Cafe Toyota Camry.
Pomona runner-up Kalitta led Top Fuel with a run of 3.735 at 327.74. Kalitta was the No. 1 qualifier two weeks ago in Pomona and he will open the season with two straight if his time holds following tomorrow's final qualifying sessions (12:30 p.m. and 3:30 p.m.).
"It's pretty exciting," Kalitta said in reference to his Mac Tools dragster's consistency. "I've definitely got to keep up with the performance of that thing. I'm trying really hard. Hopefully we can get it done on Sunday."
Kalitta knows he doesn't have the No. 1 qualifying position locked up just yet. Steve Torrence had a great qualifying day, piloting the Capco Contractors dragster to a run of 3.758 at 321.96. Bob Vandergriff, David Grubnic and Antron Brown all completed passes in the 3.7-second range.
Kalitta Motorsports decided not to send Kalitta and Top Fuel teammate David Grubnic to pre-season testing in South Florida in mid-January. Kalitta joked that the key to his success may be skipping the opening test.
"That's probably what Connie (Kalitta, team owner) is thinking," Kalitta said. "It depends, if you're trying new things or whatever. Everybody's just kind of feeding off of each other."
Defending Mello Yello Drag Racing Series Top Fuel world champion Shawn Langdon, who fell to Al-Anabi Racing teammate Khalid alBalooshi in the semis at Pomona, is in eighth place. Pomona winner and current series leader alBalooshi is 14th after two sessions.
In Pro Stock, McGaha made the quickest run in the first session of qualifying and it was enough to lead the category. Utilizing his Harlow-Sammons of Odessa Chevy Camaro purchased from 2009 Pro Stock champ Mike Edwards, McGaha completed a run of 6.530 at 210.64. If his run holds through Saturday, it will be the Texas driver's first career No. 1 qualifying position.
"I've made runs before," McGaha said. "Made good runs before and stayed No. 1 for a little bit, but then here comes all the fast guys. You have to wait till the fast guys run before you can decipher what's going to happen."
One unique advantage of purchasing his equipment from Edwards was the amount of data information he's received. Using Edwards' single pass information, McGaha has been able to get a better handle on his car.
"We have his logbook," McGaha said. "It has all the runs, all the information from last year; there are about 260 runs in that logbook."
Defending race winner Erica Enders-Stevens put on a strong show during qualifying, running a 6.531 in her Camaro to place her second after the first day. The Elite Motorsports driver had the quickest run of the second session and looks to be a factor once again in the desert.
"We actually had a new engine shipped in here on Wednesday," Enders-Stevens said. "So far, it looks pretty good. That was a good run, but I think we have even more left."
Pomona winner Jason Line sits third while Vincent Nobile and Shane Gray are currently seeded fourth and fifth.
(Photos courtesy NHRA/National Dragster; Click to enlarge)
CHANDLER, Ariz. — Friday's results after the first two of four rounds of qualifying for the 30th annual CARQUEST Auto Parts NHRA Nationals at Wild Horse Pass Motorsports Park, second of 24 events in the NHRA Mello Yello Drag Racing Series.  Qualifying will continue Saturday for Sunday's final eliminations.
Top Fuel
1. Doug Kalitta, 3.735 seconds, 327.74 mph; 2. Steve Torrence, 3.758, 321.96; 3. Bob Vandergriff, 3.772, 322.58; 4. David Grubnic, 3.777, 320.28; 5. Antron Brown, 3.793, 316.75; 6. Leah Pritchett, 3.810, 318.54; 7. Brittany Force, 3.814, 320.74; 8. Shawn Langdon, 3.845, 281.07; 9. Clay Millican, 3.847, 313.15; 10. Troy Buff, 3.989, 282.01; 11. Tony Schumacher, 4.091, 216.86; 12. Terry McMillen, 4.160, 225.75.  Not Qualified: 13. Richie Crampton, 4.330, 245.45; 14. Khalid alBalooshi, 5.033, 140.78; 15. Spencer Massey, 6.709, 86.42; 16. Scott Palmer, 8.670, 49.67.
Funny Car
1. John Force, Ford Mustang, 3.990, 317.79; 2. Robert Hight, Mustang, 4.030, 314.24; 3. Alexis DeJoria, Toyota Camry, 4.048, 309.27; 4. Jack Beckman, Dodge Charger, 4.055, 314.09; 5. Tim Wilkerson, Mustang, 4.066, 308.35; 6. Del Worsham, Camry, 4.073, 312.42; 7. Bob Tasca III, Mustang, 4.078, 306.60; 8. Ron Capps, Charger, 4.089, 306.33; 9. Chad Head, Camry, 4.089, 306.05; 10. Matt Hagan, Charger, 4.091, 309.63; 11. Tommy Johnson Jr., Charger, 4.095, 308.64; 12. Courtney Force, Mustang, 4.096, 304.94.  Not Qualified: 13. Jeff Arend, 4.166, 295.79; 14. Paul Lee, 4.206, 252.66; 15. Cruz Pedregon, 4.501, 199.37; 16. Gary Densham, 5.227, 168.41; 17. Tony Pedregon, 6.251, 105.50; 18. Jeff Diehl, 7.197, 94.16; 19. Terry Haddock, 8.431, 75.28.
Pro Stock
1. Chris McGaha, Chevy Camaro, 6.530, 210.64; 2. Erica Enders-Stevens, Camaro, 6.531, 211.66; 3. Jason Line, Camaro, 6.536, 211.83; 4. Vincent Nobile, Camaro, 6.551, 211.16; 5. Shane Gray, Camaro, 6.551, 211.06; 6. Allen Johnson, Dodge Avenger, 6.553, 211.83; 7. Dave Connolly, Camaro, 6.565, 211.03; 8. Rodger Brogdon, Camaro, 6.573, 210.73; 9. V. Gaines, Avenger, 6.579, 210.21; 10. Jeg Coughlin, Avenger, 6.598, 211.43; 11. Jimmy Alund, Camaro, 6.599, 210.54; 12. Greg Stanfield, Camaro, 6.599, 209.39.  Not Qualified: 13. Matt Hartford, 6.613, 209.69; 14. Shane Tucker, 6.622, 208.68; 15. Larry Morgan, 6.628, 209.56; 16. Steve Kent, 6.681, 208.17; 17. Paul Pittman, 6.732, 198.03; 18. Deric Kramer, 17.683, 48.87.