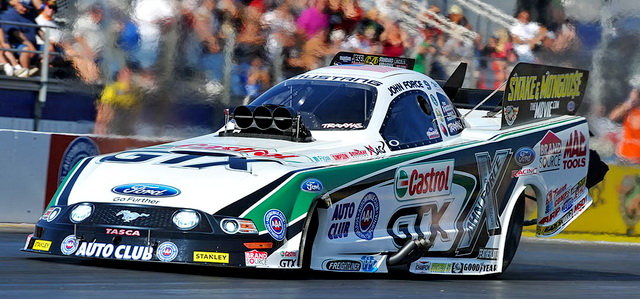 Recently crowned 16-time Mello Yello NHRA Funny Car World Champion John Force (above) will go into race day at the 49th annual Auto Club NHRA Finals as the number-one qualifier after posting the first three-second pass in Funny Car history at Auto Club Raceway at Pomona.
Meanwhile, defending event winner Brandon Bernstein (Top Fuel), Mike Edwards (Pro Stock) and Hector Arana Jr. (Pro Stock Motorcycle), also raced to top qualifying positions and will lead their categories into Sunday's 11 a.m. eliminations at the final playoff race of the season in the NHRA Mello Yello Countdown to the Championship.
Force raced to a track-record time of 3.995 seconds at 319.37 mph in his Castrol GTX Ford Mustang to earn his sixth first-place start of the season and 146th of his career. The 16-time champ's elapsed time was the first three-second run for a Funny Car at the historic drag strip in the NHRA's Southern California back yard. Last year's class champion Matt Hagan qualified second with a 4.014 ET at a track-record speed of 320.20 mph.
"It's a rocket," Force said. "It goes down through there. It doesn't vibrate. It doesn't move around. It's on a mission, and that thing did it, and I knew it.
"I heard [my crew] yelling on the radio, but they didn't tell me what it was because they tried to save the excitement for the camera, but I knew she ran in the threes; I just didn't know how good," he said.
"The Schumachers, they beat us to the threes, but at least we got it here at my home track, Pomona, in front of a pretty good crowd here, so I'm excited."
Bernstein stole the top position away from Shawn Langdon in his final qualifying run with a performance of 3.748 seconds at 325.37 mph in his ProtectTheHarvest.com dragster.
"The car totally hooked up, it felt great," Bernstein said after securing his first number-one start of the season and 15th of his career. "When those runs are like that you know it is a good run. When the finish line came to us quickly I knew it was a great run.
"It's one of those tracks, when you come to Pomona it just feels right. It has a good vibe for me and I feel like we can do well here at the Finals. We are focused on winning the race, the guys feel good and we can just go after it."
Edwards claimed his 15th number-one qualifier this year and the 56th of his Pro Stock career, with a performance of 6.530 at 212.23 in his Interstate Batteries/I Am Second Chevy Camaro. By claiming the maximum number of qualifying points, Edwards moved into a tie for second in the championship battle with Jason Line. They trail series leader Jeg Coughlin by 70 points.
"We came in this weekend feeling like we needed to be perfect and the car ran very good," Edwards said. "To get number one in all four sessions was just a tremendous job by this team. I'm so proud of everybody. We just have three guys with us now, and it feels like I've been working in a Top Fuel pit."
There are several scenarios on the table, but to clinch the championship no matter what his challengers do, Coughlin needs to advance to the semifinals.
"Tomorrow will be interesting, to say the least," Edwards said. "I don't think there's a national record out there, so we'll need some help. It's been a tough season the last six races, but if you look at the whole year, it's still been a great season. We have one more day (of racing) left in 2013, and I hope that we can make the most of it."
In Pro Stock Motorcycle, Arana Jr. earned his third top qualifier of the season and 13th of his career with a 6.818 at 195.31 on his Lucas Oil Buell. He will race Jim Underdahl in the first round. With the bike championship already awarded to Matt Smith, Arana is focused on moving up as far as he can in the series standings with a strong run tomorrow.
"We started off great in 2013 and plan to end the season the same way," Arana Jr. said. "We were not able to accomplish our main goal, which was to win the championship, but we're going to do our best to end the season with a win.
"We had a couple of problems that happened to us this year; engines break when you push them to the limit. Things break, and sometimes it takes a while to get back up to par. The biggest thing we learned is that we need more help, but it's been a great year for us as a team. We put all three of our bikes in the top 10, and I have four wins so far."
(Photos courtesy NHRA/National Dragster; JFR/Nastase; Click to enlarge)
POMONA, Calif. — Sunday's first-round pairings for eliminations for the 49th annual Automobile Club of Southern California NHRA Finals at Auto Club Raceway at Pomona, the final of 24 events in the NHRA Mello Yello Drag Racing Series.  Pairings based on results in qualifying, which ended Saturday. DNQs listed below pairings.
Top Fuel
1. Brandon Bernstein, 3.748 seconds, 325.37 mph  vs. 16. Billy Torrence, 3.903, 305.63; 2. Shawn Langdon, 3.750, 327.03  vs. 15. Steve Torrence, 3.835, 326.00; 3. Clay Millican, 3.761, 324.98  vs. 14. Troy Buff, 3.825, 310.70; 4. Doug Kalitta, 3.762, 326.08  vs. 13. Tony Schumacher, 3.821, 323.81; 5. Antron Brown, 3.775, 323.74  vs. 12. Bob Vandergriff, 3.815, 322.42; 6. Morgan Lucas, 3.782, 320.20  vs. 11. Terry McMillen, 3.814, 324.28; 7. David Grubnic, 3.783, 321.88  vs. 10. Khalid alBalooshi, 3.806, 323.43; 8. Brittany Force, 3.784, 323.74  vs. 9. Spencer Massey, 3.799, 323.04. Did Not Qualify: 17. Todd Paton, 4.017, 290.63; 18. Steven Chrisman, 7.683, 204.60.
Funny Car
1. John Force, Ford Mustang, 3.995, 319.37  vs. 16. Bob Bode, Chevy Impala, 4.166, 298.34; 2. Matt Hagan, Dodge Charger, 4.014, 320.20  vs. 15. Alexis DeJoria, Toyota Camry, 4.137, 311.13; 3. Courtney Force, Mustang, 4.016, 319.07  vs. 14. Bob Tasca III, Mustang, 4.132, 309.27; 4. Del Worsham, Camry, 4.019, 318.69  vs. 13. Gary Densham, Charger, 4.118, 301.81; 5. Robert Hight, Mustang, 4.028, 317.49  vs. 12. Ron Capps, Charger, 4.103, 312.71; 6. Cruz Pedregon, Camry, 4.059, 310.05  vs. 11. Jack Beckman, Charger, 4.077, 313.07; 7. Chad Head, Camry, 4.065, 314.17 vs. 10. Johnny Gray, Charger, 4.077, 311.20; 8. Jeff Arend, Charger, 4.067, 311.85  vs. 9. Tim Wilkerson, Mustang, 4.071, 314.31. Did Not Qualify: 17. Jeff Diehl, 4.168, 297.09; 18. Phil Burkart, 4.171, 287.47; 19. Josh Crawford, 4.243, 267.80; 20. Terry Haddock, 4.257, 289.88; 21. Grant Downing, 4.904, 291.07; 22. Tony Pedregon, 4.932, 303.84; 23. Peter Russo, 5.959, 122.81.
Pro Stock
1. Mike Edwards, Chevy Camaro, 6.530, 212.23  vs. 16. Kurt Johnson, Pontiac GXP, 6.595, 210.60; 2. Jason Line, Camaro, 6.543, 212.16  vs. 15. Greg Stanfield, Camaro, 6.592, 210.44; 3. Rickie Jones, Camaro, 6.544, 211.46  vs. 14. Matt Hartford, Dodge Avenger, 6.589, 210.64; 4. Jeg Coughlin, Avenger, 6.545, 211.43  vs. 13. Vincent Nobile, Avenger, 6.583, 211.06; 5. Allen Johnson, Avenger, 6.550, 211.73  vs. 12. Rodger Brogdon, Camaro, 6.578, 211.13; 6. V. Gaines, Avenger, 6.552, 212.16  vs. 11. Greg Anderson, Camaro, 6.576, 210.37; 7. Buddy Perkinson, Camaro, 6.556, 211.76  vs. 10. Bruno Massel, Camaro, 6.575, 210.28; 8. Erica Enders-Stevens, Camaro, 6.557, 211.43 vs. 9. Shane Gray, Camaro, 6.567, 211.33. Did Not Qualify: 17. Larry Morgan, 6.607, 210.24; 18. Warren Johnson, 6.628, 210.11; 19. Deric Kramer, 6.654, 209.04.
Pro Stock Motorcycle
1. Hector Arana Jr, Buell, 6.818, 195.51  vs. 16. Jim Underdahl, Suzuki, 6.974, 194.38; 2. Adam Arana, Buell, 6.852, 196.36  vs. 15. Shawn Gann, Buell, 6.961, 192.28; 3. John Hall, Buell, 6.857, 193.71  vs. 14. Matt Smith, Buell, 6.948, 192.22; 4. Scotty Pollacheck, Buell, 6.874, 194.18  vs. 13. Chaz Kennedy, Buell, 6.946, 190.43; 5. Hector Arana, Buell, 6.875, 195.82  vs. 12. Andrew Hines, Harley-Davidson, 6.940, 191.67; 6. Eddie Krawiec, Harley-Davidson, 6.893, 192.60  vs. 11. Steve Johnson, Suzuki, 6.940, 194.13; 7. Michael Ray, Buell, 6.905, 193.24 vs. 10. LE Tonglet, Suzuki, 6.929, 192.47; 8. Angie Smith, Buell, 6.908, 195.22  vs. 9. Katie Sullivan, Suzuki, 6.921, 195.22. Did Not Qualify: 17. Jerry Savoie, 6.995, 191.08; 18. Freddie Camarena, 7.020, 193.21; 19. Michael Phillips, 7.068, 189.58; 20. Rhett Lougheed, 7.084, 189.63; 21. Redell Harris, 7.225, 187.57; 22. James Surber, 7.250, 184.40; 23. Bailey Whitaker, broke.