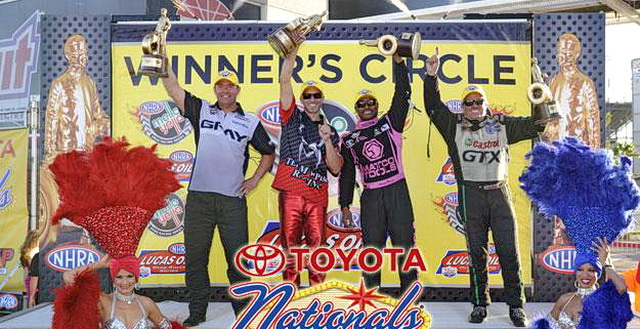 John Force (above, right) outran his daughter Courtney in the final round and claimed an NHRA-record 16th world championship in Funny Car on Sunday at the NHRA Toyota Nationals at The Strip at Las Vegas Motor Speedway.
Matt Smith (Pro Stock Motorcycle, 2nd from left), Antron Brown (Top Fuel, 3rd from left) and Shane Gray (Pro Stock, left) also were winners at the fifth of six playoff races in the NHRA Mello Yello Drag Racing Series Countdown to the Championship. Smith claimed his second career world championship with the victory as well.
In winning his third straight race, John Force went 4.062 seconds at 310.63 mph in his Castrol GTX Ford Mustang to drive away from his daughter's Traxxas Mustang, which finished in 4.085 at 319.22. It was Force's fourth victory this season and 138th in his career.
"I'd like to scream and say, 'Gee, it was me,' but the truth is (crew chief) Jimmy Prock and the team he's got around him is unbelievable," Force said. "It's a team effort and if there's anything that I've ever done right in my life, it's been the team effort. That's what I'm really proud of, holding together when it looked like we were falling apart."
Force beat Gary Densham, Del Worsham and Alexis DeJoria to reach the final round. The win, his fourth in Las Vegas, also wrapped up an all-around memorable weekend for Force, who was the No. 1 qualifier, broke the track E.T. record and claimed yet another world championship in his storied career.
"We've been having a lot of fun and I'm going to be around a while because I truly love it," Force said. "Sometimes luck just gets on your side and we've been fortunate these past three races."
In winning the Pro Stock Motorcycle race, Smith joined Force on the world champion's podium to celebrate his second career title. He powered his Viper Motorcycle Company Buell to a final round run of 6.991 at 192.08 to beat Jerry Savoie, who went 7.050 at 190.19 on his Savoie's Alligator Farm Suzuki. Smith, who has won the last three races, claimed his fourth win this season and 17th in his career en route to clinching the championship crown. His father, Rickie, also won the world championship in the NHRA Pro Mod Drag Racing Series this season.
"This team has been awesome," Smith said. "What else can you ask for? With me winning the championship and dad winning the Pro Mod championship it's been great. I don't want to sound too confident, but we've almost been unstoppable. We've been to 10 finals since Epping and have six wins. Those are amazing number for our team."
Smith, who qualified fourth, went 6.979 at 192.17 to start eliminations with a win against Andrew Hines, and followed it up with round wins against LE Tonglet and Shawn Gann to reach the final round. Smith, who won for the first time in Las Vegas, also won the world championship in 2007.
"It's pretty elite company to do that," Smith said of his second championship title. "We pulled this off and it's just great."
Brown, the defending world champion in Top Fuel, moved to second in the points standings by powering his Matco Tools dragster to a run of 3.782 at 324.51 in the final round against Clay Millican, who went 3.822 at 322.50 in his Parts Plus dragster. Brown claimed his fourth victory this season and 25th in his career, and trails points leader Shawn Langdon by 102 points heading into the final event.
"We struggled in the middle of this year, but what I'm proud of the most is the way we just kept our heads down and never gave up," Brown said. "We just put our head down and worked harder. We just kept on digging."
Langdon, who was the No. 1 qualifier, lost to Millican in the semifinals but still holds a commanding lead in the points race in his Al-Anabi Racing dragster. Brown, who beat Bob Vandergriff, Tony Schumacher and Brandon Bernstein to reach the final round, knows it will take something special at the final event in Pomona to earn a second straight championship.
"It's not over until it's over," Brown said. "We're going to give it everything we've got. We're going to try and go for those qualifying points and qualify in the top half. Our team knows that we've been losing some crucial qualifying points and in Pomona that's what we've got to go for, and we've got to take it one round at a time and give it everything we've got."
Pro Stock's Gray picked up his first win in more than two years and third of his career with a holeshot victory against V. Gaines. Gray, who moved to fourth in points, posted a winning time of 6.699 at 206.89 in his Gray Motorsports Chevy Camaro, and his quicker .032 reaction time overcame Gaines' quicker, but losing Kendall Oil Dodge Avenger, which finished in 6.698 at 207.46.
"The team needed a day like this," Gray said. "I got a big boost of confidence today and it's amazing what winning will do. It lets you know that you are still capable of doing this and anytime you can win a round on a holeshot I think you've done something special."
Jeg Coughlin extended his points lead in Pro Stock by advancing to the semifinals before falling to Gaines. He now holds a 71-point lead over second-place Jason Line. Mike Edwards is 80 points back in third, while Gray trails Coughlin by 84 points.
"I'm looking forward to Pomona now," Gray said. "I think we'll be even tougher now. These cars are getting more and more difficult to run and the driver is so important now. The Countdown escalates everyone's performance two notches."
The NHRA Mello Yello Drag Racing Series will conclude its 2013 season Nov. 7-10 with the Auto Club NHRA Finals at historic Auto Club Raceway at Pomona in Southern California.
(Photos courtesy NHRA/National Dragster; Click to enlarge)
LAS VEGAS — Final round-by-round results from the 13th annual NHRA Toyota Nationals at The Strip at Las Vegas Motor Speedway, the 23rd of 24 events in the NHRA Mello Yello Drag Racing Series:
TOP FUEL
ROUND ONE — Antron Brown, 3.790, 323.19 def. Bob Vandergriff, 9.648, 77.05; Clay Millican, 3.790, 325.06 def. Billy Torrence, 6.157, 102.17; Shawn Langdon, 3.761, 327.98 def. Terry McMillen, 4.766, 166.19; Steve Torrence, 3.930, 303.78 def. T.J. Zizzo, 4.041, 306.05; Tony Schumacher, 3.824, 325.37 def. Khalid alBalooshi, 3.849, 318.92; Morgan Lucas, 3.889, 267.43 def. David Grubnic, foul; Brandon Bernstein, 3.800, 322.19 def. Doug Kalitta, 4.036, 271.02; Brittany Force, 3.824, 323.74 def. Spencer Massey, 5.074, 142.49; QUARTERFINALS — Bernstein, 4.738, 171.10 def. S. Torrence, 5.392, 213.47; Millican, 3.836, 320.20 def. Lucas, 10.731, 79.81; Brown, 3.808, 323.58 def. Schumacher, 4.260, 212.73; Langdon, 3.785, 326.87 def. Force, 11.332, 50.52; SEMIFINALS — Brown, 3.788, 326.16 def. Bernstein, 3.921, 288.77; Millican, 3.850, 323.81 def. Langdon, 4.158, 253.80; FINAL — Brown, 3.782, 324.51 def. Millican, 3.822, 322.50.
FUNNY CAR
ROUND ONE — Alexis DeJoria, Toyota Camry, 4.084, 312.71 def. Matt Hagan, Dodge Charger, 7.507, 88.54; Ron Capps, Charger, 4.089, 314.24 def. Tim Wilkerson, Ford Mustang, 4.302, 250.97; Courtney Force, Mustang, 4.056, 319.98 def. Tony Pedregon, Camry, 4.315, 237.46; John Force, Mustang, 4.047, 317.94 def. Gary Densham, Charger, 6.333, 114.75; Jack Beckman, Charger, 4.110, 310.48 def. Bob Tasca III, Mustang, 6.448, 103.47; Jeff Arend, Charger, 4.480, 270.27 def. Johnny Gray, Charger, 5.795, 120.87; Robert Hight, Mustang, 4.078, 314.97 def. Cruz Pedregon, Camry, 4.141, 283.97; Del Worsham, Camry, 4.104, 315.42 def. Chad Head, Camry, 5.221, 150.38; QUARTERFINALS — Beckman, 4.141, 308.50 def. Arend, 4.218, 290.69; DeJoria, 4.126, 304.39 def. Capps, 4.132, 311.20; C. Force, 4.117, 313.44 def. Hight, 5.972, 114.36; J. Force, 4.096, 314.46 def. Worsham, 4.877, 188.94; SEMIFINALS — C. Force, 4.109, 314.39 def. Beckman, 6.077, 112.36; J. Force, 5.865, 193.96 def. DeJoria, 8.777, 87.83; FINAL — J. Force, 4.062, 310.63 def. C. Force, 4.085, 319.22.
PRO STOCK
ROUND ONE — Vincent Nobile, Dodge Avenger, 6.661, 207.40 def. Greg Anderson, Chevy Camaro, 6.685, 207.50; Allen Johnson, Avenger, 6.654, 206.99 def. Rickie Jones, Camaro, 6.657, 207.82; Jason Line, Camaro, 6.666, 207.72 def. Rodger Brogdon, Camaro, 6.708, 206.54; Shane Gray, Camaro, 6.658, 207.37 def. Matt Hartford, Avenger, 6.723, 206.39; V. Gaines, Avenger, 6.662, 208.10 def. Larry Morgan, Ford Mustang, 6.727, 205.38; Kurt Johnson, Pontiac GXP, 6.704, 206.57 def. Mike Edwards, Camaro, 6.650, 207.78; Jeg Coughlin, Avenger, 6.643, 207.66 def. Greg Stanfield, Camaro, 6.694, 205.60; Erica Enders-Stevens, Camaro, 6.650, 207.53 def. Buddy Perkinson, Camaro, 6.664, 208.04; QUARTERFINALS — K. Johnson, 8.016, 152.42 def. Nobile, 20.992, 30.81; Gray, 6.691, 207.24 def. Line, 6.669, 207.43; Gaines, 6.683, 207.15 def. A. Johnson, 6.703, 206.45; Coughlin, 6.659, 207.15 def. Enders-Stevens, 6.670, 206.35; SEMIFINALS — Gray, 6.715, 206.54 def. K. Johnson, 7.223, 202.67; Gaines, 6.698, 207.56 def. Coughlin, 6.700, 206.23; FINAL — Gray, 6.699, 206.89 def. Gaines, 6.698, 207.46.
PRO STOCK MOTORCYCLE
ROUND ONE — John Hall, Buell, 7.032, 189.90 def. Chaz Kennedy, Buell, 8.163, 117.00; Jerry Savoie, Suzuki, 6.966, 191.38 def. Scotty Pollacheck, Buell, 7.010, 190.94; Michael Ray, Buell, 6.957, 191.16 def. Eddie Krawiec, Harley-Davidson, 7.032, 189.15; LE Tonglet, Suzuki, 7.034, 189.47 def. Hector Arana Jr, Buell, broke; Matt Smith, Buell, 6.979, 192.17 def. Andrew Hines, Harley-Davidson, 7.985, 127.52; Angie Smith, Buell, 7.000, 191.32 def. Steve Johnson, Suzuki, 7.187, 183.79; Shawn Gann, Buell, 7.014, 191.00 def. Hector Arana, Buell, 9.885, 84.75; Katie Sullivan, Suzuki, 7.011, 186.02 def. Adam Arana, Buell, foul; QUARTERFINALS — Gann, 7.037, 190.35 def. Hall, 7.030, 188.25; M. Smith, 7.047, 190.78 def. Tonglet, 7.073, 189.68; Ray, 7.004, 190.54 def. Sullivan, 7.082, 190.00; Savoie, 6.979, 190.89 def. A. Smith, 7.017, 190.94; SEMIFINALS — M. Smith, 7.060, 190.32 def. Gann, 7.166, 167.38; Savoie, 6.991, 190.97 def. Ray, 7.089, 187.42; FINAL — M. Smith, 6.991, 192.08 def. Savoie, 7.050, 190.19.
LAS VEGAS — Sunday's final sportsman results from the 13th annual NHRA Toyota Nationals at The Strip at Las Vegas Motor Speedway. The race is the 23rd of 24 in the NHRA Mello Yello Drag Racing Series:
Top Alcohol Dragster — Jim Whiteley, 5.330, 271.02  def. Chris Demke, 5.340, 269.51.
Top Alcohol Funny Car — Frank Manzo, Chevy Monte Carlo, 5.632, 259.66  def. Bret Williamson, Chevy Corvette, 8.463, 127.49.
Competition Eliminator — Dan Fletcher, Chevy Cobalt, 8.197, 161.17  def. Ralph Van Paepeghem, Bantam Roadster, 7.402, 178.12.
Super Stock — Cody Lane, Chevy Cavalier, 14.163, 84.66  def. Jack Bystrom, Chevy Camaro, foul.
Stock Eliminator — Peter Biondo, Chevy Camaro, 10.722, 112.25  def. Mark Kirby, Plymouth Duster, 11.282, 111.97.
Super Comp — Brad Plourd, Dragster, 9.069, 152.40  def. Tommy Phillips, Dragster, 9.083, 161.25.
Super Gas — Terry Keddington, Chevy Corvette, 10.041, 161.98  def. Kevin Kleineweber, Corvette, 10.039, 141.37.