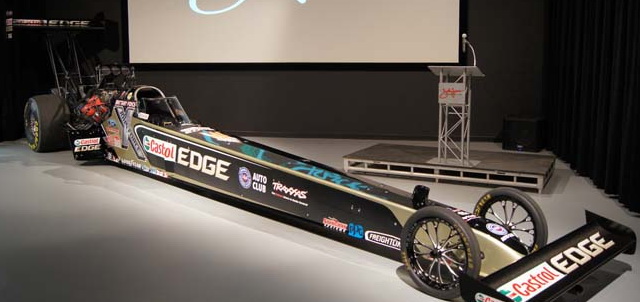 Drag racing icon John Force introduced his daughter Brittany as the newest addition to the John Force Racing, Inc., driver lineup Thursday during a press conference at JFR corporate headquarters.
Brittany Force will make an historic professional debut, not as driver of a JFR Ford Funny Car but, instead, as driver of a new JFR-built Castrol EDGE Top Fuel dragster prepared and maintained by crew chief Dean "Guido" Antonelli and assistant crew chief Eric Lane and powered by the Ford BOSS 500 nitro motor.
"It really is a big honor to be the first to drive a Top Fuel dragster at John Force Racing. "This team has done so much over the years to evolve and adding a Top Fuel car into the mix I believe will help us continue to grow as a team," said the 26-year-old who will be the third Force daughter to turn pro.
"Being able to drive the first JFR Top Fuel dragster with my dad's support and with Castrol EDGE as my sponsor is still very surreal to me but I think it's something we're all excited about and I'm going to do the best job that I can."
A graduate of Cal State-Fullerton, the second youngest of Force's four daughters, has put a potential teaching career on hold while she learns the family business from the seat of a 330 mile an hour rolling "office." Although she earned her teaching credential and completed her student teaching assignment, the second youngest of Force's four daughters never planned to immediately seek a job in education.
"My plan from the very beginning was to go to college and earn a Bachelor's Degree before really persuing racing," Brittany said.  "I earned my B.A. in English and then did an extra year to earn my teaching credential.  I never had intentions to go right into teaching, I just wanted to get school finished because I knew that if I took a break from it, I would never go back to finish."
The new season, which begins Feb. 14-17 with the 53rd running of the O'Reilly Winternationals at Auto Club Raceway at Pomona, will be the first in which EVERY JFR race car is driven by a member of the drag racing icon's immediate family. While Brittany vies for rookie honors in Top Fuel, her father, brother-in-law (Robert Hight) and younger sister (Courtney Force) will compete for the first Mello Yello Funny Car championship in hybrid Mustangs sponsored by Castrol GTX, the Auto Club of Southern California and Traxxas, respectively.
"I will always have teaching to fall back on if things change down the road," said the former star of the A&E real life series Driving Force, "but I am very happy with where I am and where things are heading. I have many goals for next year and can't wait to get started in Pomona. One of my goals is to really get to know my guys so that we can become a strong team together. My other goal is to get my first win in my Top Fuel car as a rookie driver."
Ironically, Brittany has more dragster experience than anyone else assigned to the Castrol EDGE Team.  While it is the first dragster assignment for both crew chief Dean "Guido" Antonelli and assistant crew chief Eric Lane, Brittany has never driven anything else. After earning her Super Comp license under the tutelage of current NHRA Funny Car champion Jack Beckman, Brittany drove A/Fuel dragsters for Jerry Darien and spent all last year testing in a Top Fuel dragster.
When the season begins, Brittany will become the 15th different professional drag racer to compete for Team Castrol, the third to do so in the Top Fuel category in which the late Gary Ormsby won the championship for Castrol GTX in 1989.
"I'm so happy to be working with Dean Antonelli and Eric Lane," Brittany enthused.  "'Guido' was the crew chief for my dad the last two years and before that he taught Ashley to drive a Funny Car.  They were so successful together and I'm really excited to have him on board with me.
"I spent the majority of my testing season working with Eric and Jimmy Prock from Robert Hight's team.  I get along with Eric very well.  He has always been so patient with me.  We always talk about the runs before and after, which helps prepare me for future passes.  I think we are a good match and we will teach each other so much next year.  I think we are all going to make a very strong team."
(Photos courtesy JFR/Gary Nastase)