There is a lot on Paige Coughlin's plate, and seemingly a lot to live up to with the last name she carries. But the high school senior is undaunted by all of it, choosing to make the most of the opportunity in front of her.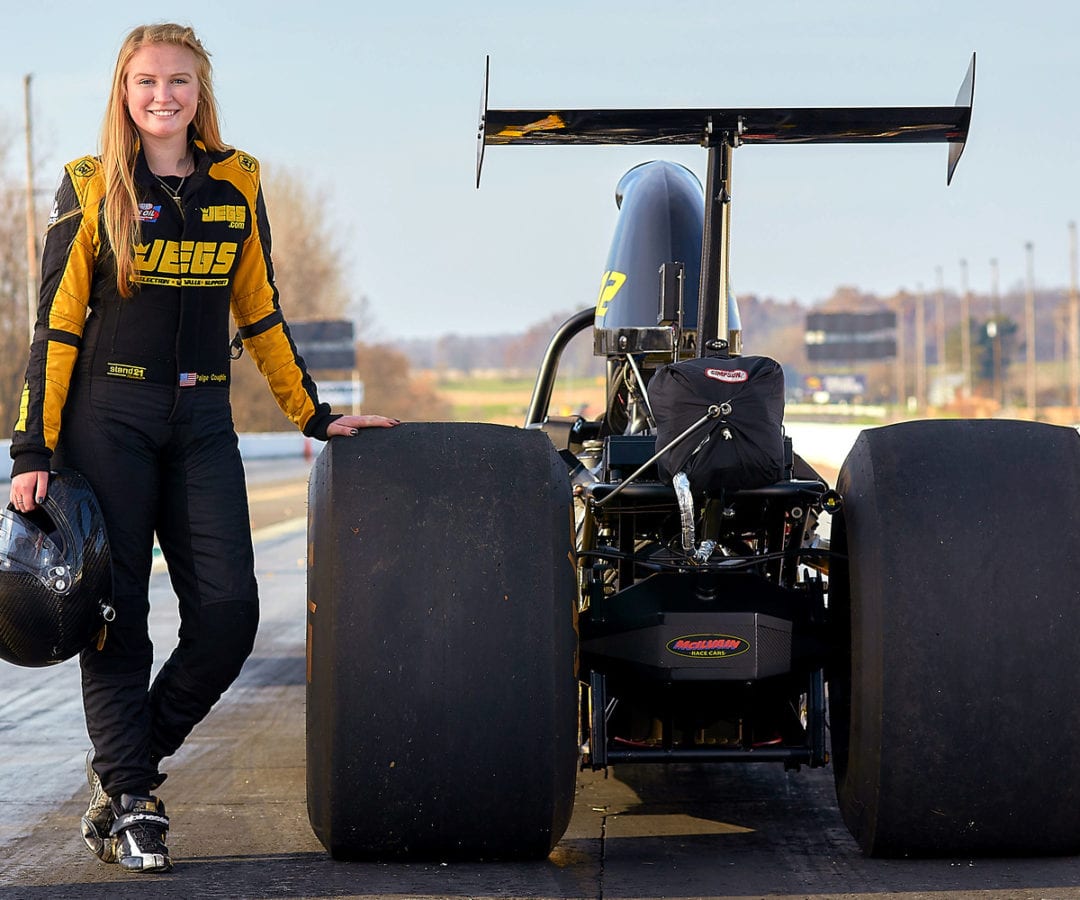 The daughter of three-time NHRA Pro Mod champ Troy Coughlin, the sister of Troy Coughlin Jr. and the niece of five-time Pro Stock champ Jeg Coughlin Jr., Paige is already busy carving out her own place in the Coughlin lineage. She raced Super Comp for the first time in 2017 and plans to run a full schedule in NHRA Division 3 in 2018 in the class, even as she juggles high school graduation and starting college in the fall at Miami University.
"Traveling with my dad and my brother, it really motivated me to work hard at this," Paige Coughlin says. "If I keep all As, I get to race, so that's what keeps me motivated. I know I can accomplish both, and my parents really support me. I know I have a long way to go, but I just want to keep improving."
There's an excited tone in Coughlin's voice as she talks about not only her immediate plans, but also what the future could hold. The Coughlin name bears a lot of attention and pressure, but Paige has embraced it as her racing career continues to progress.
After racing in Jr. Dragster, the third-generation racer got licensed in Super Comp just after turning 16 a year ago, crediting her brother with helping her learn all about the car. Paige raced five times in 2017, but also traveled with her father and brother as Troy Sr. won his third NHRA Pro Mod championship, announcing his retirement shortly thereafter. Along the way, she learned a great deal about how to carry herself.
"There's no better role model for me," Paige says. "He's so true, so honest, and I don't want to be anything but that. Having him show me that side, it's so motivating and so powerful. I want to give off that vibe of positivity."
It's another reason Coughlin can't help but think of the direction her drag racing career may take. She mentioned racing in Pro Mod and Top Dragster down the line, and she seems poised to become the latest standout in a successful family.
Doing it as a female in the Coughlin family is also an important aspect for Paige, as she hopes to become a motivation for other young females.
"It's really inspiring and it does mean a lot," she says. "There's so many ways to go with it, so hopefully I can be motivating for other girls. I wrote about it in my college essay that I want to be a really good, proactive person for women to race. I want to do so much good with it and I can't wait to progress. It's really exciting."
This story originally appeared in DI #130, the Hottest 2018 Issue, in February of 2018.