It's time to pull out all the stops for Professional Drag Racers Association (PDRA) competitors, as the all-eighth-mile series begins the second half of its 10-event season next weekend (July 16-18), at storied Maryland International Raceway (MDIR). With more than $120,000 on the line for five professional classes and four sportsman classes, the inaugural PDRA North-South Shootout also offers points leaders the opportunity to solidify their positions, while those chasing are beginning to feel the pressure of a season with its end in sight.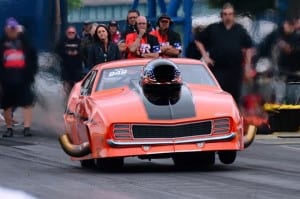 Additionally, the popular Mickey Thompson Cup Outlaw 10.5 National Points Championship series will be part of the PDRA North-South Shootout and will make a second appearance late in October when both organizations hold their season-ending races at Virginia Motorsports Park, near Richmond. And as if that's not enough, PDRA Pro Nitrous stars "Stevie Fast" Jackson and Travis "Carolina Kid" Harvey will face off in a $5,000 winner-take-all grudge match during Friday-night qualifying that's sure to add to the track's great history.
"This is no manufactured, phony rivalry. These guys, Stevie and Travis, they're not doing this just to put on a show; they really don't care for each other very much," PDRA Director Bob Harris stated. "So we've agreed to pair them up in qualifying and if you want to see some good-old-fashioned, take-no-prisoners drag racing, you need to be at Maryland International on Friday night. It's going to be exciting, I can promise you that."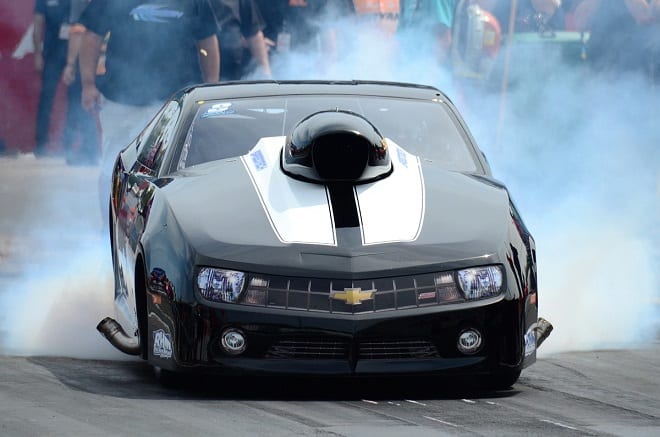 Also promising to provide fireworks in the 3.5-second, 220-mph NAS Racing Pro Extreme class is the expected return of defending champion Bubba Stanton, who last month sat out the most recent PDRA event at Martin, Michigan. Stanton's team owner, Roger Henson, stated he's focused on beating Jason Scruggs, a two-time winner this season, for the number one qualifying spot before going after the race win. He'll also have to counter the potent one-two punch of Dubai's Mustafa Buhumaid and Michigan winner Bader Ahli, however, as well as deal with the likes of class veterans Todd Tutterow, Frankie "Mad Man" Taylor and Maryland's own John Stanley.
As mentioned, all attention will firmly focus on Jackson and Harvey on Friday night, but the flame-throwing Switzer Dynamics Pro Nitrous class also includes such stars as defending class champ Jason Harris (who won six of eight races last season but still seeks his first in 2015), two-time reigning NHRA Pro Mod champ Rickie Smith (with two PDRA wins this year), current points leader Tommy Franklin from nearby Fredericksburg, Virginia, and Pat Stoken, fresh off picking up a $5,000 bonus in Michigan for making the first Pro Nitrous run in the 3.6-seconds range on his way to the race win there.
"The PDRA Nitrous Wars have been heating up all season and MDIR is known as a nitrous racing hotbed, so I think we're going to see something special there," Harris said. "I know I'll be watching every time those cars come to the line."
With such a tight race at the head of the wildly diverse Precision Turbo Pro Boost class, the North-South Shootout could mark a pivotal race in the eventual championship. The most recent event saw chassis builder Alan Pittman earn his first PDRA win with his blown Hemi-powered '69 Camaro, but it was Kevin Fiscus who took over the points lead with a semi-final finish in his twin-turbocharged 2012 Mustang. As runner-up to Pittman, Fiscus' teammate, Jim Bell, moved to third with his twin-turbo'd '69 Camaro, with Kevin Rivenbark sandwiched between the two after the debut of a brand-new, supercharged 2015 Corvette in Michigan. The wild, blown '41 Willys of Ric Fleck is fourth overall, followed by Tylor Miller and his wicked, supercharged '69 Chevelle rounding out the top five.
In Drag 965 Pro Extreme Motorcycle, second-generation rider Chris Garner-Jones proved his first win at St. Louis was no fluke as he repeated the feat with a second-straight win over defending class champ Eric McKinney in the Michigan final. Based on the strength of winning the first three races this year from the number-one qualifying slot, though, McKinney retains a sizable points lead over teammate Ashley Owens as they head for MDIR, but Garner-Jones certainly is making his presence felt as he's climbed to third place overall.
The PDRA North-South Shootout also will feature the third of five appearances this year by the Toefco Pro Open Outlaw class for high-horsepower, heads-up dragsters that cover the eighth mile in 3.6 seconds at over 200 miles per hour. In a very tight points race, Phil Esz, who won the first race early this year at Rockingham, NC, holds a slim lead over Michigan winner Jody Stroud, tied for second with Eddie Lykins, who finished runner-up in both prior events.
Meanwhile, defending MagnaFuel Top Sportsman champion and current points leader Dan Ferguson will attempt to hold off the charge of veteran Ronnie Davis, winner of two of the last three races, as well as Bob Gullitti in third and new ET and speed record holder Tricia Musi, who continues to chase her first win in an impressive rookie campaign.
Likewise, Kyle Dvorak has ridden a series of consistent results to sit atop the Dart Machine Top Dragster points list, but needs a win to put some distance between him and Justin Melton and Laramie Reid, who also are looking for that first win this year. The PDRA also features two Jr. Dragster classes, with Preston Tanner currently enjoying a commanding lead in Huddleston Performance Pro Jr. Dragster, while it's a much tighter race for Huddleston Top Jr. Dragster leader Mia Schultz.
The inaugural PDRA North-South Shootout will begin 10 a.m. to 8 p.m. on Thursday (July 16) with all-day testing open to the public, followed by three rounds of qualifying for all classes beginning at 10:30 a.m. Friday and a jet car closing out the day's action. One more qualifying session will start at 11 a.m. on Saturday, followed by a 3:30 p.m. pre-race ceremony and elimination rounds at 4 p.m. for all classes. The jet car will make another pass to close out the event on Saturday night.
Admission on Thursday is $10, with Friday and Saturday $30 each, but children 12 and under are admitted free each day. Discount coupons for the inaugural PDRA North-South Shootout also are available at many retailers and commercial outlets in the Western Michigan area, or reduced-rate coupons can be printed from the PDRA web site at www.pdra660.com/2015/north-south-mdir/coupon/. Spectator parking is free at all PDRA events, though fans can opt to pay $10 to park on the pit side of Maryland International Raceway.