Other than an actual crash, perhaps the most violent occurrence in all of motorsports is the tire shake that very high-powered drag racing cars sometimes enter upon launching. For the drivers inside, the harsh forces experienced have been likened to clamping their head in a paint-can shaker and turning it on at the local hardware store.
To help protect their teeth and combat the brain-rattling effects of tire shake, NHRA Nitro Funny Car champions Matt Hagan and Cruz Pedregon have turned to Impact Custom Mouthguards of Alpharetta, Georgia.
"I learned about Impact through Caleb, my assistant here at the shop who's also an MMA fighter part-time," says Pedregon, a two-time NHRA world champion and winner of 34 Funny Car national-event titles.
"I had a mouthguard back six, seven years ago and it was more of a dentist-made thing, but it was too thick or there was something about it that made me want to gag when I had it in my mouth. So I started talking to Caleb and he suggested I should contact the guys at Impact and I'm glad I did.
"What I like about the Impact stuff is I didn't have to go anywhere. I'm busy, so we were able to do things right in my office. They sent the stuff for making a mold and I sent it back. It was very turnkey and I got the piece in less than two weeks. It's perfect. It fits in my mouth perfect."
Hagan, a 10-time race winner and the 2011 Funny Car world champion, had been using a typical "boil-and-bite" style mouthguard since the early-2000s after chipping a tooth due to tire shake.
"I just figured it was a lot cheaper than getting my teeth fixed all the time at a dentist," he says. "But Cruz, he turned me on to this Impact deal and I thought, 'What the heck, I'll give it a try,' because I'd chewed the one I was using halfway up.
"I got impressed with Impact right away because they sent over a kit and it was really simple to use, self explanatory; you just mold the putty together, put it in the tray and then you bite on it and it gives you a perfect casting of your teeth right there."
Comfort and confidence in the safety gear they use is a major concern for professional drag racers like Pedregon and Hagan who rely on concentration and split-second reaction times before heading into 320-mile-an-hour rides that last only about four seconds.
"I think when you get in the car, you want to have that mindset that you're safe and you're protected because you know you have all this gear. You have the helmet, you have the gloves, you have the head-and-neck restraint; everything on your body is protected," Pedregon explains.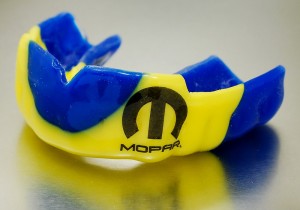 "But you don't want to be distracted by it; you want it all to be second nature. And I don't ever want to be in a situation where I think, 'Man, I wish I would have done something more to protect myself.' So I can say that I did all I could and I'm going to go into battle with that mindset."
Hagan also appreciates the ability to speak more clearly with his crew chief over the in-car radio system with his Impact mouthguard and helmet in place.
"It doesn't feel as if my tongue is as big as my foot. I can talk way better, a lot better now just because of the feel itself. It's really snug and true to your teeth and you can tell there's a lot of protection there, too," Hagan says.
"They made me up a couple of different types, different thicknesses, but I'm running the thinner one and even it feels like it offers more protection than anything I ever bought at the sporting goods store. I'm just all the way around really impressed with the Impact mouthguard."
According to Pedregon, his Impact mouthguard also offers one more attribute that may come in handy someday. "Any driver wants to get lippy with me at the end of the track, I'll have my mouthpiece in and we're ready to go," he jokes.
Impact Custom Mouthguards are designed specifically for athletes in all collision and strength sports. With an Impact mouthguard, breathing is not obstructed and athletes are able to speak clearly to their teammates during the heat of battle. When you wear an Impact Custom Mouthguard, you'll be protected when the big hit comes. For more information please visit Impact Custom Mouthguards online at www.impactmouthguards.com, send e-mail to [email protected], or call (770) 337-3364.