When the IHRA Nitro Jam party returns to State Capitol Raceway near Baton Rouge, Louisiana, March 13-14, three young ladies will be on hand making their presence felt both on and off the track.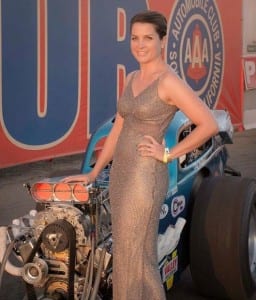 Eily Stafford attended her first race at age 12, fell in love with the speed and sound and decided it was what she wanted to do. For her Sweet 16th birthday, she attended Frank Hawley's Drag Racing School in Pomona, California. Now 27, she has been driving in the nostalgia drag racing ranks for the past 11 years.
"I've driven everything from injected Altereds and competition coupes to blown (supercharged) alcohol dragsters," said Stafford. Her career best elapsed time is 6.90 seconds on the quarter mile at 198 mph. She currently holds eight NHRA and IHRA competition licenses.
Eily's current ride is the Killer Crower Cams & Equipment-sponsored 7.0 pro supercharged alcohol dragster in the NHRA Hot Rod Heritage Series. Her first race in this car was at last year's California Hot Rod Reunion and she earned runner-up honors by a mere six thousandths of one second.
"I enjoy driving nostalgia race cars," Stafford explained. "This is how racing was back in the 1960s and I love being able to relive the golden years of drag racing."
Stafford graduated with top honors in automotive technology from San Diego Miramar College in 2009. She always has worked in the automotive industry with some of the most prestigious companies in Southern California, including Art Carr's California Performance Transmission.
Tina Pierce (pictured above) has been racing for six years. She drives her 2000 Chevrolet S-10 on the streets of Oklahoma, then brings it to the track to race. She has won several awards at her local track and also appeared at Hot Rod Drag Week 2014. Pierce did very well, finishing fifth in the Unlimited class and fourth in the Heads-up Shootout. Tina was the gatekeeper (No. 10 spot) on the Street Outlaws television series. Ironically, she was forced to leave the show because she was pregnant with her second child at the time. Pierce continues to race all around Oklahoma, Texas, Kansas and Arkansas. The Street Outlaws star will be the special guest of Crower and will sign autographs and make exhibition passes in her pro truck.
At age 16, Alex Taylor was the youngest participant in Hot Rod Magazine's Drag Week. In 2013, she ran in the 11-second range in her daily driver 1968 Camaro which was built by her
parents. She also earned her NHRA license at age 16 and was certified as a Holley EFI (electronic fuel injection) technician. In 2014, Taylor and her father built a new twin turbo LS engine which enabled her to run a 9.27 sec. pass at Drag Week 2014. This is a car she drives to school every day. Her fastest time so far is a 9.06. Alex has become somewhat of an Internet sensation with more than 2.5-million followers and views on YouTube. She also will sign autographs at the Crower booth during the event.
The IHRA Nitro Jam Mardi Gras Nationals will mark the biggest drag race in the history of Louisiana at one of the sanctioning body's most prestigious tracks in United States.
Nitro Jam is "heads-up" drag racing entertainment – first racer to the finish line wins – in all four pro categories. The exciting show includes qualifying and eliminations for: AMSOIL Nitro Funny Car presented by Aeromotive, U.S. Bounty Hunters Pro Stock, Nitro Harley and Jet Dragster classes.