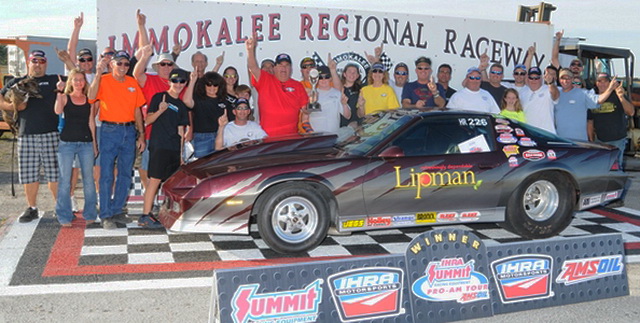 In the largest car count ever at Immokalee Regional Raceway's annual season opener, the Summit Racing Equipment Pro-Am Tour presented by AMSOIL attracted over 220 cars from an impressive 20 different states and from as far away as Minnesota and Nova Scotia to compete in the Division 2 Heat Wave season opener and Wild Card competition in Immokalee, Florida.
Five different states were represented among the winners with Florida making up the bulk of the trophy holders. Drivers from Indiana, Texas, Tennessee and Virginia also took Ironman trophies home with them from the Pro-Am season opener.
In the two-day competition 14 different drivers took victories in the big classes. Saturday's winners were Norm Williams (Top Sportsman), Claude DeBonis (Top Dragster), Allen Wade (Super Stock), Jim Wahl (Stock), Jim Morrison (Quick Rod), Steve Garmon (Super Rod) and Mark Mullen (Hot Rod). Sunday's winners were Chris Gulitti (Top Sportsman), Mark Smullen (Top Dragster), Anthony Bertozzi (Super Stock), Jeff Lewis (Stock), John Labbous Jr. (Quick Rod), Joseph Deluco (Super Rod) and Ralph Hester (Hot Rod, above).
Junior Dragster winners from the weekend included Amanda Foley and Taylor Bouldry in Masters, Gage Burch and Autumn Greene in Advanced and Katie Craft in Beginner.
To add to the excitement, the entire Pro-Am opener was broadcast live on IHRA.com by Motor Mania TV and the results were once again fantastic as thousands of people from around the globe tuned in to watch the best sportsman racers in the country do battle at Immokalee.
"It was a great weekend and an incredible race. We couldn't have been happier with the turnout and we hope this is a sign of things to come for the Pro-Am Tour in 2013," said Frank Kohutek, IHRA Division 2 Director.
"Ralph Hester always puts on a fantastic event and this was no exception. The track was exceptional, the racers had a great time and the live feed was an incredible bonus. It gave fans and racers an opportunity to see how the IHRA puts on an event."
Perhaps the weekend's biggest winner was track operator Ralph Hester, who not only put on a great event but put his 1986 Chevrolet Camaro in the winner's circle in Hot Rod on Sunday. In the second-biggest field of the weekend behind Top Dragster, Hester went four rounds on Saturday and added a few more on Sunday before breaking through with a big win over Saturday's winner Mark Mullen who broke out.
Eight-time IHRA champion Anthony Bertozzi also continued his impressive streak at the IHRA season opener with his fifth win in the past five seasons at Immokalee Regional Raceway. After falling out in round one on Saturday, Bertozzi stormed back on Sunday and drove his familiar 1998 Grand-Am to a big win over Richard Preiser. Bertozzi was also runner-up in Stock on Saturday giving him two finals over the weekend.
One of the biggest non-winners from the weekend was defending Top Sportsman World Champion Mike Thompson from nearby Naples, Florida. The 2012 champ drove his 2003 Chevrolet Cavalier to two runner-up finishes to Norm Williams on Saturday and Chris Gulitti on Sunday, but from a points perspective is off to another great start.
Another Floridian to produce a strong start to the season was Meraitt Island's Jim Morrison who visited two finals in Quick Rod and Super Rod on Saturday, winning in Quick Rod over Deborah Bogle.
It was an incredible start to the year for the drivers of the Summit Racing Equipment Pro-Am Tour presented by AMSOIL as a strong contingent and superb Florida weather made for a memorable two days of racing.
Racers in the Heat Wave Division will wait nearly two months before their next race as the IHRA Nitro Jam series makes its return to Bradenton Motorsports Park for a Pro-Am double-header April 19-21. The next event on the Pro-Am schedule is at State Capitol Raceway in Baton Rouge the weekend of March 8-10.