She got settled into a Junior Dragster at the ripe age of 6, so it's no surprise that Shelby Miles has an unquenchable love of racing. She won two IHRA Junior Dragster Bracket Finals championships before stepping into a full-sized car at 15. Her father, co-owner of Carolina Dragway, eased her into full-size cars in a Nova that he wisely set up in the same structure as the dragster Shelby hoped to move into before long. As she progressed, it was clear that "slow" bracket racing wasn't going to be enough for Shelby. Before she even aged completely out of Juniors, she knew she was ready for the fast bracket racing of Top Dragster.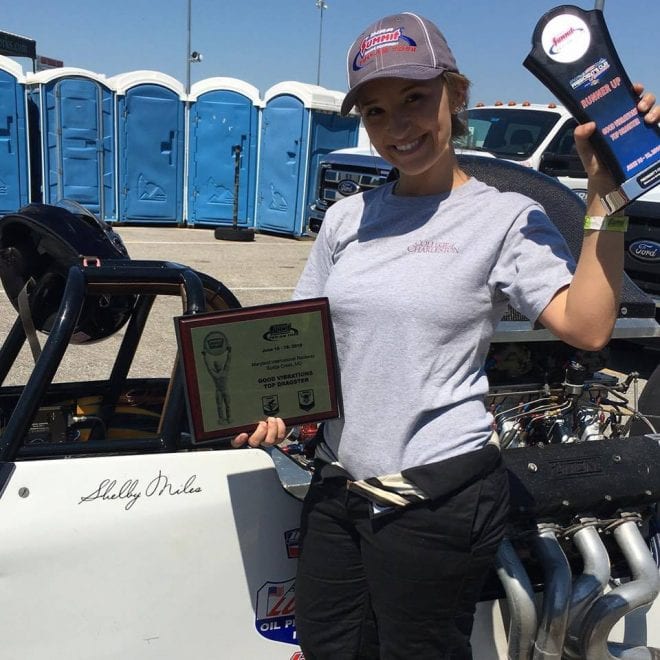 "For my very last race in a Junior, Dad promised me he would take me to a PDRA race," Shelby storied. "So we planned to go to Virginia in 2015. Just before that was the Rockingham race where the bump in Top Dragster was like a five-flat. So we decided to take the Top Dragster to Virginia just to see if we could get in. The bump ended up being much faster and we didn't make the show, but we had a little 565 in there and had Stevie Jackson and Phil Shuler helping us and we got that thing to go 4.30 that weekend. I had never been anywhere near that fast before. That was the start of it all, I guess you could say."
"Stevie Fast" Jackson and Phil Shuler, both friends of the Miles family, have been helping on Shelby's dragster ever since.
"After that we pretty much decided we wanted to focus on competing in Top Dragster. So we got a 632 and decided to run PDRA in 2016. We took it as a learning year. We got that motor to go 4.12. Racing with the best of the best, we knew a 4.12 wasn't really going to get us in the show at every race, and there's no point in traveling to all of them if we're not going to get in. So we bought a 768 before GALOT. That's where we locked in the grudge race with Cody Moore."
Despite the stress that accompanied the grudge match hype and the continual problems they encountered throughout the weekend, Shelby told that, in the end "it all worked out. I still just don't know what to say. It went 4.06 in that run [against Cody]. In first round Saturday it went 4.04, which is my quickest run so far."
She's been bitten by the bug, so to speak, and there's no turning back for Shelby, who's currently pursuing a Business Administration degree from the College of Charleston, with further plans to attend law school. She's looking to purchase a blower motor that will take her in the three-second zone for TD competition this year, but ultimately, Shelby hopes to get in a door car.
"My dragster is for sale. We're trying to get out of dragsters and move into Top Sportsman and get my feet wet there before hopefully moving into Pro Mod. My ultimate dream is to race NHRA Pro Stock, but I really wouldn't complain about racing any class."
Shelby and her younger sister, Morgan, formed Miles Twins Racing to help further their racing pursuits. They are often mistaken for twins, despite being three years apart. They've raced together at Carolina Dragway and across the nation for most of their lives. Shelby confesses that her sister is one of her biggest motivators, not only in racing, but in life. "Morgan is my best friend. We're really close. Her looking up to me is what pushes me. I know she's watching me and following in my footsteps. I don't want to let her down. She motivates me to be better."
This story originally appeared in DI #118, the Hottest 2017 Issue, highlighting drag racing's fast, fierce and forward-thinking women, in March of 2017.