Like watching a child open gifts on Christmas, there is a similar joy when watching one become a drag racing fan. Many of the stats and milestones you, as a learned steward of the sport, take for granted create wonder for the neophyte. We're getting to watch Amanda Busick's burgeoning love affair with our world and it's been thoroughly entertaining thus far.
Since NHRA moved its television property to FOX Sports in 2016, Amanda has been a little bit of everywhere. As the multimedia reporter, she shows up on TV, online, on social media, and anywhere video streams.
Growing up in North Carolina with a family involved in dirt racing, Busick is no stranger to motorsports. She had great taste in drag racing, attending events at Rockingham as well. However, the world of racing wasn't what she was looking for necessarily while trying to break in to the world of sports broadcasting.
"Motorsports is such a mixed world that when I started my career, you know, it kinda seemed almost—It's not intimidating and impossible to get into, right?" she said with a laugh. "Everyone has some sort of background into it, so no, my route into this was completely unconventional."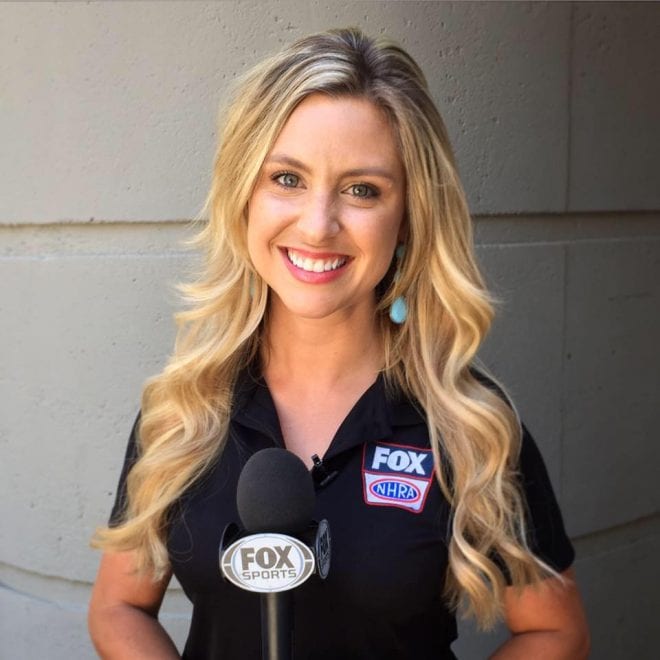 Her breakthrough came when the assigned TV talent to a project she was working on didn't show and one lost opportunity for Ms. We'll Never Know turned into a huge opportunity for Amanda. When she realized her flair for it along with the financial benefit ("Why are we paying someone to do this? I can just do it!"), Amanda would go on to interview such stars as Shaquille O'Neal and Charles Barkley. The interactions turned into an audition reel and she was on her way.
"I moved to New York and worked at a restaurant at night to afford living there and interned by day, so it's kind of a crazy story," Busick said. "I was in New York for a little bit and then I got my first PA job in Chicago, and that's when I was doing the college sports stuff. And then I was in Boston for just a quick stint before coming (to Los Angeles) last January for last season."
Her move to NHRA came at a time of upheaval. Still freelancing and in talks to possibly cover college football in 2015, her mother suffered a severe financial setback, necessitating a move from Chicago to be closer to her.
During this time, bartending and selling meat from her apartment (absolutely not kidding), Busick and her mother were living together in Boston. Amanda had given up on returning to television, assuming her window had closed. For anyone who's been in racing long enough, there's the knowledge that the best way to advance in racing is to get out of it for a while. If you're good enough, they'll come calling. If not, maybe it wasn't meant to be.
Amanda's call came during a meeting with Ken Addelson, who had just been hired by NHRA as the vice president and chief content officer. Their chat, at his son's hockey game, turned into a 90-minute conversation that sent Busick to the Texas Motorplex two weeks later to create a video package for the track's anniversary. She impressed them enough, they invited her to cover the official NHRA red carpet prior to the banquet in Los Angeles.
"I guess you get a second opportunity," she said, "at your dream or what you wanted to do; you're not gonna let anyone beat you to it. So I dove right in."
Diving right in also included a trip to Frank Hawley's Drag Racing School to earn her Super Comp license in an effort to better understand the racers she would be covering. As anyone who has attended Hawley's school can attest, she discovered with a quickness why drag racers drag race.
"I woke up that morning beaming at the idea that I get to do a burnout today," she said, the excitement in her voice sounding as though she was strapped in, about to do it again. "Like just a simple idea, like oh, I get to do a burnout today!
"It is amazing just how when you're going to pre-stage and staging the car, this anxiety and nerves come out of nowhere. I was having a hard time breathing, (thinking), 'My seatbelt's extra tight, it's hot!' It just hits you out of nowhere, you realize that you're inside of this machine that is going to launch you from the starting line."
But for Amanda, like for many drawn into the orbit of our sport, it was the down-to-earth attitudes of the biggest names in the world of racing as well as unheard-of access to those names that provided her the assurance she made the right decision.
Trips to the bayou with defending Pro Stock Motorcycle champ Jerry Savoie and going, er, inverted in Jim Head's plane are just a few of the stories she's been able to tackle since joining the team. But it was a conversation with one of the sport's least verbose figures that gave her a true respect for the world in which she has immersed herself.
"Sitting down with Connie Kalitta was really cool," she said. "Even their PR side was pretty surprised that Connie okayed the interview. I tried to have a conversation him…when I'd see him on the starting line and introduce myself, and to me, my favorite part of being a reporter is those one-on-one situations.
"I mean, that's the chasing the story, the anxiety, you don't know where things are going. But the one-on-one, and really being able to encapsulate someone's life and their career, and you think of all of Connie's accomplishments and the heartbreak and what that man has gone through, that was a really, really neat opportunity for me."
This story originally appeared in DI #118, the Hottest 2017 Issue, highlighting drag racing's fast, fierce and forward-thinking women, in March of 2017.