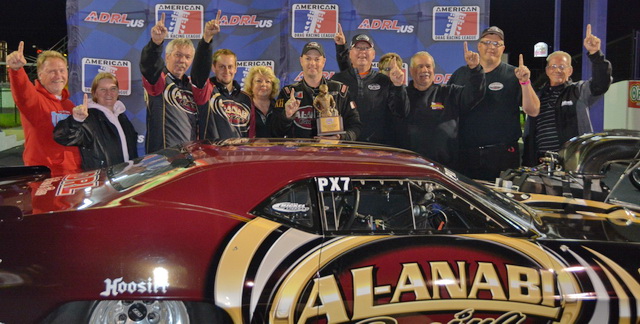 For Alex Hossler, driver of Sheikh Khalid Al Thani's Al-Anabi Racing Pro Extreme Camaro, it will be very difficult to top his weekend at Houston's Royal Purple Raceway that included a single day of racing when he not only won the race – the ADRL's prestigious World Finals IX – but also the Pro Extreme world championship.
Ultimately, the ultra-close points chase came down to a quarterfinal round matchup between Hossler and perennial frontrunner Tommy D'Aprile. It was over almost as soon as it started, though, as Hossler was off the starting line first with a .026-second reaction time and never trailed, taking the win and clinching the world title with a 3.583-second, 214.69mph pass. From there Hossler would defeat Terry Leggett and Jason Scruggs to put a bow on a career-defining weekend.
"It's pretty unbelievable," said Hossler. "Actually, it's an unbelievable feeling for me, personally, but it's not at all unbelievable when you look at the guys I have on my side. With Frank Manzo, Billy Stocklin, Mike Giafino and John Glade – the absolute best guys out here – it's almost hard to believe we had to fight for this as much as we did. And that's not to downplay anyone else in this class; there are a lot of great racers and teams in this deal, but I think the guys working on this car are the best.
"Considering the competition in this Pro Extreme class," Hossler said, "I'm proud of how we came out here and earned it this weekend.
"In the second round when we had to beat Tommy [D'Aprile] to win the championship, we did it, and we didn't get it handed to us. In the final against Scruggs [Jason], I literally felt like the underdog with the way he's been running, but again, we went out there, did our job and won the race. It's a good feeling."
Having started his drag racing career on the eighth- and quarter-mile drag strips of the Midwest before testing the waters of the American Drag Racing League in 2008 on occasion, Hossler admits that earning the 2013 ADRL Pro Extreme world championship driving Sheikh Khalid Al Thani's Al-Anabi Racing Camaro is surreal.
"This opportunity – to drive Sheikh Khalid's personal car – has not been something I've taken lightly," said Hossler.
"Being able to win both the Arabian Drag Racing League championship and the American Drag Racing League championship, especially in the same year, is nothing short of amazing and, again, is more a testament to this team than anything else.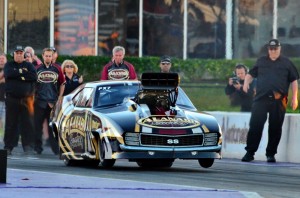 "We've had the best car out here basically all year," continued Hossler, who took the No. 1 qualifying position at six of the eight stops on the 2013 ADRL Tour presented by Speedtech.
"But we've also had some back luck – some little things that bit us here and derailed our weekend. To see it all come together in Houston was phenomenal."
(Photos by Wes Buck/Ian Tocher; Click to enlarge)