Like heavyweight MMA fighters trading blows until only one will be left standing, Pro Extreme competitors  are currently involved in a high-speed cage match at the Qatar Racing Club.
With a brilliant 3.518-seconds pass at an equally outstanding 215.68 mph–the world's quickest and fastest eighth-mile doorslammer pass ever–Alex Hossler was the latest to land a knockout-worthy punch during the final test session before this weekend's fourth of five events in the 2013 Arabian Drag Racing League schedule. Hossler's previous best was the class-leading 3.534, set late in January in the screw-blown Al Anabi Racing '69 Camaro tuned by Top Alcohol Funny Car legend Frank Manzo and team consultant Billy Stocklin.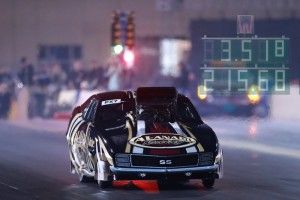 By comparison, the Stateside class E.T. record is 3.577, held by the 2005 Corvette of Frankie "Mad Man" Taylor, who just one day earlier in Qatar had gone 3.529 at a then-record 214.96 mph.
Also making quick, fast laps on the near-perfect QRC racing surface are fellow American Pro Extreme stars Joey Martin and past Arabian series champion Von Smith, while "Stevie Fast" Jackson was quickest in Pro Nitrous testing in his Al-Anabi Camaro with a career-best 3.794 at 193.63 mph.
Meanwhile, Todd Tutterow is showing the way in Extreme 10.5 with a world-beating 3.987 at 192.49 mph in testing his Al-Anabi 2010 Corvette and former back-to-back Pro Extreme Motorcycle champ Billy Vose is running consistent low 4.0s to pace the two-wheeled set.
(Photo by Khalid Saif; Click to enlarge)