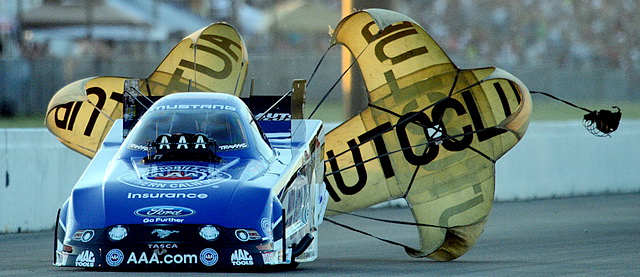 Robert Hight (above) raced to the qualifying lead in Funny Car May 17, at the 25th annual NHRA Kansas Nationals. Tony Schumacher (Top Fuel) and Mike Edwards (Pro Stock) also were qualifying leaders at the NHRA Mello Yello Drag Racing Series event.
Hight set the pace in Funny Car, powering his Auto Club Ford Mustang to a leading effort of 4.067 at 302.62 mph at Heartland Park Topeka. If the effort holds, this would be Hight's first No. 1 of the season, fifth at Topeka and the 44th of his career.
"We've been struggling in the early part of the run lately, and we definitely got it today," Hight said. "The back half of those two runs weren't very good. If it would have finished those runs out, this thing would have run really good. This thing could've run 4.03, easily. It put cylinders out on the last run because it didn't have enough clutch to lock up.
"We definitely fixed what we've been looking at for almost a year. [Crew chief] Jimmy Prock just hit it right out of the box. I know it's only two runs, but we found what we're missing."
Hight's teammate Courtney Force was second with a 4.068 at 312.86 in her Traxxas Ford Mustang, and Tim Wilkerson was third in his Levi, Ray & Shoup Mustang with a 4.071 at 310.55. DHL Toyota Camry driver Del Worsham was fourth with a 4.072 at 312.64.
Schumacher, the series points leader in the 8,000-horsepower Top Fuel category, posted a 3.769 second run at 326.08 mph in his U.S. Army dragster to move from the bottom of the qualifying order up to the top of the 16-car field.
"The track was really smooth," Schumacher said. "My (crew) took a good look at it and made the decision to go fast. (Crew chief) Mike Green made a great call there under the pressure after being bumped out of the top 12. It was a great run."
If his time holds through Saturday's final two qualifying sessions (12:15 and 2:30 p.m.), this would be Schumacher's second No. 1 of the season, second at Topeka and the 73rd of his career.
Doug Kalitta was second in his Mac Tools dragster with a 3.770 at 324.98 and Shawn Langdon was third in his Al-Anabi Racing dragster, posting a 3.777 at 317.34.
In Pro Stock, series points leader Edwards continued his recent momentum in the category by posting a leading performance of 6.618 at 208.55 in his Interstate Batteries/I Am Second Chevy Camaro.
"We're just making nice runs right now," Edwards said. "We're trying to keep it simple for ourselves by just adjusting to the conditions where we are racing. This car is so consistent that it is just phenomenal."
The quick run was anything but routine for the 2009 world champ and two-time Topeka winner. After servicing the car following the first qualifying attempt, Edwards fired it up in the pits during the warm-up and said the car didn't sound right. With 25 minutes left before the second qualifying session, his crew jumped to action to replace the engine. They barely made it.
"To me, making the engine change that quick was more impressive than qualifying No. 1," Edwards said. "And there's two guys on my crew who just started with me this year. Getting everything fastened and tight was really an accomplishment. I'm really proud of those guys."
If Edwards' time stands, it will be his seventh No. 1 of the season, fourth at HPT and 48th of his career. Erica Enders-Stevens was second in her BLACK iGUANA Chevy Camaro with a 6.625 at 208.62 and defending event winner and world champ Allen Johnson was third in his Team Mopar Dodge Avenger with a 6.633 at 208.62.
 (Photos courtesy NHRA/National Dragster; JFR/Lester; Click to enlarge)
TOPEKA, Kan. — Friday's results after the first two of four rounds of qualifying for the 25th annual NHRA Kansas Nationals at Heartland Park Topeka, eighth of 24 events in the NHRA Mello Yello Drag Racing Series.  Qualifying will continue Saturday for Sunday's final eliminations.
Top Fuel
1. Tony Schumacher, 3.769 seconds, 326.08 mph; 2. Doug Kalitta, 3.770, 324.98; 3. Shawn Langdon, 3.777, 317.34; 4. Khalid alBalooshi, 3.794, 324.44; 5. Spencer Massey, 3.794, 319.75; 6. Antron Brown, 3.803, 316.15; 7. Clay Millican, 3.811, 321.12; 8. David Grubnic, 3.813, 319.75; 9. Brandon Bernstein, 3.819, 324.90; 10. Steve Torrence, 3.822, 317.72; 11. Leah Pruett, 3.833, 311.85; 12. Terry McMillen, 3.842, 321.96.  Not Qualified: 13. Brittany Force, 3.847, 319.52; 14. Bob Vandergriff, 3.848, 317.57; 15. Morgan Lucas, 3.856, 315.78; 16. Pat Dakin, 3.887, 312.71; 17. Scott Palmer, 4.012, 264.60; 18. Luigi Novelli, 4.378, 214.38; 19. Tim Cullinan, 4.925, 144.74.
Funny Car
1. Robert Hight, Ford Mustang, 4.067, 302.62; 2. Courtney Force, Mustang, 4.068, 312.86; 3. Tim Wilkerson, Mustang, 4.071, 310.55; 4. Del Worsham, Toyota Camry, 4.072, 312.64; 5. Matt Hagan, Dodge Charger, 4.081, 312.57; 6. Jack Beckman, Charger, 4.096, 310.48; 7. Chad Head, Camry, 4.105, 310.13; 8. John Force, Mustang, 4.117, 309.27; 9. Cruz Pedregon, Camry, 4.126, 300.06; 10. Jeff Arend, Charger, 4.132, 306.60; 11. Bob Tasca III, Mustang, 4.136, 310.70; 12. Ron Capps, Charger, 4.147, 304.32.  Not Qualified: 13. Tony Pedregon, 4.251, 270.81; 14. Alexis DeJoria, 4.296, 251.30; 15. Johnny Gray, 4.687, 269.35; 16. Todd Simpson, 4.783, 206.35; 17. Dale Creasy Jr., 5.222, 163.87.
Pro Stock
1. Mike Edwards, Chevy Camaro, 6.618, 208.55; 2. Erica Enders-Stevens, Camaro, 6.625, 208.30; 3. Allen Johnson, Dodge Avenger, 6.633, 208.62; 4. Jeg Coughlin, Avenger, 6.633, 208.46; 5. Shane Gray, Camaro, 6.640, 208.04; 6. Greg Anderson, Camaro, 6.655, 207.88; 7. Jason Line, Camaro, 6.657, 208.20; 8. V. Gaines, Avenger, 6.658, 208.52; 9. Vincent Nobile, Avenger, 6.666, 207.78; 10. Matt Hartford, Avenger, 6.667, 207.53; 11. Larry Morgan, Ford Mustang, 6.668, 206.99; 12. Rickie Jones, Camaro, 6.669, 207.88.  Not Qualified: 13. Greg Stanfield, 6.672, 206.54; 14. Rodger Brogdon, 6.709, 206.35; 15. Chris McGaha, 6.715, 206.07; 16. Steve Kent, 6.717, 206.01; 17. Deric Kramer, 10.035, 90.58.