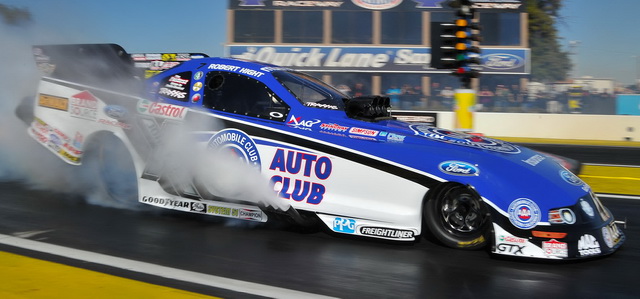 This Father's Day weekend Robert Hight and the Auto Club Ford Mustang will be looking for their second win at historic Bristol Dragway, nestled deep in the mountains of eastern Tennessee.
Last year, Hight was the No. 9 qualifier and fell to Johnny Gray in the opening round. It was a tough race day for John Force Racing as all the teams lost in the first round including No. 2 qualifier Mike Neff and No. 5 qualifier John Force. Prior to last year, though, three of the previous four Ford Thunder Valley Nationals featured John Force Racing Funny Cars in the finals with Hight winning in 2011 and John Force taking title in 2010.
"The good news is last year was last year," Hight said. "You put that race behind you and focus on the next race. We are starting a stretch of four races in four weekends and you want to get some positive momentum early. I love Bristol Dragway and racing on Father's Day is always kind of special. There will be a lot of families at the track all weekend.
"The win in 2011 was really special. We set the national speed record and we won the race. Bristol has so much history you want to win at a track like this. John won the year before me and we had a streak going. Now we will look at getting another streak started."
This year Hight has reached the final in Topeka and was a strong contender in Englishtown two weeks ago. He was forced to race teammate and mentor John Force in the first round. The two races showed that Hight's Auto Club Mustang has regained its prowess in a tough Funny Car category. Over the first nine races the class has boasted five different event winners and 10 different finalists.
"You want to win every race but this year has been especially tough. You match up with tough racers in the first round at every race. There are no teams you can take lightly. We are in the Top Ten but we are still looking to lock up our spot in the Traxxas Shootout which means we need to get a win. I am hoping this weekend will be our weekend," said Hight.
(Photos courtesy JFR; Click to enlarge)