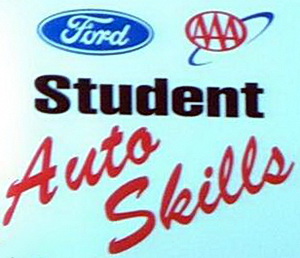 On the night before Robert Hight and his AAA Texas Funny Car team will attack the Royal Purple Raceway Park race track in Baytown, TX, the 2009 Mello Yello Funny Car champion talked up competitors of a different caliber.
Hight was the keynote speaker at the AAA Texas Ford Auto Skills Banquet held Apr. 25, at San Jacinto College on the eve of the 64th annual state competition.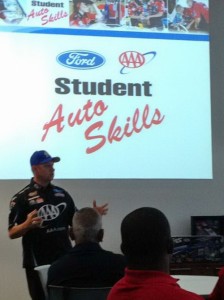 Hight spoke about the importance of education, but also passion to the large group of auto tech students. He has addressed groups of students all over the country for Auto Club and Ford about the importance of education and the opportunities available to skilled workers.
"When I started in racing I lived in the shop and wanted to learn as much as I could. I love what I do and that has been the key to my success at every level," said Hight, the 2005 winner of the O'Reilly Auto Parts Spring Nationals at the Baytown track. "I started out as a mechanic, actually working on the clutch on John Force's Funny Car in the '90s. I really tried to learn all about the Funny Car and that has paid off for me."
This weekend Hight and the AAA Texas Ford Mustang team will have four qualifying sessions starting Apr. 26, at 4:15 p.m. at Royal Purple Raceway Park. Final eliminations will begin on Sunday at 11 a.m. Live television coverage will be provided by ESPN2 on Saturday afternoon of the final qualifying session and then again on Sunday from 1 p.m. until 4 p.m. (CT) for the semi-finals and finals.