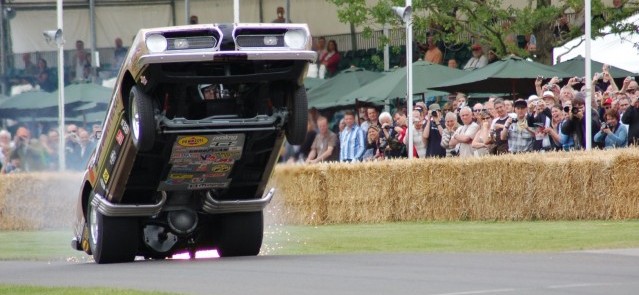 Those attending the 10th Holley NHRA National Hot Rod Reunion presented by AAA this June will be treated to a wheel-standing trip down memory lane with famous showman Bob Riggle and his spectacular Hurst "Hemi Under Glass," one of drag racing history's most entertaining drag racing exhibition cars.
For the first time in the history of the National Hot Rod Reunion, the first production 1966 Hurst Hemi Under Glass race car – celebrating nearly 47 years – will run at Beech Bend Raceway with guaranteed thrills and trademark wheelies.
"The Hemi Under Glass was one of my favorite's to watch in drag racing scene," said Gibbs. "Reunion fans are going to get blown back on their heels when Riggle powers his Hemi Under Glass down the track. It'll be another fun attraction bringing back memories for folks!"
The Hemi Under Glass cars started off as a promotional project for the automotive company, Hurst Shifters'. The signature black and gold Hemi-powered wheel-standers wowed the crowds with their captivating runs. These wild machines became a popular attraction at drag racing events through the mid-sixties and into the seventies. Wheel-stander entertainers such as Riggle and "Wild" Bill Shrewsberry delighted standing-room-only crowds with their spectacular wheel-standing screams down the quarter mile.
Riggle hung up his racing helmet in 1975 yet remained active in the Hot Rod Reunion scene. When asked to run one more time for the Reunion, Riggle enthusiastically agreed and is eager to bring Reunion fans to their feet when doing his favorite job in the world.
"I had a wonderful career with Hurst and had a blast performing for crowds," said Riggle. "I must say I have one of the best jobs in the world and fans are the one's who make it fun. There's nothing like seeing the fans on their feet. I'm really looking forward to wowing the crowds in Bowling Green."
With the driver's finesse behind the wheel and quick Hemi engines, these cars are a sight to see and Reunion fans are going to go wild! Don't miss this opportunity to see the Hemi Under Glass run for Reunion fans only Father's Day weekend.