In 2012, NHRA rolled out a special race-within-a-race at the prestigious U.S. Nationals in Indianapolis, and since that time, the Factory Stock Showdown has done nothing but snowball. As the program has grown, it has also become more and more refined, and it draws ever-increasing interest from both racers and spectators.
Is it any wonder? The heart of drag racing beats steadily and the American muscle car is alive and well within the walls of what is now known as the SAM Tech Factory Stock Showdown. The Big Three are each represented by way of the Ford Mustang Cobra Jet, the Dodge Challenger Drag Pak, and Chevrolet's COPO Camaro, and over time, each of these vessels have proven their worth to make for level competition where anyone can win.
The original incarnation was along the same lines as ADRL's eighth-mile SuperCar Showdown, and NHRA's rendition was a heads-up contest that fell in with Stock Eliminator class eliminations and raced to the quarter-mile. The competition was a way to showcase the drag-racing ready, factory-built vehicles coming out of Detroit that had captured the attention of veteran racers, and that first Indy event drew a handful of fierce and recognizable competitors in both naturally aspirated and supercharged entries.
In the final round, it came down to a matchup of Cobra Jet Mustangs between a pair of standout racers: 2006 Competition Eliminator champion Bo Butner and second-generation drag racer Brett Candies, son of NHRA legend Paul Candies. Candies left first but spun the tires, and Butner sailed ahead for a 9.10-second win at 148.84 mph.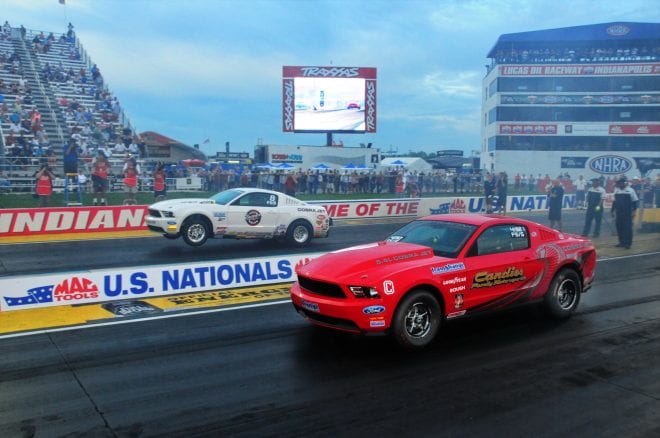 "To win anything at the U.S. Nationals is huge, but that was really cool. I still have that big inaugural Factory Stock Showdown check hanging up," says Butner, who has accumulated four Factory Stock Showdown wins to date. Although he hasn't yet raced the shootout in 2018, he's planning a return at Indy this year in a new Cobra Jet Mustang.
Butner became widely known when he turned Pro in 2015 and slid in behind the wheel of a KB Racing-powered Pro Stock Chevrolet Camaro, but his roots are deep in the Sportsman ranks. Aside from his Factory Stock Showdown titles, the 2017 Pro Stock champion has 21 national event wins across five categories, including six each in Pro Stock and CompEliminator, three in SuperStock, five in StockEliminator, and one in SuperStreet.
"This type of racing is where I came from, and it's probably where I'll end up," says Butner, regarding the Factory Stock Showdown. "It's a good class, but it's getting pretty tough. Between the three manufacturers, they're all pretty close. It's a growing deal, and it's a lot like the old Pro Stock, which is cool. It's bringing new people into the sport."
Partnership and steady growth
In 2013, the special series expanded to three events – with races added in Englishtown and Charlotte – and split into two classes within Stock Eliminator to separate the naturally aspirated engines and supercharged entries. The respective class winners in Charlotte ran one another for the championship, which was won by David Barton in a naturally aspirated V8 Dodge Challenger Drag Pak over a red-lighting Butner and his supercharged Cobra Jet Mustang.
Four events were on the schedule from 2014-2016 as popularity continued to grow. The School of Automotive Machinists and Technology (SAM Tech) stepped up in 2016 as the series sponsor, with director of student motorsports Brian Massingill taking the reins on their involvement in the program. The partnering of SAM Tech with the series was a no-brainer.
"We knew we wanted to be involved with NHRA, and we talked about a few things – but we were excited when NHRA offered [sponsorship of this class] to us," says Massingill, who has become something of a liaison between the racers and the sanctioning body as they work to refine and grow the class while still keeping it accessible and as affordable as possible. "It was a good fit for us because it was right in line with what we were building at SAM Tech. This was a way for the students to see what they were working on translate to real life on the racetrack.
"We have several graduates who work with various teams in the class. Travis Hilger helps with the cars that have Ray Barton Racing engines, Collin Jackson is Archie (Arthur) Kohn's crew chief and car chief – nothing goes in or out of that car without Collin knowing what it is – and Conner Statler helps the Stanfield Racing team at the events. We get a lot of calls asking for our students to work on things because not only do these guys like racing, they really know what's going on. We build COPO engines for a few Sportsman racers, so they see it first-hand, know what goes into it and know how to tackle things."
A fifth race was added in 2017, and the Factory Stock Showdown was booming. For 2018 it became a seven-race series with the championship awarded based on the best six of seven events. Evolution of the class brought it to a Quick 8 Eliminator format in 2016, and in 2018 it was designated as a 16-car field.
"Having this as a true heads-up, 16-car field is something that's easy to explain, and even casual fans can relate to it and understand," says Massingill. "With all three of the manufacturers involved, you have people coming by the pits and saying, 'Hey, my dad has one of these,' or 'My wife has a blue one just like this.' The fans are coming to the pits and looking at the cars, asking questions, and taking an interest in the class. The racing is tight, there are 25 cars showing up for every race, there are Pros in the class now. The evolution of it has been crazy, and it's exciting to see this thing continue to grow."
Inherent balance for the win
Rules have been implemented and shifted along the way in an effort to maintain a level playing field and curtail astronomical spending, but one thing that has stood out above the rest as a dream-killer or day-maker regardless of rules is the 9-inch wide tire.
"We have a great equalizer with those 9-inch wide tires, and that keeps things on equal footing – for better or for worse," says Massingill. "There are times when teams don't try to go after it or put everything into a pass because they're a little worried about the track. Is it better to run an 8.20 and know that you'll get down the track, or do you try for an 8.0, possibly blow the tires off, and your day is done? The tire makes it about a lot more than the power of the engine. You have to get the power down, or you're going to be in trouble."
One of the teams that seems to have found the right combination is Ray Barton Racing Engines, with David Barton as the driver. They have claimed more Factory Stock Showdown trophies than anyone else in the series. The son of renowned HEMI engine builder Ray, the younger Barton began his successful tenure in the class behind the wheel of a Mopar, but in recent years he's been campaigning – and still achieving success – in a COPO Camaro owned by Bob Wolkwitz.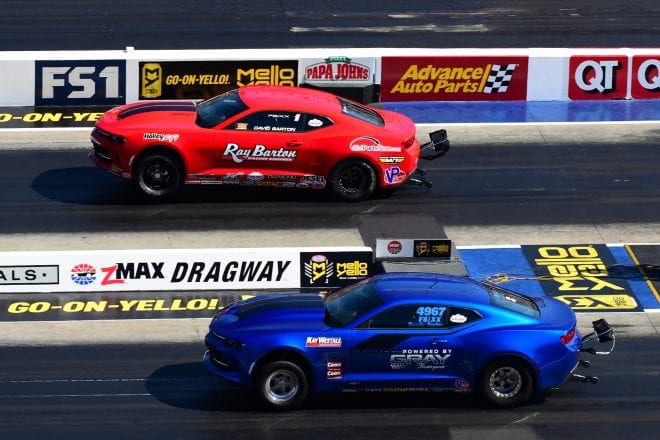 "That's what's really cool about the class. It's still new to all of us, and we're all trying to figure out what is the best way down the track. It's easy to get away from you," said Barton on a pre-season WFO Radio podcast with Joe Castello. "It's hard to find that balance (to get the power to the ground), but that's one of my strong points – covering the whole car. I'm not just an engine guy; I realize what it takes to get the chassis right.
"We give it all we got trying to figure this stuff out, but some of the best advice my dad ever gave me was to stick to basics. A lot of these guys have good power, but sometimes they don't know how to bring it all together, give it a good old-fashioned tune-up, get the gearing right, and so on. It's tough."
The Barton family way of thinking has proven effective, and Barton came into the 2018 season as the Factory Stock Showdown series champion. He's had plenty of competition this year, though, as three different drivers have won the first four events. Stanfield Racing-powered Stephen Bell claimed the first 2018 title, Bell's teammate Arthur "Archie" Kohn scored the second, and Joe Welch went back-to-back in his Challenger Drag Pak in Bristol and Norwalk.
"It's pretty crazy to be No. 1," adds Barton. "There are a lot of people stepping up, and a lot of good cars involved. Within the last few years, this whole new muscle car era has really exploded. It's everything I love about drag racing – it's heads-up, everything you've got, full throttle racing, and it's what people want to see."
The race for seven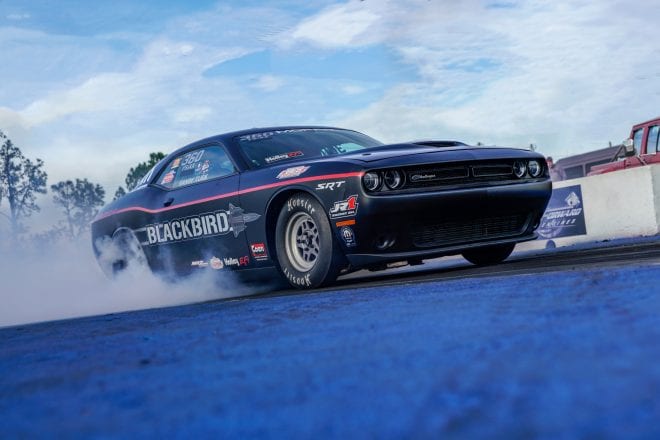 Those people who hunger for exciting heads-up racing also want to see big numbers on the scoreboards, and the current target is the 7-second zone. Veteran Mopar guy Geoff Turk got it done at the NMCA season-opener in Bradenton with 7.97 and 7.99 passes in his Dodge Challenger Drag Pak, but at the time of print, the sevens have remained untouched in NHRA Factory Stock.
Barton set a positive tone of hope for the season when he clocked a quick 8.020-second pass at 171.36 mph at the 2018 Factory Stock Showdown opener in Gainesville and bettered it with an 8.019 in Charlotte, but so far no one has gone quicker.
"We want that real bad," says Barton, speaking of the honor of being the first to reach the sevens. "We're just trying to get our ducks in a row and take it one step at a time. I (don't) want that to cloud my brain and get too silly with the tune-up, as we all know that it isn't always the quickest guy that wins; it's the guy who's the smartest from one round to the next, how long your stuff lasts, if you can keep it hooked up to the ground, and how good you can be as a driver. It's everything put together, that's what it takes to make something like that happen."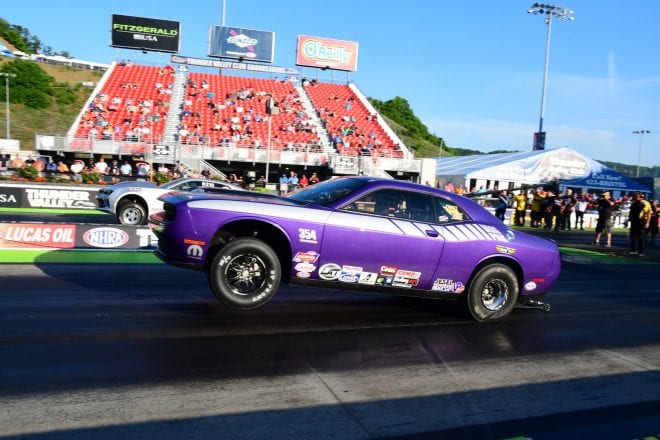 From the series sponsor's perspective, that target is just one facet of what's propelling interest in the SAM Tech Factory Stock Showdown. Among those staking their claim in the series are a handful of Pro drivers, and the byproduct of those high-profile entries is that there is even more attention on the class. Don Schumacher Racing fields two Factory Stock Showdown entries with Top Fuel driver Leah Pritchett and Pro Stock veteran Mark Pawuk piloting a pair of Kevin Helms-tuned Dodge Challenger Drag Pak entries. Pro Stock champ Erica Enders has competed for Mopar, and 2012 world champion Allen Johnson, who retired from Pro Stock racing at the conclusion of the 2017 season, has reappeared as a competitor in the Factory Stock Showdown with his father and former Super Stock racer Roy Johnson as his crew chief on a Jeff Teuton-owned Drag Pak.
"There is still a lot of room for growth, and there are a lot of good ideas that are slowly being rolled out," reveals Massingill, who noted that for each of the first four events this season, there have been between 24 and 30 entries. "I really do see longevity in the program, and that's because of the accessibility, especially for the racers. If you want to race this class, you can get a used car and have a good engine built, and you can qualify. Then you spend the next year learning from these other teams who have been doing this for a long time. It's definitely something exciting, competitive, and fun to be part of."
Previous SAM Tech NHRA Factory Stock Showdown Winners
2012
Indianapolis
Bo Butner – Cobra Jet Mustang
2013
Englishtown
Gary Richard – Cobra Jet Mustang
Indianapolis
Chris Holbrook – Cobra Jet Mustang
Charlotte
David Barton – Dodge Challenger Drag Pak
2014
Gainesville
Chris Holbrook – Cobra Jet Mustang
Indianapolis
Chris Holbrook – Cobra Jet Mustang
Reading
David Barton – Dodge Challenger Drag Pak
Las Vegas
Bo Butner – Cobra Jet Mustang
2015
Gainesville
Bo Butner – Cobra Jet Mustang
Englishtown
Kevin Skinner – Cobra Jet Mustang
Indianapolis
Bo Butner – Cobra Jet Mustang
Las Vegas
Kevin Skinner – Cobra Jet Mustang
2016
Gainesville
David Barton – COPO Camaro
Englishtown
David Barton – COPO Camaro
Norwalk
David Barton – COPO Camaro
Indianapolis
Chris Holbrook – Cobra Jet Mustang
2017
Gainesville
David Barton – COPO Camaro
Charlotte
Peter Gasko Jr. – COPO Camaro
Norwalk
Charles Watson – Cobra Jet Mustang
Indianapolis
David Barton – COPO Camaro
St. Louis
Peter Gasko Jr. – COPO Camaro
2018
Gainesville
Stephen Bell – COPO Camaro
Charlotte
Arthur Kohn – COPO Camaro
Bristol
Joe Welch – Drag Pak Challenger
Norwalk
Joe Welch – Drag Pak Challenger
Indianapolis
Leah Pritchett – Drag Pak Challenger
St. Louis
Leah Pritchett – Drag Pak Challenger
Dallas
Leah Pritchett – Drag Pak Challenger
Photographs by Rick Belden, Roger Richards and NMCA
This story originally appeared in DI #135, the State of Drag Issue, in August of 2018.