The Detroit horsepower wars are playing out in NMCA Holley EFI Factory Super Cars as the Big Three do battle with 1,500hp supercharged drag cars. As the competition has grown tighter and more competitive, the NMCA class has crept closer to the 7-second zone. Geoff Turk made history Saturday, March 9th. 2018 when he officially ran in the 7s during the opening round of the NMCA race season. The Dodge Drag Pak Challenger, known as "The Blackbird," produced a 7.996 time slip to earn the prestige and big money bonus from Holley EFI.
Over the winter, Holley EFI formed an exclusive 7-Second Club and committed to paying $5,000 to the first racer to do the deed. And to sweeten the pot, if the vehicle was equipped with a Holley EFI system, the company doubled the payout for a cool $10,000. There are four more spots left in the Holley EFI 7-Second Club, each one paying $1,000 in Holley product certificates.
The run to the 7s began last year when Turk fired off a best of an 8.02 at 170 mph during an NHRA Divisional race at Lucas Oil Raceway at Indianapolis. This year, the Dodge Drag Pak Challenger owner and driver teased the field of 22 Holley EFI Factory Super Cars during testing leading up the 16th annual NMCA Muscle Car Mayhem event with a 7.97 at 171mph pass. Testing is one thing, though, and the race to the 7s had to take place during qualifying or eliminations at an NMCA national event. Several Chevy COPO Camaro and Ford Cobra Jet Mustang racers had their shot at the first 7, but they all fell short.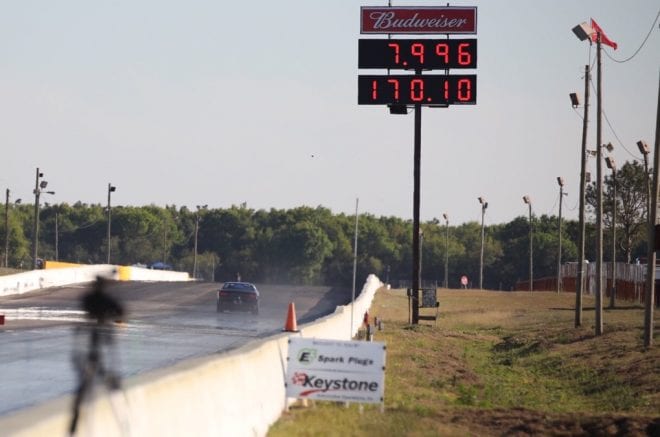 Turk was part of the fifth pair to roll to the starting line during the first round of qualifying when he etched his name in the history books of drag racing. Following the 7.996 at 170.10mph run, the Blackbird underwent a teardown inspection by the NMCA technical staff. The tech team verified the legality of the supercharger, engine, and driveline, officially branding Turk as the "First to the 7s."