The dance between nitrous and blower combinations has had a third wheel join them on select dates in recent years. Turbochargers unabashedly butted right into the middle of the beloved and staunchly defended nitrous/blower rivalry. It's no longer a two-sided coin toss. With turbos increasing both in prolific use by teams and vast performance advancements, rivalries have been split three ways. Many longtime nitrous or blower racers have made the switch to turbos with great success.
It's almost impossible to consider drag racing technology and not talk about the vast impact turbochargers have had on the sport in recent years. Specifically in Pro Mod and Drag Radial applications, turbocharged forced induction is quickly becoming the combination of choice. When Harry Hruska began working with turbos in 1989, founding Precision Turbo and Engine (PTE), no one would have guessed that less than 30 years later turbochargers would be seen by the dozens in race tracks all across the U.S. and all around the world. Since 2008, PTE customers alone have compiled at least 119 world championships and set over 256 world records. But what looks like an extremely rapid advancement from an outsider's view, has been in actuality, decades of extensive research and development.
"PTE has been on the leading edge of this learning curve for over 25 years," Hruska stated. "This all started before turbochargers were synonymous with Pro Mod. Everything we have learned along the way has paved the way towards the success of the turbocharged combination that we know today. Throughout this time, we have relentlessly worked to refine the combination to the performance levels that you see in today's turbocharged Pro Mods.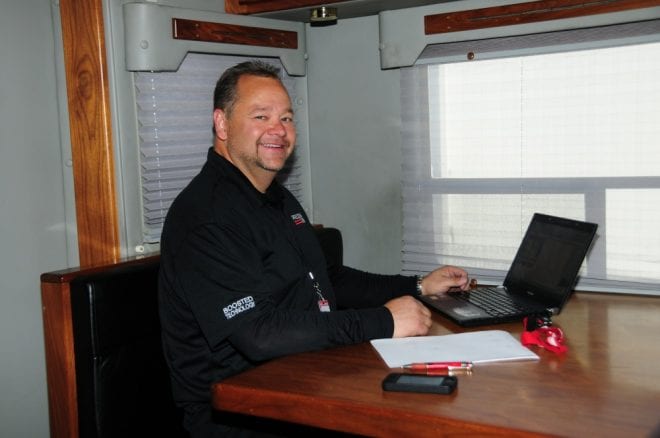 "The greatest improvement for turbochargers in recent years is constant refinement and optimization," Hruska continued, speaking to turbochargers impressive performance gain. "We continue to make great leaps forward in aerodynamics. The turbochargers we produce today are capable of supporting 50% more power than the same size turbochargers we used 10 years ago. We also continue to make great strides forward in the bearing systems of the turbocharger that now carry twice the load of the bearing systems we utilized 10 years ago. The packaging and weight has vastly improved with housings that are specifically designed for the combination and are not an adaptation."
Despite the behind-the-scenes time and effort it's taken to get turbocharged combinations to the current status they have in drag racing today, racers often say the transition from their old setups to a forced induction combination is fairly seamless with a short learning curve. This, among other reasons, is why more and more racers have chosen to go turbo.
"Turbochargers quickly became the dominant combination for many reasons," explained Hruska. "Power of course is first on the list, but also many other factors such as reliability, low cost of maintenance, and drivability.
"We must admit that the turbochargers are only a part of the combination's success. We have partnered up with the best manufacturers in the industry for torque converters, EFI, transmissions, fuel injection, oil and more. We work with these manufacturers by sharing information to develop components that complement this potent combination.
"We in turn share this knowledge with our customers and offer the entire recipe for success," Hruska continued. "Through offering the successful recipe, the racer gets the right parts the first time and is off to winning races instead of fighting the problems that we solved years prior. This has taken the fear out of switching to the new combination and has greatly shortened the learning curve for the racer."
Beyond R&D at the shop, Hruska fields his own Pro Mod team to continue innovation and advancement for his customers and pave the way for further turbo application in the sport. When teamed up with Billy Glidden earlier this year, the PTE Pro Mod enjoyed a 12-2 win-loss record and gave Glidden a new career best in elapsed time (5.838) and speed (257.68). Beyond Pro Mod drag racing, turbos are utilized in nearly every drag racing series, and can also be found in tractor pulling, truck pulling, time attack, road racing, drifting, autocross, race boats and on the Bonneville Salt Flats, where Hruska got his original start in working with turbos on John Lingenfelter's record-setting Trans Am.
Although turbocharged combinations have made impressive advancements in recent years, Hruska says there is still a lot yet to be discovered.
"The performance potential is nowhere near its cap," he emphasized. "All of the components in the turbocharged combination continue to be refined. Given the knowledge base that is available today, it is exciting to think where turbocharged Pro Mods will be in another five years.
"We foresee further refinement in turbocharged combinations that will create turbochargers and other components more specifically refined for the respective class. A pressure limited class such as NHRA Pro Modified will most likely have a turbocharger optimized for the pressure limit whereas a turbocharger for the vast array of inducer size limited classes worldwide will be optimized for that specific inducer limit and combination."
Although nitrous and blower combinations are still competitive and the go-to choice for many race teams, current trends suggest that turbocharged combinations will continue to grow in use and performance, effectively altering the drag racing landscape. The game has changed.
This story originally appeared in Drag Illustrated Issue No. 114, the Technology Issue, in September of 2016.