The May edition of the Triple Threat Bracket Series saw primetime performances and a host of great racing across the four days that over 300 race cars battled it out on the concrete at Virginia Motorsports Park.
TJ Harper laid claim to FuelTech Saturday's $20,000 main event in his RaceTech dragster over Kevin Pollard in Raider Campbell's Camaro. Harper was on a heater all day long with his dragster running in the high 4.20 range all day long. In the finals, Pollard kicked it .001 on the red side while Harper turns loose .001 green in the final and coasts to the main event victory on Saturday evening. Steve Witherow and Josh Wilkinson were the semi-finalists while Lindy Herman, Wesley Washington and Jerry Brewer bowed out at the quarter finals. For round-by-round results from FuelTech Saturday, click HERE.
Jon Corbin parked his familiar Pontiac Firebird on the dance floor on McCarty Auto Parts Friday with $10,000 on the line, defeating Steve Witherow in the finals. Corbin turned loose .010 in the finals and was one above to defeat Witherow's .016 and one above effort by .005 margin of victory at the stripe. John Goodman was the lone semi-finalist while Garry James, Sr., Dustin Smiley and Joey Mattera were the quarter finalists. For round-by-round results for McCarty Auto Parts Friday, click HERE.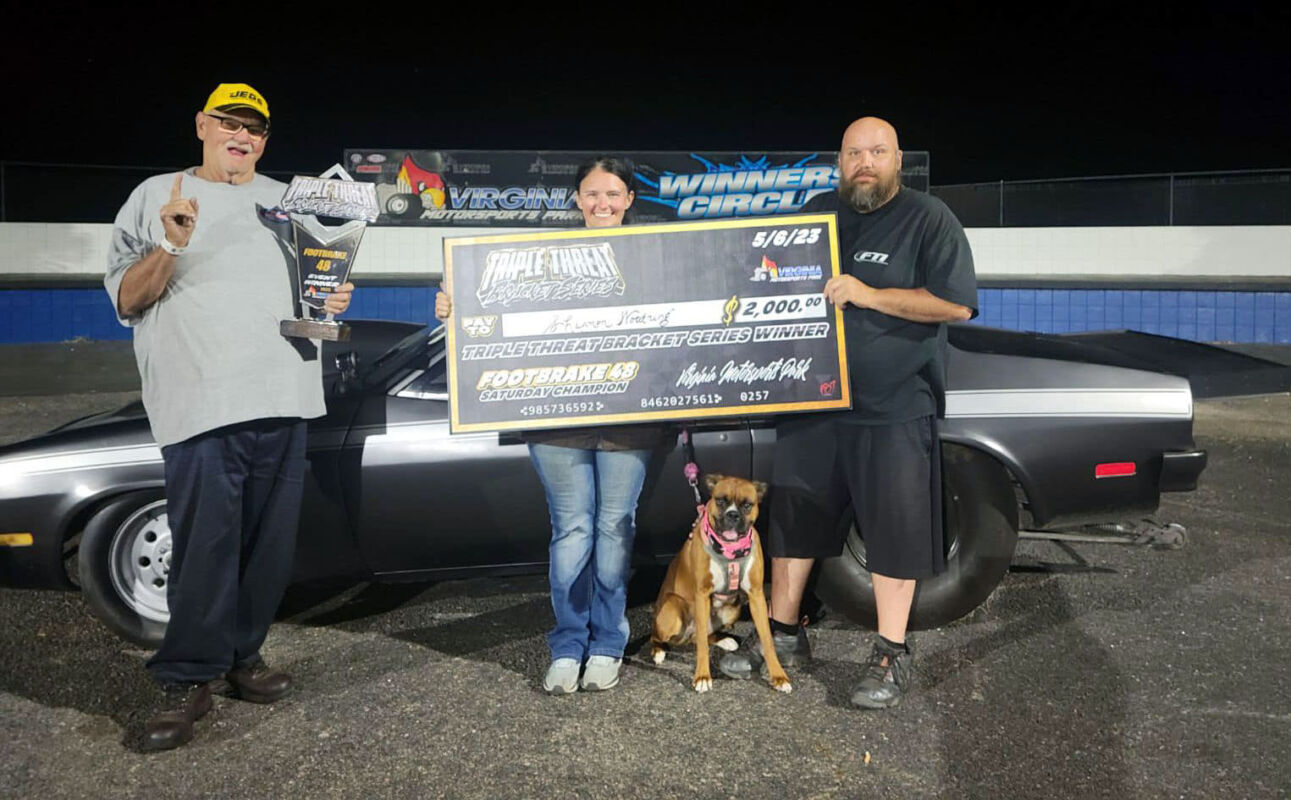 Footbrake 48 rolled into the show on Saturday morning with a number of tough competitors going off the bottom. North Carolina's own Shannon Woodring outlasted them all in his Monza, defeating Mike Hall in the finals. Hall had the reaction time advantage but broke out on the top end giving Woodring the win. Luke Miller was the semi-finalist while Bryce Fox and Brandon Tuck bowed out in the quarterfinals. For round-by-round results of Saturday's Footbrake 48 shootout, click HERE.
O'Reilly Auto Parts Sunday was completed at the conclusion of the third round in Footbrake due to rain entering the area. Super Pro results are located HERE, along with Footbrake located HERE.
McCarty Auto Parts Friday, Best Losing Packages
VMP Round 1 – Brandon Hackworth
House of Payne Round 2 – Kenny Snyder
Meziere Round 3 – John Myers
Hoosier Round 4 – Jon Corbin
Goodyear Round 5 – Wesley Washington
In Motion Solutions Round 6 – Joey Mattera
FuelTech Saturday, Best Losing Packages
VMP Round 1 – Kyle Hustwayte
House of Payne Round 2 – Ben Jones
Meziere Round 3 – Shawn Carpenter
Hoosier Round 4 – Ken Clark
Goodyear Round 5 – Carey Long
In Motion Solutions Round 6 – Bruce Hensley
O'Reilly Auto Parts Sunday, Best Losing Packages
VMP Round 1 – Todd Ward
House of Payne Round 2 – Bruce Sisk