For veteran businessman and racer Keith Haney it wasn't all about elapsed time and miles per hour; it was about gaining valuable experience and exposure on the biggest doorslammer stage in drag racing.
When Haney decided to throw his hat in the NHRA Pro Mod ring this year with a three-race deal brokered through Rickie Smith Racing, he knew full well it wasn't going to be an easy task to compete–or complete–that there would be hurdles to clear, setbacks to face, and naysayers to confront.
However, he also believed with the same nitrous-boosted 2017 Camaro that Smith drove to victory in Florida early this year, and respected corporate supporters including Summit Racing Equipment, Lucas Oil, Strange Engineering and Kryptonite Kustomz on board, he could make enough of an impact to make their participation pay off and his own commitment worthwhile.
And after finally qualifying for E3 Spark Plugs NHRA Pro Mod Series eliminations at the Texas Motorplex this past weekend (Oct. 5-7), his last of three scheduled NHRA appearances in 2018, Haney felt vindicated and at peace, even after falling in the first round of racing to eventual finalist Justin Bond.
"Just being able to qualify, it gives you a different appreciation of the Pro Mod category over here. Everyone knows I missed the cut in my first race in Topeka, even though I did run my personal best E.T. and speed there, and then last month in St. Louis things just didn't go my way at all, but getting into the race in Texas really felt like an accomplishment," he said. "I'm proud of qualifying among the absolute best Pro Mod teams and drivers in the world."
Haney's first qualifying pass on Friday saw his car head for the center line shortly after launching and he wisely shut down and coasted to a stop. Later that afternoon he made a second attempt and ran 5.93 seconds at 224.32 mph, though still outside the 16-car field after 26 entries made qualifying runs down the Motorplex quarter mile.
"That was my fault, totally my fault," Haney said. "I hit the chutes and took my foot off the gas a little early; that's why the mile an hour was down so much. That should've been about a 5.84 or .85; we should've been in with that pass."
Regardless, he remained unfazed and optimistic.
"I had sponsors and friends calling and reassuring me on Saturday, saying 'You got this,' and 'Don't worry, you'll get in,' things like that, but I told them that I knew we were gonna' get in, that we had tested and Rickie's and (teammate Khalid al) Balooshi's cars were running .80 and .81, so we were going to turn mine up."
When the time came, Haney actually posted 5.84 at 246.84 mph, enough to secure 14th place in the provisional 16-car field with one more qualifying session scheduled for Saturday night. Heavy rain swept in shortly before the Pro Mods were about to roll, however, and the field was suddenly set for race day.
"I'm sorry it rained because I think we could've gone a little quicker and maybe moved up a couple of spots, but I'd be lying if I said I was upset," Haney revealed at the time. "I'm just glad to be in the field because anything can happen on race day."
As it went, Haney was late on the tree, giving Bond and his twin-turbocharged '68 Firebird a sizeable head start that Bond translated into a 5.74-seconds win at 255.68 mph.
"I didn't do my job on the tree like I normally do," Haney admitted with a hint of disappointment in his voice. "We ran real good to the 330 (feet), but I know the turbo car picks up four numbers over a nitrous car at the back door and he started pulling away. So I just lifted at that point, saved the motor. There's just no reason to go down to the quarter mile when you can see he's on a great pass. My car was good, no issues at all, I just lifted and coasted through. Told everybody, "Good job."
And just like that, Haney's inaugural entry into NHRA Pro Mod came to a close. But he reminded everyone that just like it says all over the sides of his splashy, red-white-and-blue Summit Racing Equipment Camaro: "You Know My Name!"
"Let's be honest, if you take a look at it–and this is not an ego thing or anything like that–but I probably got more coverage in three races than some of these guys who have been out here for three or four or five years have ever received. But that's only because I'm more voiceful; I'm not afraid to say things, so yeah, I put it out there," Haney said. "And sometimes it works for me, sometimes it doesn't–but most of the time, it does."
And though he claims not to have any concrete plans for another NHRA Pro Mod run next year, Haney concedes he does want to try again. Of course, his participation will depend not only on business and personal demands, but on once more securing sufficient sponsorship to mount a serious campaign and partnering with the right race team and people.
"Rickie and I haven't really sat down and talked about the future yet, but no matter what, my tuner Brandon Switzer and I are great friends and whatever Brandon Switzer says to do is pretty much what I'll do," Haney revealed.
"My ego's bigger than most, so yeah, I don't want to do anything that I don't have a chance to win. I definitely wanted to get in the first and second races this year and I know a lot of people, they didn't think I'd qualify for a single NHRA event. But it was just like some of the other things I've done. When I came out radial racing all I ever heard was, 'He ain't gonna qualify; he ain't even supposed to show up.' And then I ended up qualified number one my first night," he continued.
"I'm afraid to say, I think that's part of the problem with radial racing, that it's coming few and far between, so it makes it tough when you can't fill a field. And you're racing the same eight guys every single race, so usually qualifying is easy. Just go A to B and you're in."
Haney is quick to stress, however, that regardless of any other racing plans for 2019, the Mid-West Pro Mod Series (MWPMS) that he owns and promotes will continue and he will continue to compete in the title class.
"I love the Mid-West Pro Mod Series and honestly believe it's growing into the best eighth-mile doorslammer series in the country–bar none. So the Mid-West Pro Mod Series isn't going anywhere," he emphasized. "If anything, it's going to continue growing and showcasing the tremendous talent it attracts."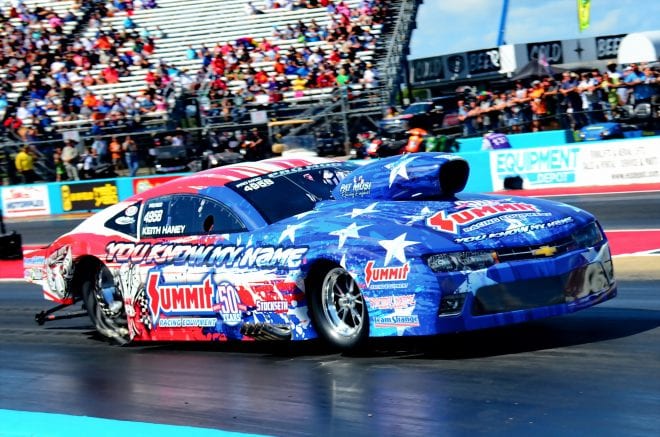 With regard to the NHRA, Haney said he thoroughly enjoyed his experience and praised series and track officials, media members and even several of his fellow Pro Mod competitors for their hospitality and encouragement.
"It was surprising that after three races quite a few of the NHRA regular guys made their way over to congratulate me on finally qualifying," Haney said with a laugh. "It seemed like a case of they didn't want me to qualify, but they did want me to qualify. I guess you always don't want the guy with the big mouth to qualify. And you dang sure don't want him to win! But, you know, eventually all of them made their way over and said hello. Well, not all of them, but some of them."
It's just one more factor in convincing Haney to take the plunge again, to take on the challenge once more of running with the real big dogs in the NHRA Pro Mod series next season.
"I feel like at this point in my life, at this point in my racing career, I feel like I've accomplished quite a lot. I've won a few races in Pro Mod and drag radial, I won a Mid-West Series championship in two different classes last year, and now I've at least qualified for an NHRA race, too. But now I want to do more," Haney said. "Now I want to win a race in NHRA. But what my plans are next year, I just don't know yet. I'll let everybody know when I decide.
"But I can tell you, my ultimate goal now would be, I think I'd like to someday win an NHRA Pro Mod championship. And I think I could do it."