Keith Haney and his Keith Haney Racing (KHR) team enjoyed a dream weekend during the Throw Down in T-Town on Friday and Saturday at Osage Casino Tulsa Raceway Park.
Not only did the track co-owned by Haney and Todd Martin enjoy a successful run, but Haney ended up in victory lane after beating teammate Monroe Guest in the Legal Pro Mod final. Haney also qualified number one with a run of 3.972 at 187.50 mph in his RacingJunk.com/Lucas Oil Camaro, while Guest was third in his Camaro.
"It was an absolutely unbelievable weekend," Haney said. "Unbelievable. It was a weekend like no other."
To top it off, Haney's wife Dee and son Logan were at the top end of the racetrack to greet the winner.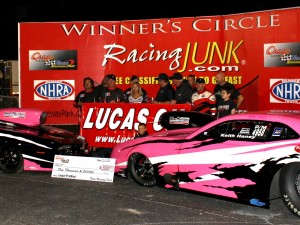 "That was the first time my wife has stayed through a whole drag race. We've been married 16 years, and she had never stayed through a drag race," Haney said. "She and my son came to the finish line, and my son came jumping off the golf cart and ran to me and started crying. There hasn't been a better moment in my life."
Logan Haney had never seen his father win, but that changed after Keith Haney made a pass of 3.979 seconds at 186.61 mph to beat an off-the-pace 5.205 at 147.97 by Guest.  The victory for Haney was his first since 2009 when he won an NHRA Top Sportsman event at Royal Purple Raceway, near Houston.
"This time he said, 'I want to drive the winner's car,' " Haney said, and Logan got behind the wheel as the car was towed to the winner's circle.
Haney and Guest were actually first and second after the first qualifying session, though Guest was bumped to number three in the third round of qualifying. Still, they remained the cars to beat. Haney took out Jeffrey Cummins Jr. in the first round and Dean Goforth in the semi-finals to advance, while  Guest beat Cale Aronson and Steve Matusek to set up the all-KHR final.
"Monroe and I always dreamed about meeting in the final round," Haney said. "We talked about it for the two years we've been together."
Guest tried his best to win the psychological battle but Haney was having none of it.
"Monroe was talking junk before the final round to the crowd: 'He's going to red-light.' We were having a ball," Haney said. "He was hassling me, but it didn't matter anyway because I ran a 3.97 and he didn't go anywhere.
"(My) car was on a rail," Haney said. "That new Reher-Morrison motor we put in it worked out just fine."
Before eliminations, Haney asked for a moment of silence to remember Kevin Bowen, the ADRL Pro Nitrous crew chief who was killed Oct. 4, in a single-car accident near his home in Roxboro, N.C.
The event featured other highlights, too. Brandon Pesz of Lethal Acceleration, who tuned both KHR cars, won the Pro Extreme class with a 3.670-second pass at 206.42 mph. Pesz nearly had to face Martin in the final, but Martin lost in the semifinals after winning the previous round on a holeshot over Frankie Taylor.
The Throw Down drew more than 35,000 race fans over the two days as well as a 142 race cars. Haney's cars were the stars, as they were wrapped in pink by Kryptonite Kustomz of Broken Arrow, Okla., in support of National Breast Cancer Awareness Month. Numerous fans took their picture with the pink cars, and Haney sported a Cancer Sucks! T-shirt in support of that foundation.
"It was just an unbelievable weekend," Haney concluded. "I couldn't have written a better script as a team owner. Monroe and I couldn't have been happier, and our team worked flawlessly all weekend. How do you top that?"
(Photos courtesy KHR; Tish Dingman; Click to enlarge)