Four-time and reigning Switzer Dynamics Pro Nitrous world champion Jim Halsey is starting his championship defense season with a win as he raced to victory Sunday night at the Professional Drag Racers Association (PDRA) Summit Racing Equipment East Coast Nationals presented by FuelTech at GALOT Motorsports Park. Halsey defeated fellow multi-time world champion Tommy Franklin in the final round, claiming his third East Coast Nationals victory.
The East Coast Nationals, the first race of the PDRA's 10th season, was pushed into Sunday when rain and wind forced officials to postpone Saturday eliminations.
Halsey was joined in the winner's circle by additional pro class winners Melanie Salemi in WS Construction Pro Boost presented by P2 Contracting and Ty-Drive, Dwayne Rice in Liberty's Gears Extreme Pro Stock presented by AED Competition, Jeff Melnick in M&M Transmission Pro 632, Brayden Davis in Drag 965 Pro Nitrous Motorcycle, and Tim Essick in Menscer Motorsports Pro Street presented by Afco.
Winners in the sportsman classes are Henry Underwood in MagnaFuel Elite Top Sportsman presented by PAR Racing Engines, Steve Furr in Laris Motorsports Insurance Elite Top Dragster, Zach Houser in MagnaFuel Top Sportsman presented by Corbin's RV, and Justin Fordyce in Laris Motorsports Insurance Top Dragster. Michael Morton picked up the win in Edelbrock Bracket Bash presented by COMP Cams, defeating Richard Payne in the final round.
The PDRA East Coast Nationals also included the Jr. Dragster classes. In Coolshirt Systems Pro Jr. Dragster presented by PRP, past world champion and No. 1 qualifier Brayden Davis defeated Danika Miles in the final round just moments after winning in his Pro Nitrous Motorcycle debut. Davis used a .001 reaction time and a 7.962 to beat Miles' 7.944, both on the 7.90 index. McKenzee Hogan was victorious in Classic Graphix Top Jr. Dragster presented by PRP, cutting a .037 reaction time and running 8.912 on an 8.90 dial-in to beat Wyatt Stanley and his 9.147 on a 9.10 dial-in.
PRO NITROUS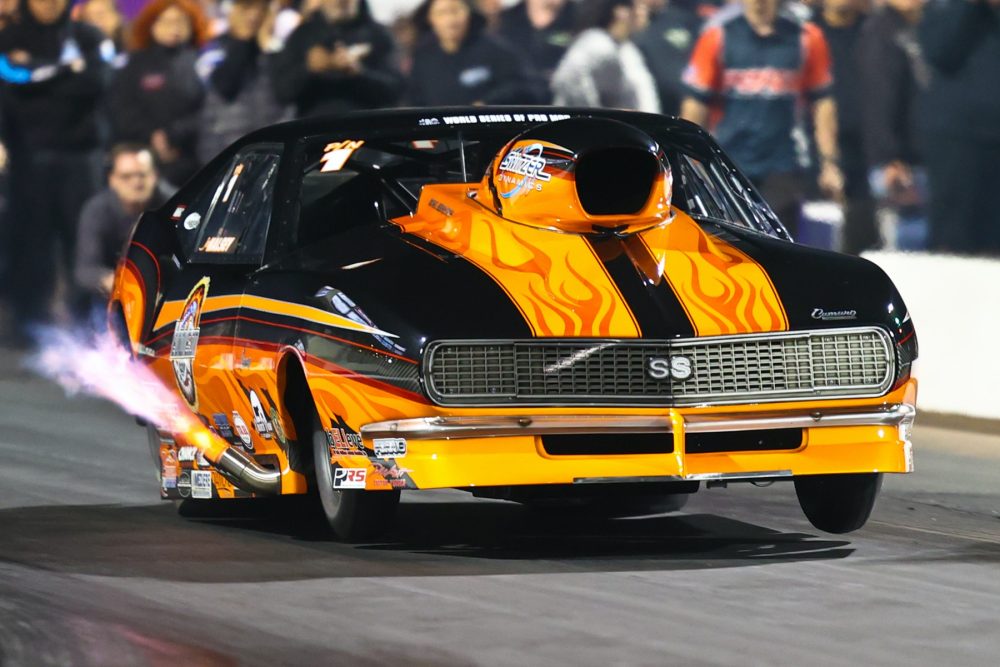 A classic final-round battle between the two winningest drivers in PDRA Pro Nitrous history ended with Jim Halsey taking down Tommy Franklin. It was the two drivers' second time meeting in the final round of the East Coast Nationals, and Halsey took the win just as he did in 2021. This time, Franklin was first off the starting line, but he had to lift to a 6.841-second pass at 66.45 MPH. In the other lane, Halsey in his Fulton-powered "Daddy Shark" '68 Camaro recorded his quickest pass of the day, a 3.646 at 206.20, to claim the first win of the season.
"We struggled quite a bit with some mechanical issues, but to come out with a win was way better than we did last year because we lost first round last year at this race," said Halsey, who thanked his crew, including tuner Brandon Switzer, crew chief Eric Davis, Michael McMillan, and wife Cathy. "There's a few guys that stepped it up. It's obvious by the qualifying sheets and eliminations. To win a round on a holeshot, that means I'm doing my job when I need to. The way the crew worked to keep this thing running and together all weekend was pretty satisfying."
Halsey, the four-time and reigning world champion, started eliminations with a rematch of his first-round race with young gun Cam Clark at last year's East Coast Nationals. Halsey avenged his loss, as Clark went .020 red to Halsey's .011 red paired with a 3.67 at 201.01. In the second round, Halsey cut a perfect .000 reaction time next to Chris Rini's .002 light, following through with a 3.649 at 207.30 to Rini's 5.08. He then used a holeshot advantage to win over "Tricky" Rickie Smith's 3.654 with a 3.661 at 206.26 in the semifinals.
Franklin, a two-time world champion, used a .008 reaction time and 3.683 at 206.95 in his Musi-powered "Jungle Rat" '69 Camaro to defeat Mike Achenbach's 3.701 in the first round. Second-round opponent Ed Burnley went red by .143, negating his 3.725, while Franklin cut a perfect light and laid down a 3.646 at 207.69 to move on to the semifinals. There, Franklin drove around Jay Cox's .006 light with a 3.659 at 206.86 next to Cox's lifting 3.805.
PRO BOOST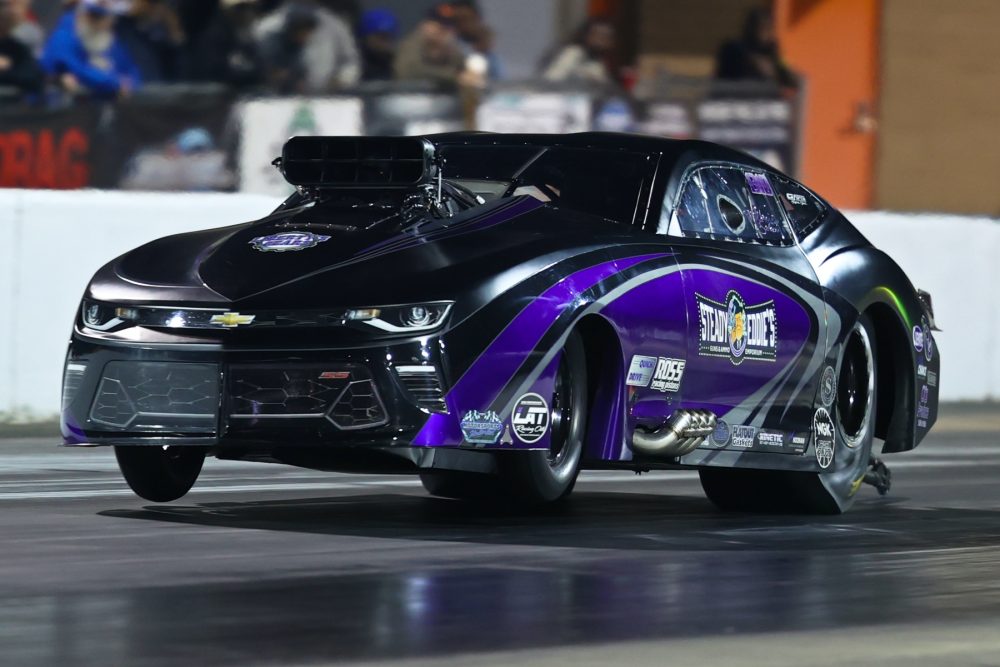 Melanie Salemi wrapped up three rounds of ultra-competitive Pro Boost qualifying as the No. 1 qualifier on top of the quickest field in series history. She didn't have the dominant race day performance she was looking for in Eddie Whelan's newly screw-blown Steady Eddie's '19 Camaro, but she ended up in the winner's circle by the end of the night Sunday. Final-round opponent Johnny Camp set low E.T. of the weekend with a career-best 3.579 at 209.26, but he was disqualified on the starting line with a .004 red light. Salemi left with a .010 light and lifted to a 3.913 at 149.03 for the win.
"Right now, confidence is not our No. 1 thing, only because the performance of the race car today was not what we're used to," said Salemi. "I was under a lot of pressure because I knew the car wasn't running to its potential and we didn't have a handle on things so I was going to have to be on my game driving. In the final, it was going to the right and had the wheels up. I lifted not knowing that he red-lit. I didn't even know that I had won the race until like three minutes after I was out of the car and walking around. Sometimes a little luck goes a long way. You can't win them all if you don't win the first one."
Salemi had a tense first-round matchup with Kenny Lang, managing to drive through tire shake to a 4.017 at 188.31 to Lang's 4.104 at 180.38. She lined up against fellow New York-based driver Joe Albrecht in Fletcher Cox's ProCharged '69 Camaro in the second round. Salemi recorded a 3.605 at 208.65 to win over Albrecht, who ran a 3.626 but went red by .005. Another red light, a -.009 by Ken Quartuccio on a career-best 3.599 at 207.37, sent Salemi and her 4.618 at 110.07 into the final round.
Camp, who recently qualified No. 1 to lead the 61-car field at the World Series of Pro Mod, qualified third at the East Coast Nationals in his ProCharged "Hells Bells" '69 Camaro. He had a .005 light and a 3.624 at 208.71 to beat Rob Cox in the first round. Camp and tuner Brandon Stroud stepped up to a 3.605 at 208.55 to move past a red-lighting Jason Lee in the second round. In the semifinal pairing with No. 2 qualifier Travis "the Carolina Kid" Harvey, both drivers cut .001 reaction times. Camp was quicker down-track, though, winning with a 3.582 at 209.10 over Harvey's 3.609 at 209.23.
EXTREME PRO STOCK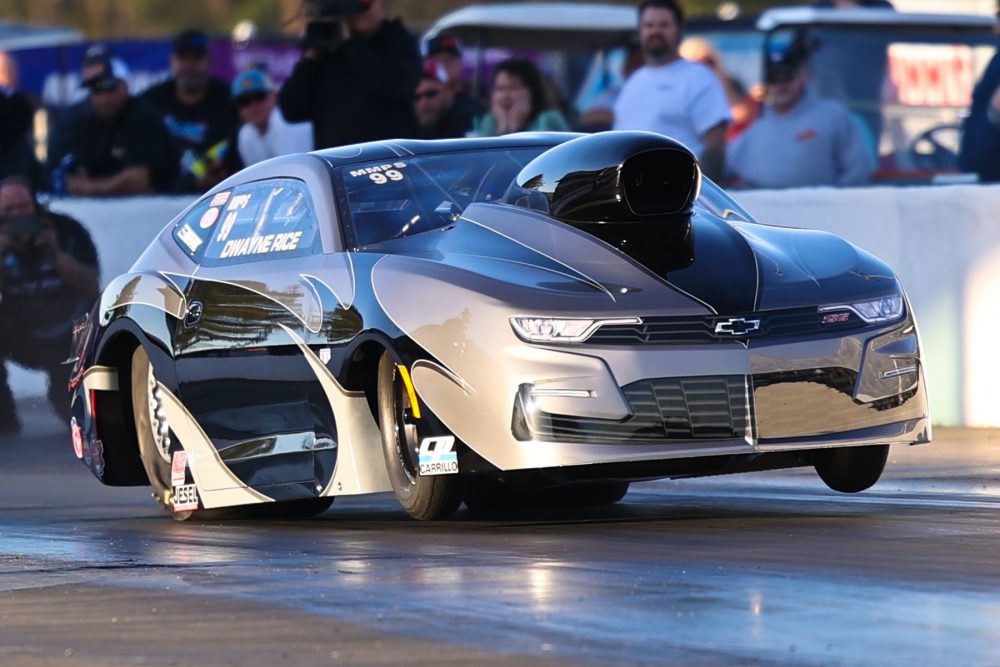 A first-time Extreme Pro Stock winner was guaranteed when finalists Dillon Voss and Dwayne Rice made their way to the starting line. Rice grabbed a starting line advantage in his DR Grading & Excavating '22 Camaro and never looked back, running a weekend-best 4.102 at 176.28 to finish ahead of two-time Pro 632 world champion Dillon Voss and his 4.202 at 175.39.
Rice qualified No. 11 before winning first round with a 4.715 at 162.63 over alternate John Konigshofer's 7.701. He improved to a 4.143 at 176.03 to beat veteran driver and tuner Tommy Lee, who lifted to an 8.27 in their second-round match. The Grove City, Ohio-based driver fought his way down the eighth-mile strip to a 4.895 at 142.91 in the semifinals against John Montecalvo, who recently won the Mountain Motor Pro Stock Invitational at the World Series of Pro Mod. Montecalvo had struggles of his own and coasted through to an 11.984.
Voss qualified one spot behind Rice in the No. 12 slot, then knocked down No. 5 qualifier Jordan Ensslin with a 4.099 at 168.83 in his Voss-powered '06 Cavalier known as the "Bad Banana." The Floridian got up on the wheel for his second-round pairing with reigning world champion Johnny Pluchino, using a .005 light and 4.08 at 177.28 to get the win over Pluchino's 4.06. Fellow young gun Justin Kirk couldn't return for their semifinal matchup, so Voss moved on to the final round with an unopposed 4.096 at 176.60.
PRO 632
After racing to a semifinal finish in his Pro 632 debut at the 2022 PDRA World Finals, Jeff Melnick went into the new season as a contender for the next first-time winner in the class. He checked that box at the first race of the season, taking Alan O'Brien's one-of-a-kind AMC-powered Greenbrier Excavating & Paving '20 Camaro to the winner's circle. Facing defending world champion Amber Franklin in the final round, Melnick was .026 off the starting line and ran a 4.159 at 167.93, while Franklin slowed to an 8.467 at 50.53.
"This is the culmination of 40 years of trial and error by Alan O'Brien and [engine builder] Barry Allen," said Melnick, who thanked team supporters Greenbrier Excavating & Paving, Barry Allen Race Engines, PTP Racing, Mickey Thompson Tires, and his own Exotic Fabrication. "They've spent a ton of time and effort and money to perfect, blow up, burn up, smash, and everything to get to this point to be able to compete with people like Amber Franklin. It's amazing. I mean, this is probably the first AMC-powered professional category win since the '70s. It's wild. To do what we're doing, it is just awesome."
Powered by a stock bore space, nitrous-fed, small-block AMC engine and tuned by Patrick Barnhill, the Melnick-driven Camaro qualified No. 7 before winning first round over Mike Murphy with a 4.249 at 165.52. In the second round, defending event champion Alan Drinkwater went red by .022 on a 4.19 pass, and Melnick ran a 4.152 at 170.51 to get lane choice over Lexi Tanner in the semis. Both drivers made their best pass of the day, but Melnick's 4.13 at 169.27 was better than Tanner's 4.192 at 169.25.
Entering race day as the No. 1 qualifier, Franklin was determined to defend her championship in her Musi-powered "OG Jungle Rat" '69 Camaro. She lifted to a 4.681 at 111.63 on a first-round single, then laid down a 4.143 at 172.14 for the second-round win when opponent Gary Hood couldn't make the run. Franklin and tuner Jeff Pierce then stepped up to a 4.128 at 171.75 in the semifinals to defeat Doug Nicholl's 4.165 and set low E.T. of the event.
PRO NITROUS MOTORCYCLE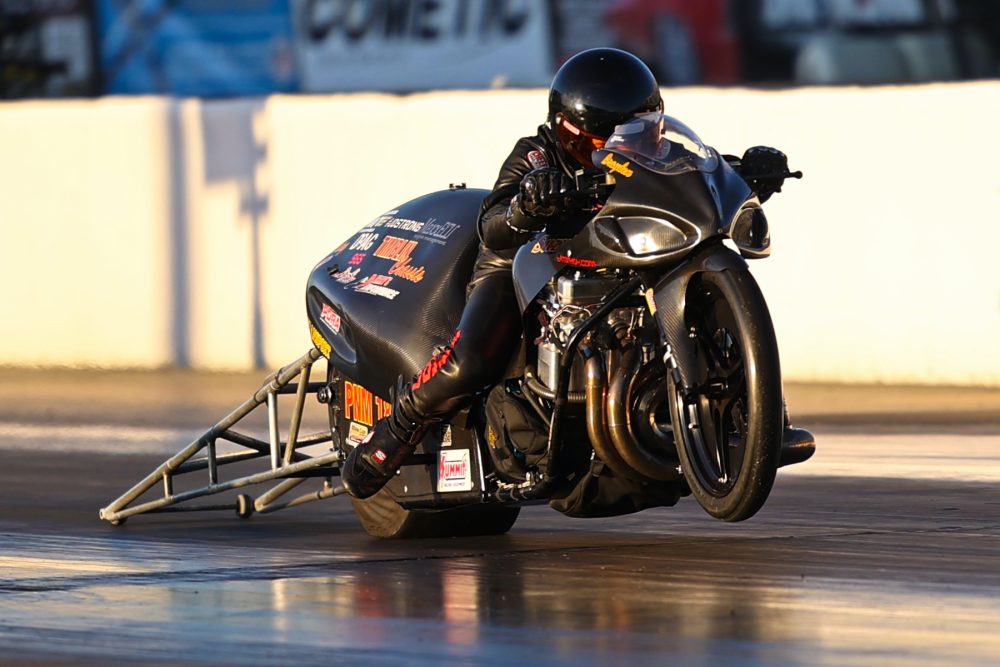 A unique pairing rolled to the starting line for the Pro Nitrous Motorcycle final round, as Kuwait-based No. 1 qualifier Meshal Al-Saber lined up next to 17-year-old Brayden Davis, who made his debut this weekend. After taking down two world champions, Davis cut a .004 reaction time to leave on Al-Saber and his .022. The third-generation rider was ahead at the finish line, too, posting a 3.992 at 175.34 next to Al-Saber's 3.998 at 172.04. Right after winning on his father's championship-winning Timblin Chassis motorcycle, Davis won in the Pro Jr. Dragster final round for a rare double-up.
"This was a dream, perfect weekend," said Davis, who thanked parents Travis and Brandy and supporters like Timblin Chassis, Monster Race Products, DTM Performance, MaxxECU, Fast By Gast, and Worldwide Bearings. "I knew the performance was there with my dad and Dan Wagner on the computer. When those two get together, great things are just bound to happen.
"I knew I needed to do my part riding," Davis continued. "I felt real comfortable on the bike this weekend. Dad told me to just focus on the tree and stay consistent. It got us in the winner's circle, but the performance side of it, it's a new experimental motor we're doing and it's actually smaller CC and it's showing a lot of potential. It stayed together, and it had more in it, but we were just trying to play it safe and make sure we could go down the racetrack and be competitive."
Davis, a past Top Jr. Dragster world champion and the son of multi-time and reigning Pro Nitrous Motorcycle world champion Travis Davis, started his first-ever race day in the class with 2021 world champion Chris Garner-Jones in the other lane. Davis left the line first and ran a 4.015 at 175.18 to beat Garner-Jones' 4.006 on a holeshot. He then left first against multi-time world champion Eric McKinney before beating McKinney's 4.024 with a 3.985 at 175.82.
Al-Saber on Brad McCoy's Q80 Racing Hayabusa was supposed to face Terry Wynn in the first round, but Wynn couldn't make the call. Al-Saber used a 4.015 at 176.56 to earn lane choice over Ashley Owens in the second round. He left on Owens and recorded a 3.98 at 177.58 to defeat Owens' 4.044, earning lane choice for the final round by .005.
PRO STREET
Between qualifying and eliminations, Bill Riddle was making the kind of passes that it looked like it would take to carry him to another Pro Street win in his roots-blown Corrigan Race Fuel '89 Camaro. But after leaving the line in the final round with a .006 reaction time, Riddle went into a wheelstand and had to lift. Reigning world champion Tim Essick was in the other lane making a smooth 3.949-second pass at 190.54 to take the victory in his ProCharger-boosted "Brown Sugar" '18 Mustang. Riddle posted a 5.508 at 82.40 in the runner-up effort.
"It was just a terrific start to the year," said Essick, who thanked supporters like ProCharger, UPR, and Billet Atomizer before dedicating the win to Nancy Babcock. "Over the winter, my particular combination got some weight, so to be able to work with it, find a little bit of E.T. throughout the winter, then come out at the first race and be able to apply it, it was perfect. We had a full field [in Pro Street] and every car that was in that field had the potential to win, except for one Super Street car that was testing. Other than that, it's a field full of sharks. It's great to see it grow to a full field."
Essick, the No. 3 qualifier, opened eliminations with a 4.112 at 188.17 to get past John Carinci and his 4.177. He then made his first 3-second pass of the weekend, a 3.961 at 189.55, on a second-round single when Ron Green couldn't make the call. A consistent 3.97 at 189.28 followed in the semis to win over a red-lighting Ty Kasper and earn lane choice for the final round.
Riddle was the No. 1 qualifier, earning a first-round single. Even without someone in the other lane, he had a perfect .000 reaction time but lifted to a 6.371 at 65.35. He found his groove again in the second round, running a 3.936 at 189.15 to beat Jerry Morgano's 5.102. The Michigan-based driver ran a 3.977 at 176.63 to defeat Canada's Nick Agostino and his 5.287 in the semis.
TOP SPORTSMAN
Reigning Elite Top Sportsman world champion Henry Underwood was the third defending champion to start the season with a win. Racing against Arizona's Bryan LaFlam in the final round, Underwood cut a .007 reaction time and drove his ProCharger-boosted PAR Racing Engines '63 Corvette to a 3.842 on a 3.83 dial-in. LaFlam in his supercharged '67 Mustang broke out with a 3.799 on a 3.82 dial-in.
North Carolina's own Zach Houser kept the Top Sportsman trophy in the Tar Heel State, taking his ProCharged 2000 Firebird to the win over Mark Reese in the final round. Reese broke out with a 4.214 on a 4.22 dial-in in his '14 Mustang, while Houser won with a 4.323 on a 4.19 dial-in.
TOP DRAGSTER
Two champions squared off in the Elite Top Dragster final round, where 2020 world champion Steve Furr paired up with reigning world champion Larry Roberts in an all-ProCharger matchup. Furr was first off the starting line in his Right Trailers '13 American dragster and held on to win with a 3.867 on a 3.79 dial-in. Roberts in his Roberts Equipment '16 Racetech dragster followed with a 3.936 on a 3.81 dial.
A pair of home-state racers, Harmony's Justin Fordyce and Wallace's Jimmy Albertson, met up in the Top Dragster final round. Albertson had the starting line advantage with his .002 light, but he slowed to a 4.392 on a 4.36 dial-in. In the other lane, Fordyce fired off a .009 reaction time and ran a 4.352 on a 4.34 to grab the win.
The 2023 PDRA season will continue April 20-22 at the Mid-Atlantic Showdown presented by Classic Graphix at Virginia Motorsports Park near Dinwiddie, Virginia.